File information
Created by
Willybach and Panoc and BadgerInt
Virus scan
Some manually verified files
About this mod
HD texture overhaul of the game whilst still remaining as close to vanilla in feel / colour scheme as possible. Almost all textures covered. Almost zero 'upscaled' textures, mostly handmade original replacements or selected online resources.
Requirements

Permissions and credits

Changelogs

Donations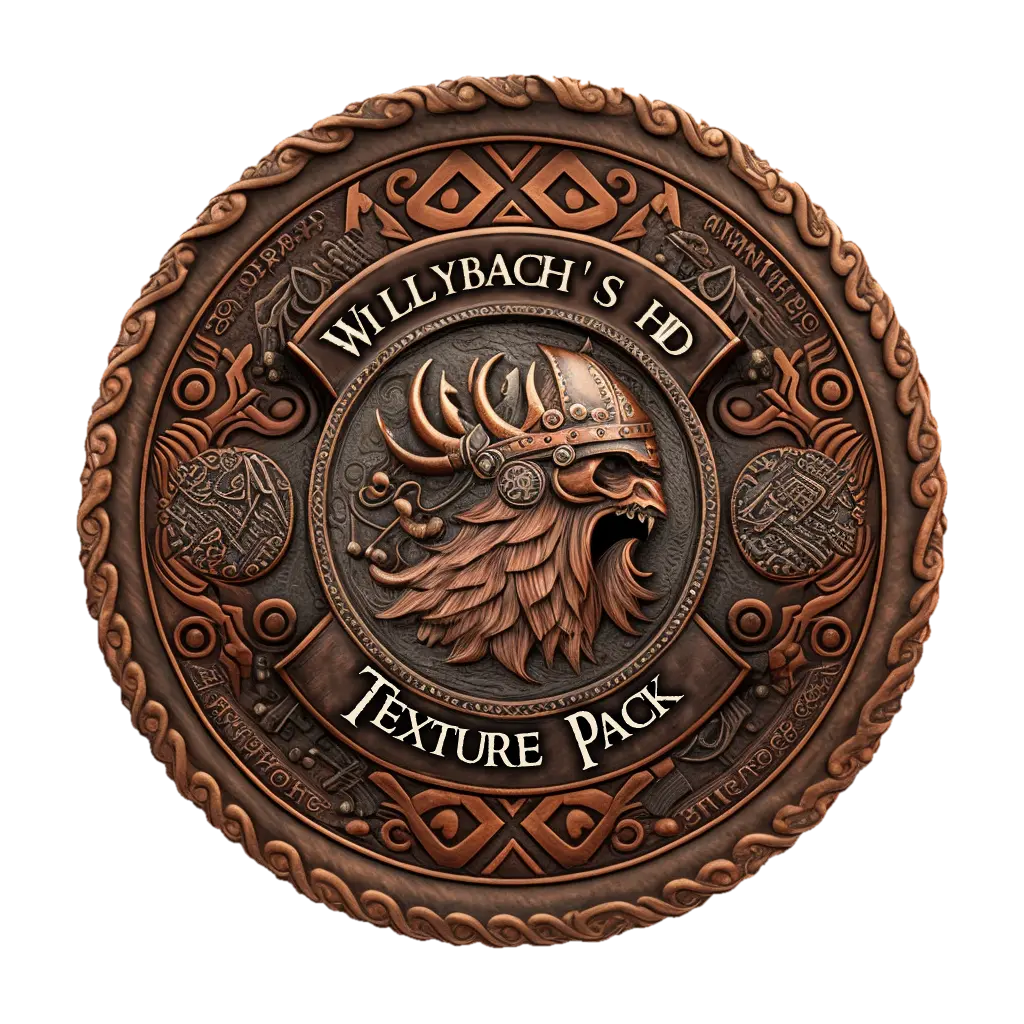 Welcome to Willybach's HD Valheim. My attempt at overhauling the look of the game, making it more photo-realistic whilst staying as close as I can to the original look and feel of the game. Similar color palette where possible etc. It covers all current biomes, all Building and Crafting textures, all weapons and tools and all creatures. 
MISTLAND UPDATE: Now includes the vast majority of new textures from the Mistland Update.

VIDEOS available on my Youtube channel:
Intimaspace
Any questions / suggestions etc by all means drop into my Discord server:

Donate With Paypal
Buy Me A Coffee

MAJOR CONTRIBUTORS TO THIS MOD BESIDES MYSELF:
Panoc - Major contribution in terms of textures but also technical knowhow and just general support.
Badger - the mod simply wouldn't be possible realistically without Badger's help with behind the scenes stuff / apps. 
And massive thanks to others who've supported / offered advice / tips etc:
Norger, Jettlife, Blacksu, Asheira, thedefside, Krumpac, Volkoz and so many others on my Discord. 
Versions:
There are three different Versions of the mod:
HIGH QUALITY - Recommended for GPUs with 8gb VRAM +, especially if running lots of mods.
MEDIUM QUALITY - Recommended for GPUs with 4-8 Gb VRAM +
OLD GPU VERSION - Any GPU with 4 Gb or less VRAM should probably use this version (again, especially if using mods)
YOU CAN PROBABLY MOVE UP A VERSION IF YOU'RE NOT USING ANY MODS.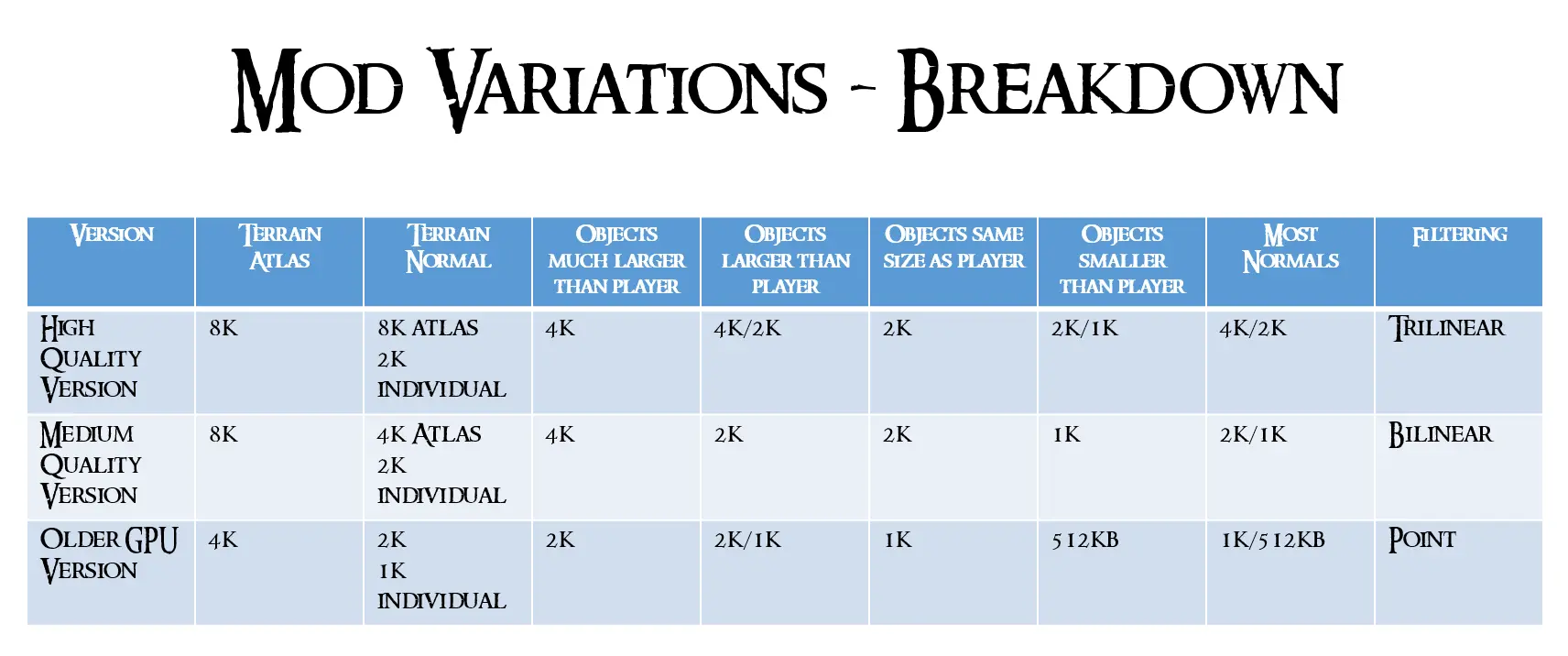 TO INSTALL MANUALLY:
Simply unzip and overwrite the same files in Valheim Data folder:
Steam\steamapps\common\Valheim\valheim_Data
Tutorial: how to install this mod in Vortex mod manager. (From ttimasdf)
I love this mod, but overwriting (and backup) asset files manually is painful and easy to mess up. Finally I find out how to install this mod in Vortex. backup and restore of the original files could be done in one single click!
In Files tab of this mod, choose "mod manager download".
After downloading, vortex will automatically deploy the zip content into %path_to_valheim%\BepInEx\plugins. It's obviously wrong.
In vortex mod list, disable the mod.
then double click on the item to bring up the popup menu on the right. Choose Engine Injector in Mod Type field.
Then right click and choose Open in File Manager , where Vortex store the mod files extracted from zip.
Create a folder named valheim_Data and move all *.assets file inside.
Finally, enable the mod again, and the mod will load successfully!
Performance Tips:
Some tips from Sekoms for potential performance gain:
\steamapps\common\Valheim\valheim_Data
Boot Config edit lines (MAKE SURE THE THREE LINES BELOW ARE AT THE TOP OF THE NOTEPAD)
gfx-enable-gfx-jobs=1
gfx-enable-native-gfx-jobs=1
scripting-runtime-version=latest
EDIT1: (minority receiving artifacts/lighting issues with "gfx-enable-native-gfx-jobs=1" applied, if you receive any of the issues listed above; just delete this line and your game will be fine)
Steam Launch Parameter edit line:
-window-mode exclusive -screen-fullscreen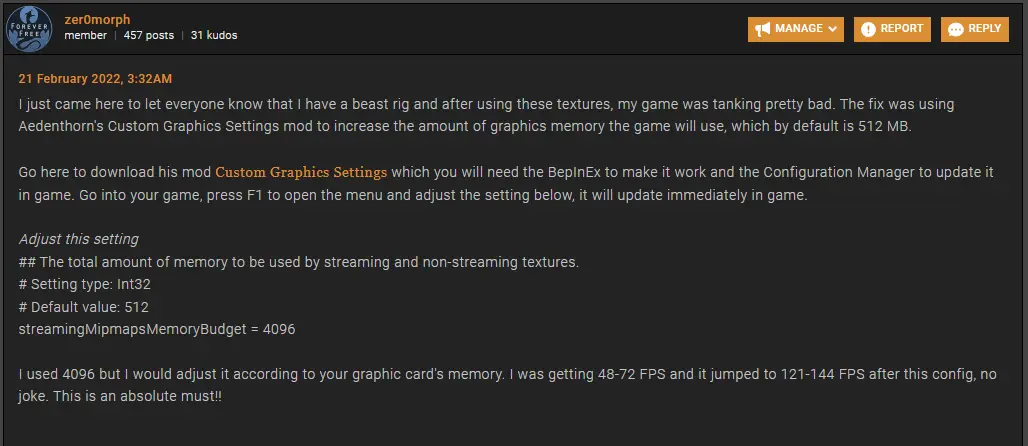 *I can confirm that this appears to help many people, some getting 20%-35% improvements to fps!

RECOMMENDED MODS:
Badger's Shading Overhaul
Far more realistic shader rendering, removes unrealistic shadow movement and dispersal
Aedenthorn's Custom Texture Mod
An excellent way to override any textures in my mod you don't like, just place alternative textures in the correct folder
Kailen37's First Person View
A great way to see my textures up closer, in a more immersive way.
ISSUES / TROUBLESHOOTING:
Most people having CTDs, it's usually one of the following:
1 - Using mods that require Bipinex and not using latest version
2 - Using mods that haven't been updated and are therefore causing crash
3 - Using older version of my mod with latest version of Valheim
4 - Their Valheim has not updated for some reason, and so is an older version that my pack won't work with. 
It can be a headache trying to figure it out sometimes, my advice, empty Valheim_data folder of all Bipinex files and any mods. If in Steam do 'verify files' and make sure its totally updated and vanilla files. Then add in my pack manually, making sure it is the right version. Run to see if it works, then download LATEST bipinex and load game again, and then gradually add back in the various mods. 
CustomTexture mod versions of many of my textures are available here:
Willybach's Custom Textures