File information
Created by
Styyx
About this mod
Adds Enchantments and some adjustments to unique items that usually aren't covered by artifact overhauls.
Requirements

Permissions and credits

Changelogs
Description:
Some Unique items don't get overhauled by most artifact overhauls. Now they are.
Items like Woodsman's Friend are pretty cool to find, until you realise that it's just an Iron Battleaxe with a different name and here's my attempt to change that.
Weapons:
Poacher's Axe
Woodsman's Friend
Blade of Sacrifice
Shiv
Longhammer
Froki's Bow
Angi's Bow
Rundi's Dagger
Borvir's Dagger
Zephir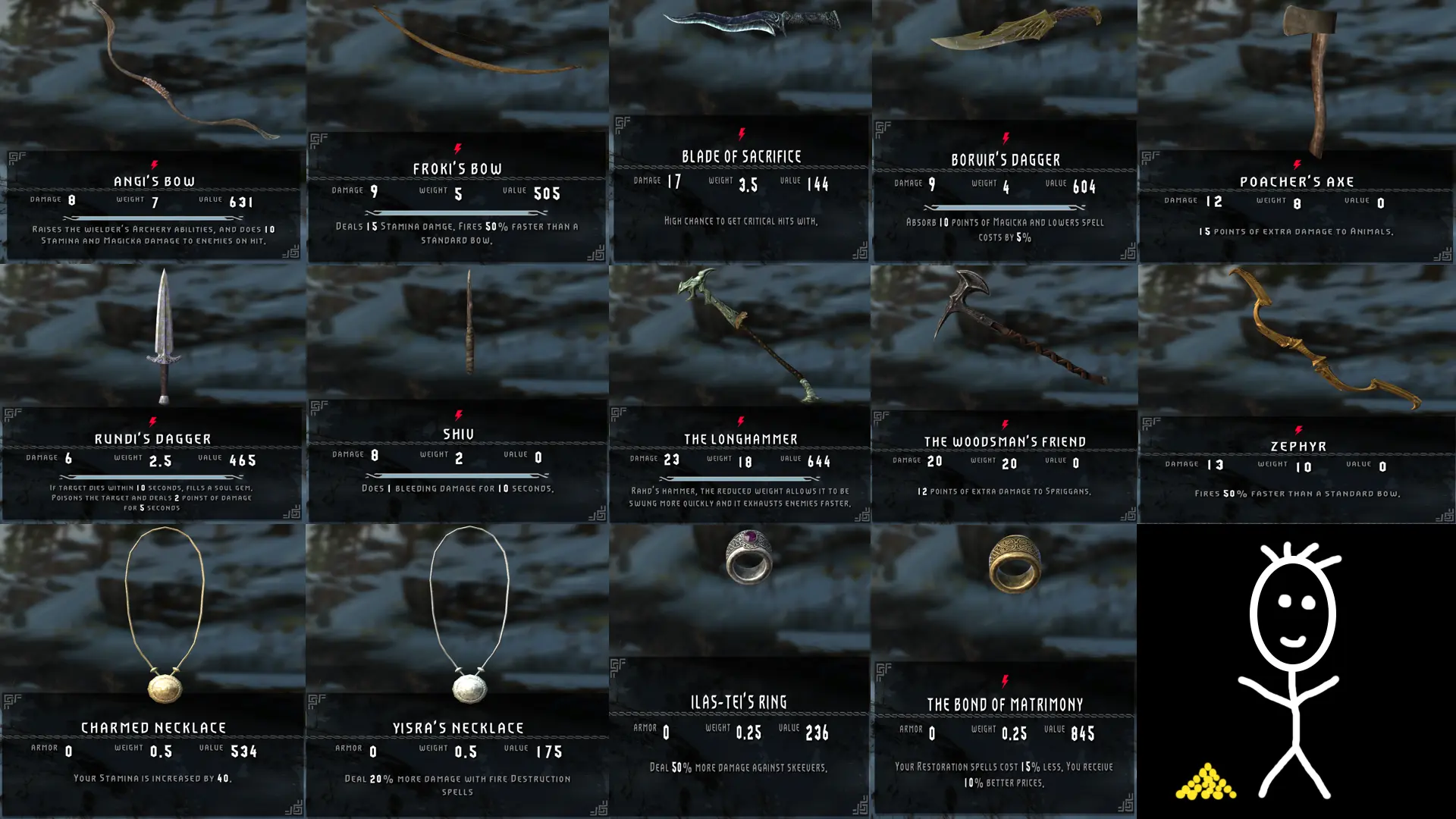 Armors and Jewelery:General Tullius' ArmorUlfric's Bracers
Mythic Dawn Robes
Bond of Matrimony
Charmed Necklace
Yisra's Necklace
Ilas-Tei's Ring
Torturer's Hood Blackguard's Hood Blackguard's GlovesBlackguard's ArmorBlackguard's BootsAdditional Changes:

In general, most of the item's values are changed due to them having enchantments now.
Woodsman's Friend: Damage and Attack speed changed
Shiv: Damage changed
Blade of Sacrifice: Damage and Crit Damage changed
Poacher's Axe: Damage, Weight, Speed and Reach changed
Froki's Bow: Damage changed
Rundi's Dagger: Crit damage changed
Ulfric's Bracers: Changed to be a light leather armor (keywords)
Torturer's Hood: added missing material keyword. added craftable unenchanted variant
Mythic Dawn Robes (without hood): weight changed
Blackguard Set: Weight and Armor rating changed
I forwarded all USSEP changes and i recommend using it
Compatibility:
Compatible with
Reliquary of Myth
and
Awesome Artifacts
(overlap with poacher's axe, load my mod later. both have basically the same effect, only mine is stronger)
Incompatible with
Unique Uniques
(patch in the FOMOD) and
Legacy of the Dragonborn
(Patch in the FOMOD)
Incompatible with mods that also change the items listed above

Patches:
Patches are provided for the mods i use and in the FOMOD
currently that's for: Unique Uniques, Unique Uniques SE Re-Ported, ArteFakes, Legacy of the Dragonborn SSE and Unofficial Skyrim Modder's Patch
Requirements:
Spell Perk Item Distributer (SPID)
to add a keyword to spriggans for the Woodsman's Friend to work
Installing:
use a mod manager