Diverse Werewolves Collection SE
Diverse Werewolves Collection SE
File information
Created by
opusGlass
About this mod
Adds variety to enemy werewolf encounters. There are now 25 werewolves and 13 werebears, each leveled at 11 possible ranks for a total of 418 new enemies.
Requirements

Permissions and credits

Translations

Turkish
Spanish
Portuguese
Italian
German

Changelogs

Donations
Features:
-25 enemy werewolf skins and 13 werebear skins
-Each at 11 levels of strength (matching vanilla)
-Hand-picked skins for NPC werewolves (Aela, Sinding, etc)
-Werewolf corpses, head-on-spikes, etc are covered
-Werebears in mainland Skyrim (consistent with lore)
-Optional file to choose the player's werewolf skin (no plugin required)
-Compatible with female werewolf replacers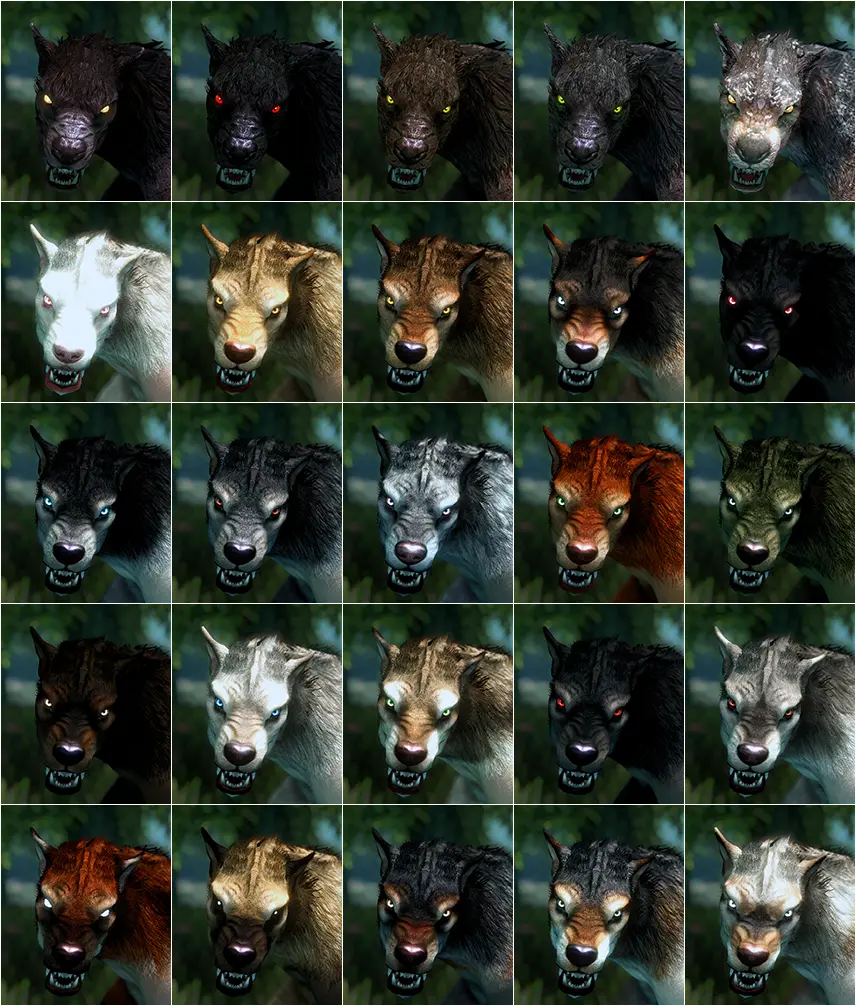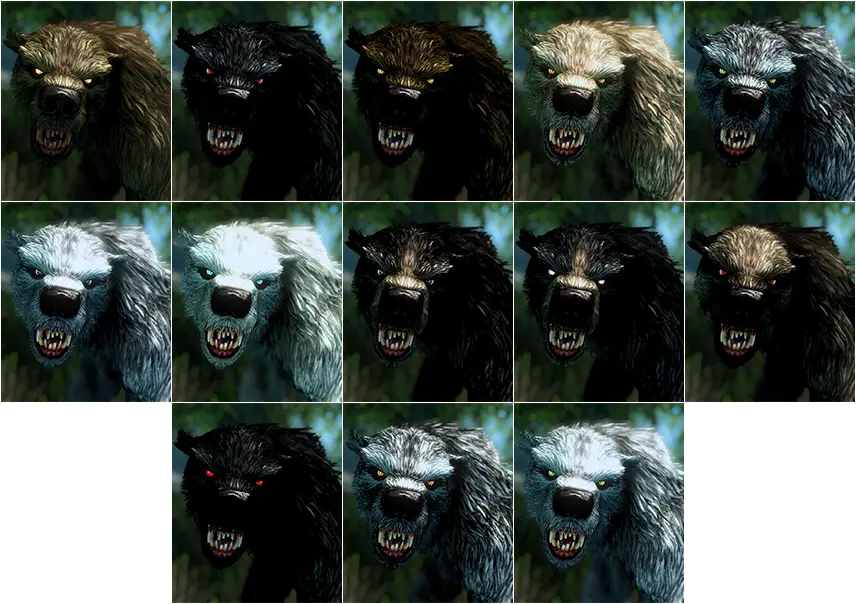 Detailed Contents
When do I see enemy werewolves anyway?
In vanilla Skyrim they are rare, though there are the NPCs you see listed in Detailed Contents, plus the caged werewolves found in Silver Hand camps, and a couple of rare wild encounter events added by Dawnguard.
I highly recommend pairing this mod with More Werewolves or a similar mod, which will allow you to encounter more enemy werewolves.
Installation
Install the mod (with mod manager, or drag files into Skyrim/Data) and enable it.
To test, type "player.placeatme 1e791" into the console to spawn a random werewolf/werebear.
Compatibility
If you have any other mods that edit the leveled lists for enemy werewolves, make a Bashed Patch for full compatibility, or otherwise make sure DWC is loaded after them.
There may be quest-related conflicting edits from some mods to some of the hand-picked NPCs, you can detect and fix these with xEdit. A patch for Pandorable's NPCs - Dragonborn is available on kjSage's page. YASH2 is reported by etpak1 to have an issue that is avoided by using DWC's version of the conflicting record (merging them caused Sinding to die immediately). There are also reported conflicts with Bijin NPCs.
Mods that add additional opportunities for existing NPCs to transform (such as Aela) will probably not use the custom Aela werewolf skin without a patch, and patching may be complicated.
This is fully compatible with More Werewolves as well as Moonlight Tales Special Edition.
Female werewolf body mods: 
DWC now supports female werewolf body replacers, assuming that their meshes have preserved the original order of body parts. However, you only need the meshes from those files and not the plugins, since DWC distributes these female skins itself.
Confirmed working with:
Female Werewolves
Female Werewolves Extended SSE
Tamaska Werewolves
La Femme Lycana should now be compatible *if* you use the latest update of the author MadCat221's official SE port, not the other port and not the LE version.
Specifically, you need this file from within the mod: meshes\actors\werewolfbeast\character assets\FemaleBodyWerewolf_1.nif
If your mod also provides FemaleBodyWerewolf_0.nif, you can copy that as well for automatic weight slider incorporation. However, I'm not sure if werewolves have varying weights anyway. You could choose to use the _0 file instead of the _1 file by just renaming it, if you like it better.
Any werewolf body can be used as the female werewolf by renaming it and putting it there, so long as it is compatible with plugin-based texture replacements.
Credits
Plugin:
spwned/Brevi - Resources were originally collected and organized by Brevi in his file, Moonlight Tales. Some plugin data from MTSE was used also.
Textures:
NsJones - Heart of the Beast skin and eye textures.
KrittaKitty - HD Werewolves skin and eye textures.
Fiszi - Big Bad Wolves Skin Pack.
KnErBSE73 - FURTASTIC werebear textures.
Jeremy Hamilton / artifex0 - Natural werewolf skin texture.
Bellyache / wrig675 - Realistic werewolf skin textures. (Parts of the textures were used as base.)
Also on Skyrim Legendary Edition!