ENB Complex Grass - Patch Compendium for various grass mods
ENB Complex Grass - Patch Compendium for various grass mods
File information
Created by
The Community
Virus scan
Some manually verified files
About this mod
This mod patches various grass mods to work with the new feature in ENB (Complex Grass)
Requirements

Permissions and credits

Donations
-
Important
-
-Make sure ENB is up to date (V0.473 or higher)
-Set EnableComplexGrass=true in enbseries.ini
-
If you're running Cathedral 3D Mountain Flowers, let it overwrite this mod or you gonna run into ugly looking mountain flowers.
-
Do not use these textures for lod generating / grass caching
, or you gonna have blue foliage in the far distant. (just uncheck any complex grass patch mod before starting generating lod textures or grass cache)
-
These patches will alter the way the grass was intended to look. Colors and shading changes as it interracts with light and shadow. These patches are applied to textures which were made with artificial shading, and there's nothing i can do about it unless source files are provided.
"
My grass is super reflective/bright
"
Playing around with the settings in the Environment tab can help, try reducing the SSS / Specular in this tab with weather system ticked off (or change the settings direcly through the weather tab)
"
Why? what's the thing with Complex Grass?
"
Without a normal map, the foliage doesn't interact with the lighting, so torches, lanterns ect will just ignore any grass (with exceptions of enb particle light). This will result in making the foliage look really flat and boring. With this new (not really..) Atlas texture workaround you can have a normal, specular map as well as Subsurface scattering (SSS) attached to foliage without having to attach multiple texture maps to the mesh. This uses the same technique as minecraft, cod and many other games. It saves a lot of computer power by only using one texture map. Downside is, it won't work on any mesh that's flagged as anything beside grass (some mod authors flag their flora as tree so they can utilize a normal map) 
With Complex grass on, notice how different the grass shadowing is. You can actually see my characters shadow over the grass as well as the tree. You can also see the Suns (or whatever Nirns star is called) reflection on each grass straw and leaf. With the right grass mods used, this can look extremly realistic.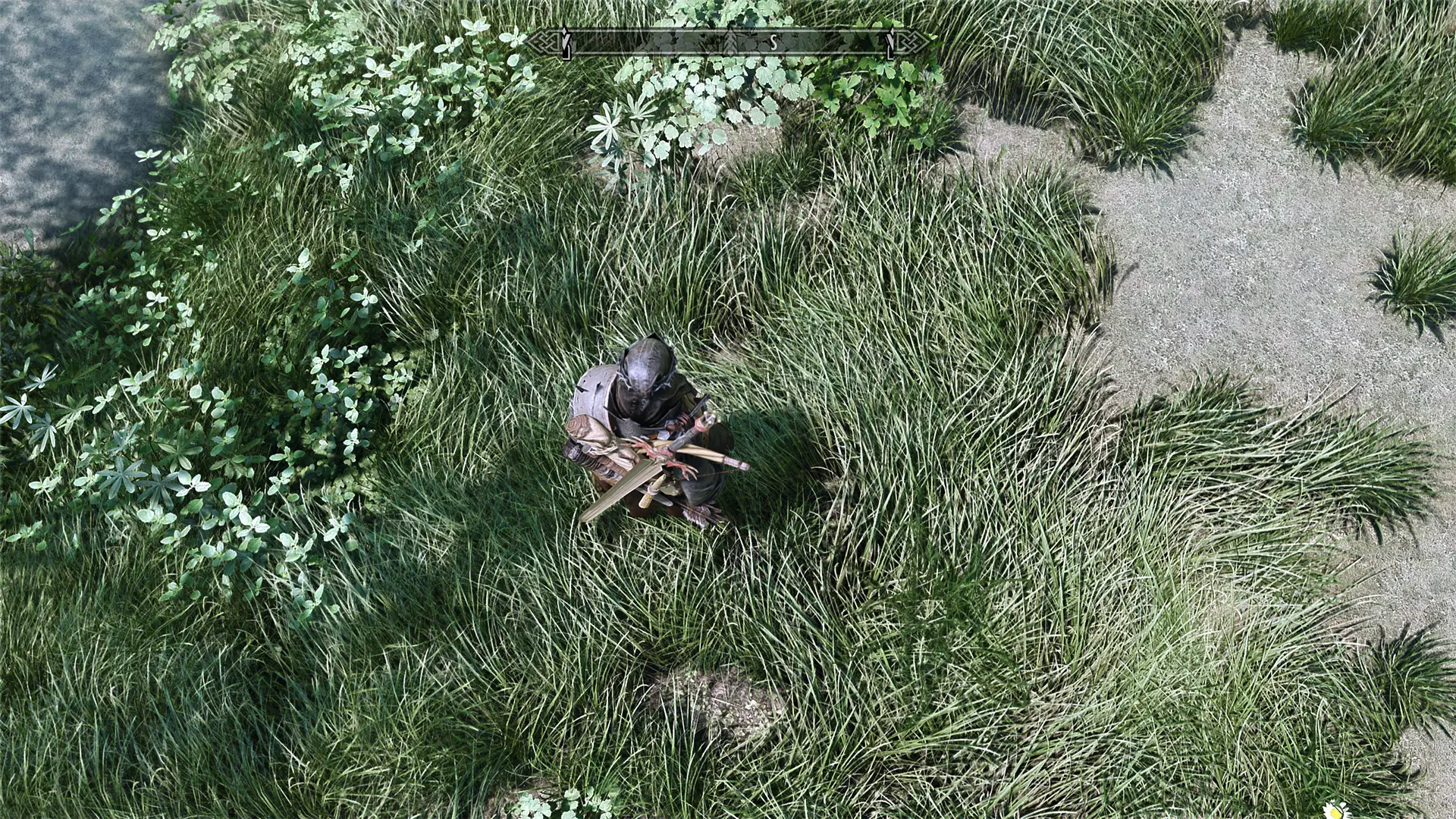 Now with Complex grass off, Shadow is pre-generated and powered by Ambient Occulusion (AO). Looks decent enough from a distant but it's lacking that punch and dynamic shadow / light interaction that Complex Grass offers. 
How much does this impact performance wise?
Most people are reporting a non-loss and some are reporting a 2-5 fps loss, but this is probably accumulates by a lot if you use dense grass mods. 
For mod authors out there
,
If you plan to make a grass mod, PLEASE use these textures as baseline (saves me the trouble of patching it later :P)
Most of them are open permission, although i suggest you check on their mod page respectivily for more info on permission.
Be sure to check out my other mods
,
Unofficial Lux Patches
SNRP
(Retexture mod of skyrim)
If you are a mod author for any of the patches provided here, please feel free to upload them to your page.
Credit
:
Cathedral 3D Pine Grass - DrJacopo 
Cathedral Landscapes - DrJacopo
Veydosebrom Regions - Elyem
Verdant - Preeum
Tamrielic Grass - Ciathyza
Origins of forest - forbeatn
Seasonal Landscapes - Mefariah
Folkvangr - Babmer
Kyne's Grass - mnikjom
Voluptuous Grasses - ForkOnTheLeft
GreenGrass - Elinen - Hoddminir Flowers
GreenGrass2 - Elinen - Hoddminir Flowers
TangledGrass - Elinen - Hoddminir Flowers
Veydosebrom Regions Models - SparrowPrince 
Veydosebrom Regions Textures - Joshezzell
Various grass and flower Textures - Vurt
GreenTree - 32cm - Tamriel Reloaded Grasses - Plants - Shrubs
SkylandFern - Skyking