Phenderix Weather Changer
Phenderix Weather Changer
File information
Created by
phenderix
About this mod
Easily change the weather to any of 23 different options in-game.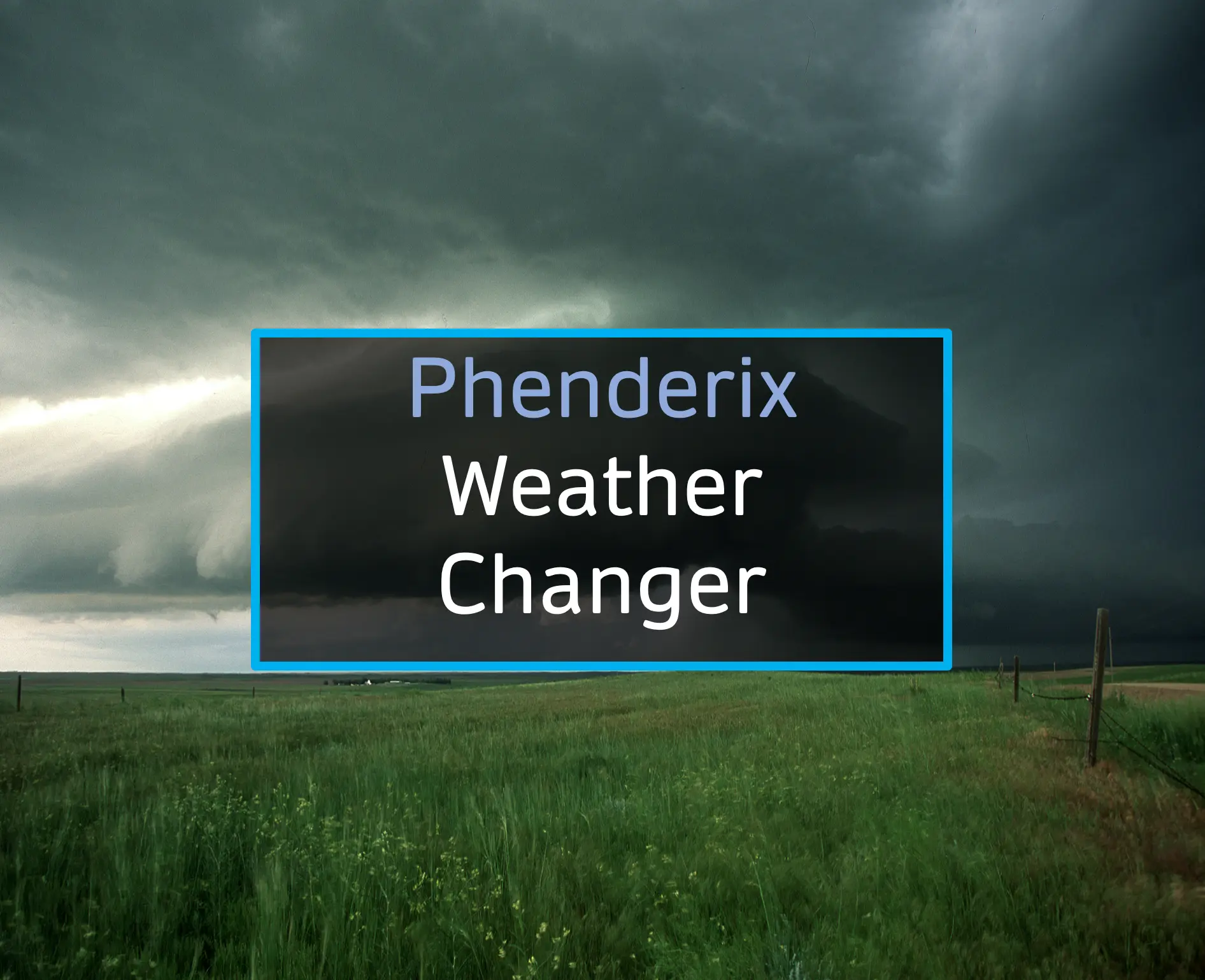 GENERAL OVERVIEW
This is a standalone edition of one of the key features included in 
PROTEUS
. PROTEUS includes this functionality.
Only install this mod if you are not already using PROTEUS. Do not use this mod in combination with PROTEUS.
Phenderix Weather Changer will allow you to easily change the weather to any of 23 different options in-game:
Clear (4 variants)
Cloudy (4 variants)
Fog (3 variants)
Rain (2 variants)
Snowing
Blowing Wind
Ash
Apocrypha
Blackreach
Eclipse
Aurora
Sovngarde (3 variants)
The weather will eventually transition out and be replaced by whatever the game determines the next weather to be.
The weather menu can be brought up by holding down the 
right bracket key ]
.
This hotkey is changeable with the included MCM.
This mod is an ESL and will not count towards your maximum total mod count.
Alternatively, if you do not want to use the hotkey or if the hotkey isn't working for you, you can use the included spell.
Use the console and search for "Weather Changer". Use the addspell command to add this spell to your spells list.
MOD REQUIREMENTS
UIExtensions - without it, none of the menus in this mod will properly work.
SKYUI - if you want the MCM and configurable hotkeys
UPDATES
V.1.0.0OTHER PHENDERIX SKYRIM SE MODS
PROTEUS 
-  play as multiple characters within one save game, edit items, spells, NPCs, and more in-game
PROTEUS Mod Explorer and Spawner
 - a subset of PROTEUS that includes only the cheat functions to add items and spawn NPCs
Phenderix Arcane Arsenal
 - harness the power of the elements and unleash a whole new level of fury from a distance.
Phenderix Magic World - The Magical World of Manantis
 - explore a huge, completely new world
Phenderix Magic Evolved
- adds 170+ new, unique spells to the game (included in Phenderix Magic World)
Phenderix Magic SPID
- gives Phenderix Magic spells to NPCs across Skyrim in a balanced way
Phenderix Weather Changer
- easily change the weather in-game to any of 23 included options
Phenderix Energy Consumption
- hotkey to convert health and/or stamina to magicka (configurable via MCM)
Phenderix Dynamic Summons
- view the stats of vanilla summons and choose to dismiss them
Phenderix Host Spells
- a collection of spells that will allow you to summon 3 creatures at once