File information
Created by
JJ
About this mod
Tired of the same old attack animations repeating endlessly? This mod lets you create combo chains of different moves by attacking continously. Up to 4 times more animation variety than before!
Requirements

Permissions and credits
Normal Attack chain Demo
(ANIMATIONS NOT INCLUDED IN THIS MOD!)
Combining Normal and Power Attacks with Combo chains: 
(ANIMATIONS NOT INCLUDED IN THIS MOD!)INTRODUCTION
Most action games have intricate melee combo systems where you can pull off a variety of unique moves through different attack patterns.
Skyrim's combat animation tree is very simplistic: For each movement direction, there are only 2 attack motions that will just repeat over and over as long as you swing your weapon.
This mod uses
DAR
to extend this "combo chain" to up to
8 different swing animations
: Just keep attacking to create longer combos. 
Light script but no scripted animations. No changes to behavior files, so
no Nemesis/FNIS required
. As of version 1.2, this mod comes with its own MCM page where you can configure each weapon type (such as 1h swords, 2h swords, daggers etc.) to have either 2-hit, 4-hit, 6-hit or 8-hit combos.

DETAILED EXPLANATION

Your combos come in sets of two attack moves (example: 1-A and 1-B both belong to the same set "1", but have different animations "A" and "B"). This is how Skyrim's behavior graph works and I didn't change that.
After your character has done a "B"-type animation, this mod will increase your "combo level". Each combo level uses a different set of A and B attack animations thanks to DAR, so while the game makes you go back to the A-type move again after the B one, it will now actually be a different animation!
After you reach the end of the combo chain (after 8 different swing animations), your combo level will reset and you'll start with the regular set of attacks again. If you stop attacking midway through the combo or wait to long with pressing the attack button, the combo will also reset.
Each combo level also has its own set of power attacks (1-C, 2-C, 3-C, 4-C), so you can finish your combo chains with different moves by doing a power attack after two normal attacks in a row.
INSTALLATION
This mod does NOT come with premade animation files! It's a framework for you to mix and match your own set.
Make sure you have Dynamic Animation Replacer installed
Install this mod, place it below DAR in your mod manager
Open Combo Animations in explorer, go to /meshes/actors/character/animations/DynamicAnimationReplacer/_CustomConditions/. Inside you'll find three folders, 7001, 7002, 7003 (renamed to 6010, 6020, 6030 from version 1.1 on to avoid naming conflict with other mods)
Make sure there are NO CONFLICTS between this mod and your main DAR folder or any other DAR-reliant mods you've loaded: If you have another DAR subfolder with the same number in some other mod, the conditions of the one that comes first in your mod manager's load order will get overwritten! If there is a conflict (it tells you that a "_conditions.txt" is being overwritten) you'll have to rename the subfolder of this mod to a different number that doesn't already exist. 
Reported mods with conflicting folder names: Movement Behavior Overhaul and Genesis AR. If you have one of these installed, you need to rename your folders!
Once there are no folder conflicts, put the animation files you want to use into the 3 folders located in there:
Animations placed inside the folder "6010" will be used for the attacks 2-A and 2-B in the table above.
Animations placed inside the folder "6020" will be used for the attacks 3-A and 3-B in the table above.
Animations placed inside the folder "6030" will be used for the attacks 4-A and 4-B in the table above.
If you want shorter combos for any weapon type (e.g. you can't find enough 2Handed Axe animation replacers), just leave the corresponding folder empty and set your preferred combo length in the mod's MCM menu main page.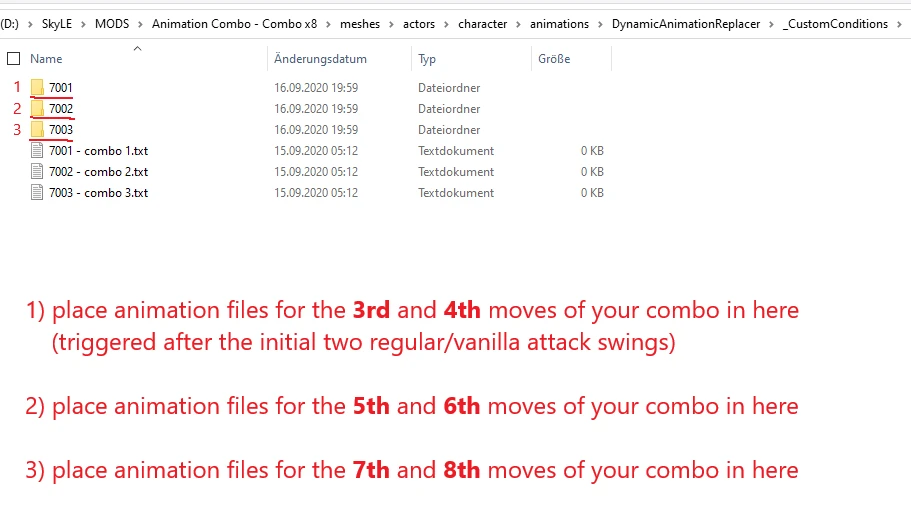 You can replace pretty much every type of animation for every melee weapon type for each combo level:
1hm_/2hm_/2hw_ normal and power attack animations, sprint attack/sprint power attack
idle, block and bash animations
walking and running animations
I haven't tested it yet, but I don't see a reason why this wouldn't also work on killmove animations
The easiest way would be to just take 3 of your favorite animation replacer packs and dump each of them into one of the combo folders (that's what I did for the showcase videos).
If you want the exact same anims as in the demo, I've put the links in the video description.
IS THIS COMPATIBLE WITH OTHER D.A.R.-BASED MODS?
This mod should be compatible with any other mod that uses DAR, since the conditions it uses only refer to its own .esp file.
For example, as long as you can find enough animation files to use, you could give any of the custom weapon types that  
Animated Armoury
 adds its own combo chain: You would just need to create extra folders that combine the conditions from the AA weapon type and the combo level you must be at to use the animations.

Example:


If you want to give rapiers an 8-hit combo, make three subfolders (beware of naming conflicts!) and create a "_conditions.txt" in each of them containing the following:
First subfolder for combo x3 & combo x4

IsEquippedRightHasKeyword("NewArmoury.esp" | 0x000801) AND
HasMagicEffect("Combo Attacks SE.esp" | 0x0036CD)

-> These animations will only be used if you BOTH have a weapon of the type rapier equipped AND after a 2-hit combo
Second subfolder for combo x5 & combo x6

IsEquippedRightHasKeyword("NewArmoury.esp" | 0x000801) AND
HasMagicEffect("Combo Attacks SE.esp" | 0x0036CE)


-> These animations will only be used if you BOTH have a weapon of the type rapier equipped AND after a 4-hit combo
Third subfolder for combo x7 & combo x8

IsEquippedRightHasKeyword("NewArmoury.esp" | 0x000801) AND
HasMagicEffect("Combo Attacks SE.esp" | 0x0036CF)
-> These animations will only be used if you BOTH have a weapon of the type rapier equipped AND after a 6-hit combo