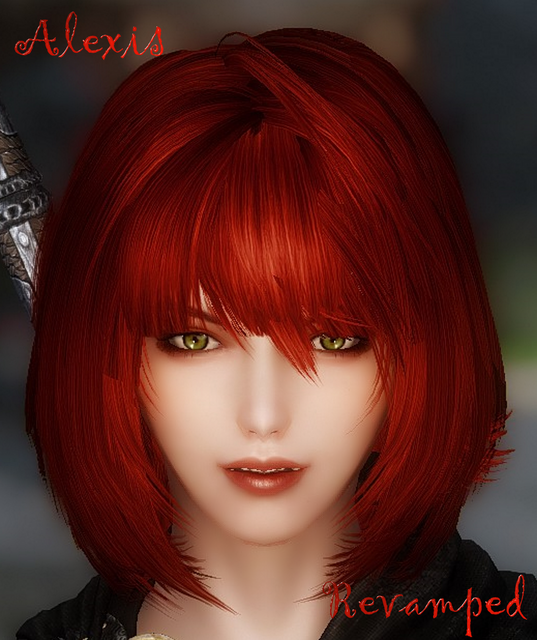 Alexis
 (my first follower mod) was released in 2016.  Alexis Revamped is the cumulation of two years of appearance changes on my player character.


Name:  Alexis
Race:  Custom Nord
Voice:  Female Sultry
Marriage:  Yes
Height:  1.00
Weight:  100
Body:  UNP, CBBE, SevenBase, & Custom UUNP (Base & HDT Options)
Skin:  Fair Skin (Optimized & Uncompressed)
Weapons:  Daedric Pike & Ebony Bow/Arrows
Armor:  Scarlet Dawn (Non-HDT, HDT, & SMP Options)
Location:  Solitude Blacksmith
Levels with Player
Spells:  Vanilla Healing, Conjure Alexis Tainted
Tainted Spells:  Fire Oriented Spells (No weapons)
Perks:  Lightfoot; Two-Handed (Full); Block (Partial);
        Archery(Partial); Light Armor (Partial)
Tested with AFT & EFF
ENBs in Screenshots:  Rudy and Caffeine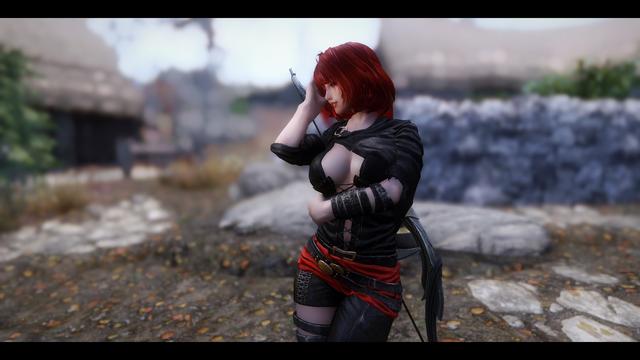 Dawnguard
Dragonborn
HDT Options:
  HDT Physics and HDT Compatible Skeleton
SMP Options:
SMP Path
 and Compatible Skeleton
Base SevenBase:
  BBP Compatible Skeleton


Facelight Plus

Are You There

XPMSE

Relationship Dialogue Overhaul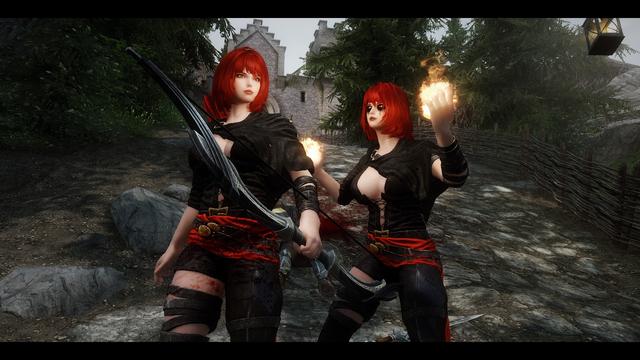 Armor may clip in certain poses/positions.
Slight Head/Body color mismatch on certain setups/ENBs.  More noticeable on Tainted due to the Makeup layer.  
Under certain combat situations; Tainted & Alexis may become hostile towards each other but no worries Alexis holds no grudges and will summon  her again (this is due to the vanilla magic system; it's not the most accurate system and Tainted only uses vanilla spells)(I would highly  suggest a follower management system with a friendly fire option to minimize the occurrences)


Manual or your favorite FOMOD friendly mod manager


Manual or your favorite mod manager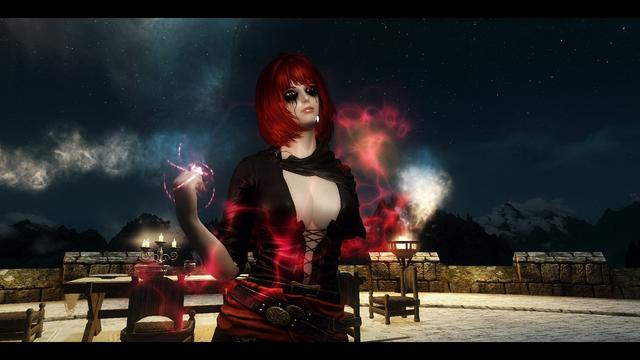 sfeile

dragonstar99

zhoulia

Skyrim Mods & Modders



Q:  Why do a Q & A?
A:  I have no freaking clue
Q:  Why do you make so many followers?
A:  I'm a follower hoarder/addict; since there is no Followers Anon I only have Nexus.
Q:  Will you release the Racemenu preset?
A:  I have no immediate plans to do so
Q:  Will you change *insert request here*?
A:  I have no intentions on doing individual requests.
Q:  Can you remove the Summon Tainted Spell?
A:  I'm sorry I won't do individual requests.
    A:  Please use Creation Kit or TES5Edit to remove the Summon Spell
Q:  She is stretching....Invisible
A:  Please google HDT fixes that may work on your system.
Q:  I'm having "insert issue here" with SMP
A:  I'm not an expert in SMP please Google or try contacting those with more experience.
Q:  Do you take requests, suggestions, complaints?
A:  I'm open to all requests, suggestions, and feedback as long as they are polite.
Q:  Why isn't this Q & A funny?
A:  Because I'm a boring person *shrugs shoulders*


UNP

CBBE

SevenBase

Bodyslide Outfit Studio

Racemenu

Fair Skin

Gothic Lolita Makeup

YevMods Makeup Pack

Stoja's Very Black Lipstick

SG Hair (Google is your friend)
SG HairMix 2

Animated Armoury


CL's Ebony Weapons

Scarlet Dawn Armor (Jmenaru)

Scarlet Dawn SMP Armor (CloneReal)


wtfuuun UUNP Conversions

Scarlet Dawn Armor - CBBE - HDT - BodySlide (Alunder)

True Eyes
Brows

Van Gogh's Eyes

Xrayys HD Eye Normals

2K Lip Tints


Smile in HD


UNP High Poly Hands & Feet (Halo)

Bethesda
NifSkope
NifMerge
*If I forgot anyone please kindly remind me*

**Assets were not used from all above mentions but sometimes ideas/fixes were**

***Some Credits/Resources from the original Alexis will apply***





This follower is the combination of the work of others.  Please obtain their permissions in addition to mine.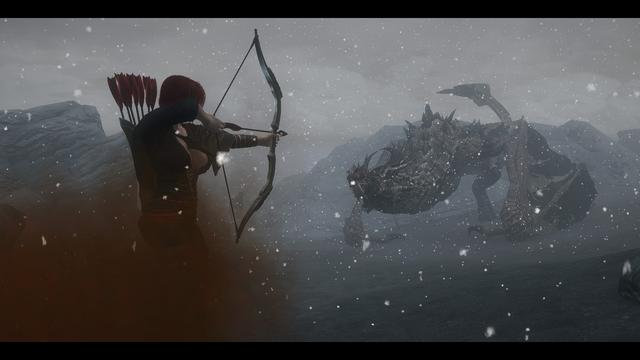 HOT FILES 8/2018!  THANK YOU EVERYONE!!