Generation Zero Non-Combat Helper Mods
Generation Zero Non-Combat Helper Mods
File information
Created by
From various modders and authors
About this mod
Increase Carry-Weight & Storage, 2 or 3 Skill Points Level Up, 60SecSprintFastRecovery, Guerrilla Plus. Marksman reduces recoil-bullet scatter, better hacking, enemy marking, etc..Quickly spawn reaper, Generation Zero Troubleshooting & backup guides.
Increase Carry-Weight & Storage, 2 or 3 Skill Points Level Up, 60SecSprintFastRecovery, Guerrilla Plus. Marksman reduces recoil-bullet scatter, better hacking, enemy marking, etc.
Scroll down to see.
🛑Text in orange colors are hyperlinks to download files or "must read" sections.
Please share the links of my mods with your friends so they can slightly tweak their game and extract a bit more fun from it, too.

✅Carry weight-storage mods compatible with the May update.
✅60 seconds sprint mod version-2 works with the latest May update (you must replace older version)
✅2 and 3 Skill Points have been updated. See details below.✅Marksman mods have been updated. See details below.👷‍♀️ Guerrilla + mods will be updated in a few days.
When the game is updated most mods need to be updated too. Temporarily rename the dropzone folder to disable all mods or selectively rename each folder to disable them. Wait for mod updates. The carry-weight and storage folder called "settings" are usually not affected by game updates.
Incompatible or non-updated mods can cause or exacerbate game crashes and other problems.🛑More mods from various authors (Please scroll down): Spawn a Reaper in 5-10 minutes, Auto-Backup, etc.

Hi there friends and visitors, welcome to my humble page.




🛑Install guide has been updated, now with Avalanche Apex Connect tips. Please scroll down.
My Generation Zero Non-Combat Helper Mods are designed primarily to reduce artificial difficulties imposed by the game or results of erroneous calculations. I must admit that some aspects of non-combat modifications could also be utilized as combat helper, to some extent, but not to the point of breaking the fun and  challenges offered in the game. 
Frequently Asked Questions about mods
Click here for details.
What to do if game updates?
Temporarily rename the dropzone folder to deactivate mods. Wait for updates.
Are mods the causes of crashing/kicking out in multiplayer?
No. These are frequent issues even before the first mod was created.
Are mods executable files (.exe)?
No.
How to use mods during multiplayer sessions?
Make sure everyone is using the same mods more or less.
How to premod you storage for use in multiplayer sessions?
Store what you want during a single play. Exit. Disable mod and play multiplayer.
May I also invite you to visit my Articles section for some good reads.
🧉+🧉= Two mods you'll ever need
🧉Carry weight and/or Storage Limits mods.
The default game limits makes QOL (Quality of Life) of players miserable.
Your carry weight indicator will still turn red once you go over the default carry-weight limits but you can still sprint and fast travel. Once you go over modded limits, the movement, fast travel and storage encumbrances will kick in. Have fun!
🟡
300 carry weight, 3000 storage capacity 
🟡400 carry weight, 4000 storage capacity 🟡 500 carry weight, 5000 storage capacity
🟡 50,000 Carry-Weight and 50,000 Storage (By request.)

In case of a game update, this version will be the first one that will be updated so everyone can immediately play.
🟡
Default carry weight & 5000 storage capacity
🟡
Default carry weight & 6000 storage capacity
🟡
Default carry weight & 7000 storage capacity
🧉2 Skill Points per Level up mod
(there is also a 3 skill points per level up version)

Another QOL issue is the game's limits of 30 skill points, level 31 cap and no skills reset function. Meantime this mod is an option.
This will give you 2 skill points every time you level up, or a total of 60 skill points instead of the default 30, which is not enough to activate all of the most important skills you would need to even up the odds against the bots. 
This will only affect new level up you earned and does not affect skill points you already have. 
This is highly recommended to anyone who just wants one mod that does it all and combined with carry-weight and storage mod.

Download 2 skill Points mod version 2.
It will give you a total of 60 points.
Download 3 skill Points version 2.
It will give you a total of 84 points (3 points short for activating all skills). The first 3 points will be given when you hit level 4 and your skill points will start to exceed the 2 skill points version when you reached level 9. If you really want to have 87 points to activate all skill, use the 2-points level until you reached level 3 or 4 points. Fast travel and open storage to make sure game is saved. Exit game to desktop, replace the 2-skill with the 3-skill points version, which should give 3 points the moment you reached level 4.
🟡60SecSprintFastRecovery mod ver-2
(this will not over-write 2 skill points level up mod).
This version fixes the problem of the "B" key not showing up to access the build menu for base building or when you approach the command center truck.
Although the older version appeared to be working, in reality it was not working perfectly for the May update.
My third QOL mod allows you to sprint for 60 seconds (instead of the game's annoying default of a few seconds).

It will give you a better chance to temporarily retreat from battle or to out-maneuver you opponents. To rebalance this longer sprint, it will take you just as long to fully recover your stamina when you stop briefly and continue to walk or jog, just as the game default settings. However, you stamina will recover 25% faster than the game default if you stop walking or jogging for about 2 seconds.
This mod can still be improved if you spend points on Stamina Amount, Stamina Recharge Rate and Run Speed skills.
Download 60SecSprintFastRecovery mod ver-2

🛑Safe to install together:
carry-weight storage mod, 2 or 3 skill points level up and 60 seconds sprint and fast recovery mods.
🟡Marksman mods
( all versions include 2 skill points level up, except the Standalone).
For KVM, PVG and N60 US machine gun (Soviet sniper rifle not included - I don't have the DLC.)
(updated to May patch)
Someone asked why didn't I just totally remove recoil  and bullet scatter. Answer: I wanted the weapon to behave close to the real weapons. What kind of a weapon fitted with a bipod but still swings and recoils as if there is no bipod support at all.
It is called "Marksman" because you can now enjoy the benefits from the Marksman specialization (less recoil and bullet spread, and zero sway as if you have activated Marskman specialization) without spending a single point on marksman tree. This will allow you to activate another specialization, Vanguard (for 25% damage resistance) without worrying about weapon sway and others.
You can still spend points on marksman skills tree to improve it a bit, except the weapon sway, which is already maxed out, so don't spend any point on it, Honestly it is not recommended to spend any point on the marksman tree.The updated mod will have 3 versions: a Standalone, Combo 1 and Combo with gas-radiation-biologicals 50% protection (default gas protection is 20%)

🟡 Marksman Standalone. 
(Reduces recoil, bullet scatter and zero sway)
🟡
Marksman-Combo 1.
Marksman combined with:
- 2 skill points level up
- 5secs hack cooldown instead of 60sec and 80-160secs hack duration instead of 20-40 (spend 1 or 2 points). The 5sec cooldown increases your chance to hack bigger bots.
Ex: Quickly hack and rehack a tank about 3-5 times immediately after the 5sec cooldown passes)
- 240-300secs enemy marking duration (spend 1 or  2 points). Marked enemies take additional 10% damage if you add and activate
Designated Target
skill within the Support Skills Tree. 
🟡
Marksman-Combo 1 Plus Gases Protection 50.
Combined with 50% gas-vraken mask, radiation and biologicals protection (default gas protection is 20%. To activate fit yourself with any gas mask or Vraken pilot gear mask).
🟡
Marksman-Combo 1 Plus Gases Protection 75.
Combined with 75% gas-vraken mask, radiation and biologicals protection (default gas protection is 20%. To activate fit yourself with any gas mask or Vraken pilot gear mask).
NOTE: It appears the radiation and biologicals protection are not working as expected. It I give it 100% it works but I do not want that. The gas protection works. This applies on the 50% gas protection as well. My apologies but not going to update as it does no harm.🟡(might not update this anymore) Generation Zero Guerrilla Plus modThis is an option for those who want more challenges to suit their play style.
Spawn 16 rivals not 8
Reaper spawn even at character level 8
I recommend playing a New Game Plus (so you can keep all of your previous weapons with you).
I highly recommend to play on guerrilla difficulty to max out the challenges.
Marksman included with 75% gas protection and optional 100% jump shoes (a new fun tactic to fight bots from rooftops).



___________________________________________________________________________________________________________________________________________________________
All skills in view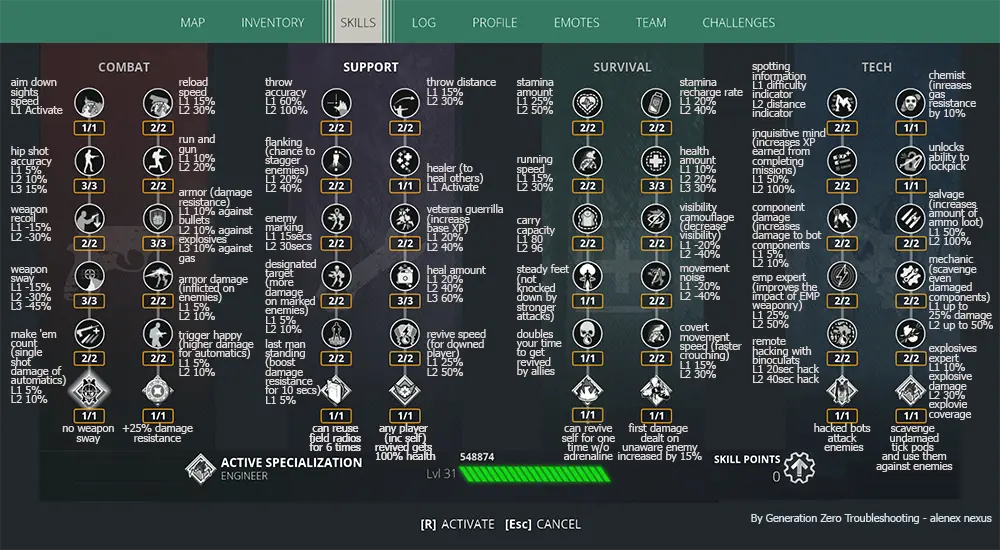 How to install the mods.
When game makes an update, you need to temporarily rename or move the dropzone folder out of the game folder and visit this page for news. Most or all mods will stop working or could crash you game until the mod is updated as well.
For Steam users, navigate to your Steam Dashboard, Library, right click on Generation Zero, Properties, click on Set Launch options..., copy exactly the text below and paste it
(without the quotes).
 "--vfs-fs dropzone --vfs-archive archives_win64/initial --vfs-archive archives_win64/supplemental --vfs-archive archives_win64/optional"  Click OK to complete the process.
If that doesn't work try this one copy and paste: 
(without the quotes, and make sure there is a space between the letter "s" and the "." at the end).
  "--vfs-fs dropzone --vfs-archive archives_win64/initial --vfs-archive archives_win64/supplemental --vfs-archive archives_win64/optional --vfs-fs ."
After you had configured Steam by adding the launch option, make sure to logout and login again at least once and recheck if the launch text still exists.

Avalanche Apex Connect Account (AACA)
Always recheck if this launch option text still exist the first time you activated AACA. Check it again if you reactivated any AACA, which you had deactivated or deleted previously. The account creation tend to frequently remove this launch option text.
To install, open the mod archive you have downloaded with 7zip, winrar or winzip,
drag and drop the dropzone folder
into your Generation Zero folder usually located at *.*\Steam\steamapps\common\Generation Zero, and allow it to overwrite (in case you already have a pre-existing dropzone folder.)
Sample location of dropzone folder:

To uninstall, ensure that you have fully exited the game,  delete or move the dropzone folder outside of your game folder.
To temporarily disable mods just rename the dropzone folder. Do this only when the game is not active.
Image shows the game's default values of the skills tree to help you prioritize your 30 skill points with or without mod.





External Links
For questions and assistance on externally linked mods, please post on their respective sites.

🟡
Mods by Sir Garnon (THIS IS NOT A MOD. I recommend manual setup because the auto-setup sometimes gives error on some PC.)
Automatically backup save file
🟡
Chiados CE table (external links). This is not a mod. It is a table.
Quickly spawn a reaper.
If you have Apex account, open this application first but do not anything else. Launch the game, and wait until the main screen shows up. Activate this app as usual put x marks on the corresponding boxes. Start playing the game. If you accidentally exit the apps, exit the game and repeat process. 
Summary: (This summary is more recent than the one included in the download file.}
Choose the region with the lowest regional level and the least number of rivals. Activate Max Region Level and Max Rival by clicking on the box or pressing space bar.


Destroy around 3-5 machines to quickly max region level. It is during the maxing up of region level that reaper usually spawns. If reaper did not spawn after maxing up region level continue destroying several more non-rival machines or go to another low-score region and try it there. 



Reaper will not spawn on a region that already has 8 rivals. You must destroy at least one rival and make sure Max Region box enabled and Max Rival is disabled, otherwise another rival could spawned after you destroy a rival.