KS Hairs for Dragon Age 2
KS Hairs for Dragon Age 2
File information
Created by
anshela and vaelsmod and Zimpra
KS Hairs for Dragon Age 2

Welcome to KS Hairs for Dragon Age 2, Update 5.0!  This is a huge update and overhaul of pretty much the entire mod, with a bunch of new hairs, and a new modular breakdown.
What's New
:
In an effort to make the mod more user-friendly, we've broken down the hairs into separate volumes, so that you can choose which individual hairs you'd like to add to your game.
Hair Charts have been uploaded and are included in the individual downloads to give an idea of what each hairstyle looks like.  I've also uploaded a zip with all of the full size versions of the images that I used to create the hair charts, in case you want to see them.
If you're feeling particularly brave, there's also an All-in-One version uploaded, in case you actually want to add all of the hairs to your game at once.  Given the sheer number of hairs and how easily the chargenmorph becomes unmanageable, I would not recommend this.
At the moment, the Female Hairs are split into five separate volumes, four with 20 hairs each, and the fifth with 13.  The male hairs are split into two volumes with 16 and 17 hairs respectively.  I broke them up alphabetically to start with, but as new hairs get added, I won't be rearranging the current volumes -- they'll simply be added to newer/later volumes.
See the descriptions below of each of the Volumes to see which hairs are included and the chargenmorph lines you'll want to use.  Because of the number of hairs included, I would highly recommend editing your Chargenmorphfile yourself, so that you only include hairs you know you want to use.
Update 10/31/19:
I added Volume Six of the Female Hairs.  Please note that I had a couple of issues with some of these, so they are not quite perfect, but hopefully you'll like them anyway.  The All-In-One file has also been updated.  I put the chargenmorph lines for the new hairs at the bottom, instead of doing them alphabetically, so that it would better match what's shown here on the mod page.
Currently, this is the last update I have planned for a little bit -- I'm sure I'll be adding more at a later date, just no plans within the next few weeks or so!
Installation:
Place the .ERF for the volumes you want (or the all-in-one file) into your Override folder, and either use the chargenmorph included, or manually edit your chargenmorph file to include the lines for the hairs.
 

If you're using multiple volumes, remember to use a chargenmorph compiler
or edit the file yourself so they won't conflict.
Updating:
If you're updating from 4.0, I'd recommend making sure you've removed ALL previous KS Hairs files from your Override before adding 5.0.  Some of
the meshes have been updated, and having both in your Override might cause some unexpected issues.
Female Hairs Volume One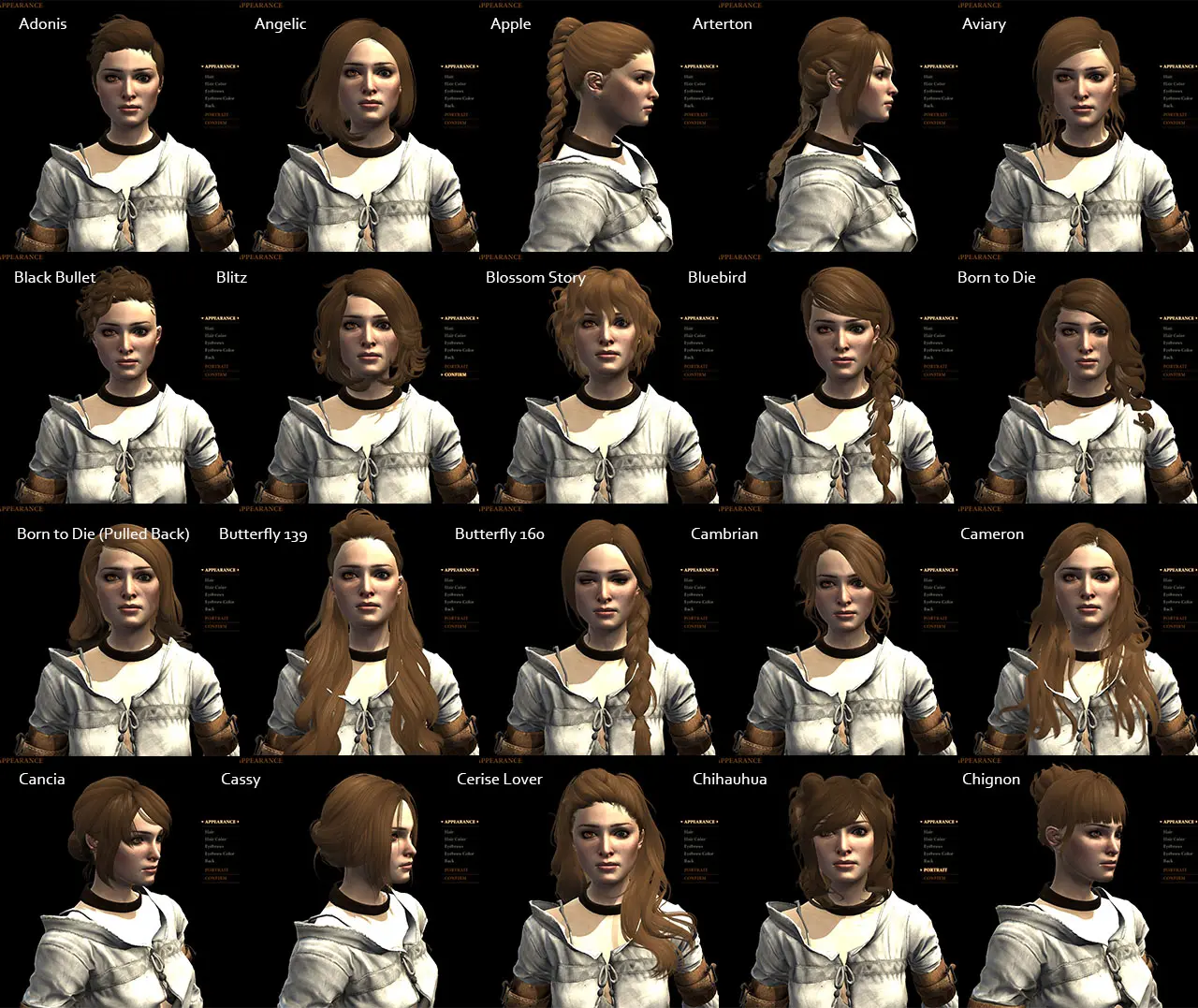 Chargenmorph Lines
Female Hairs Volume Two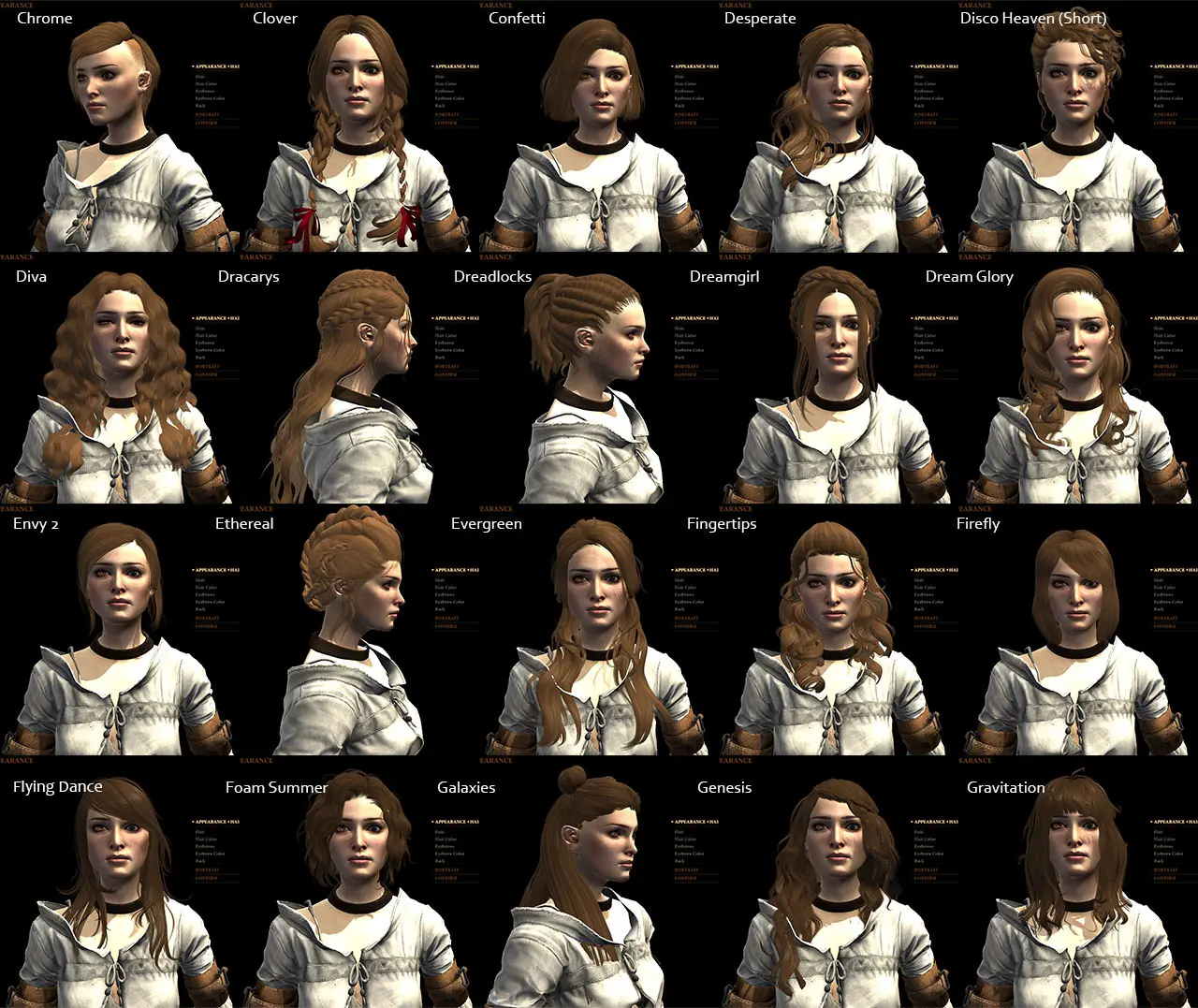 Chargenmorph Lines
Female Hairs Volume Three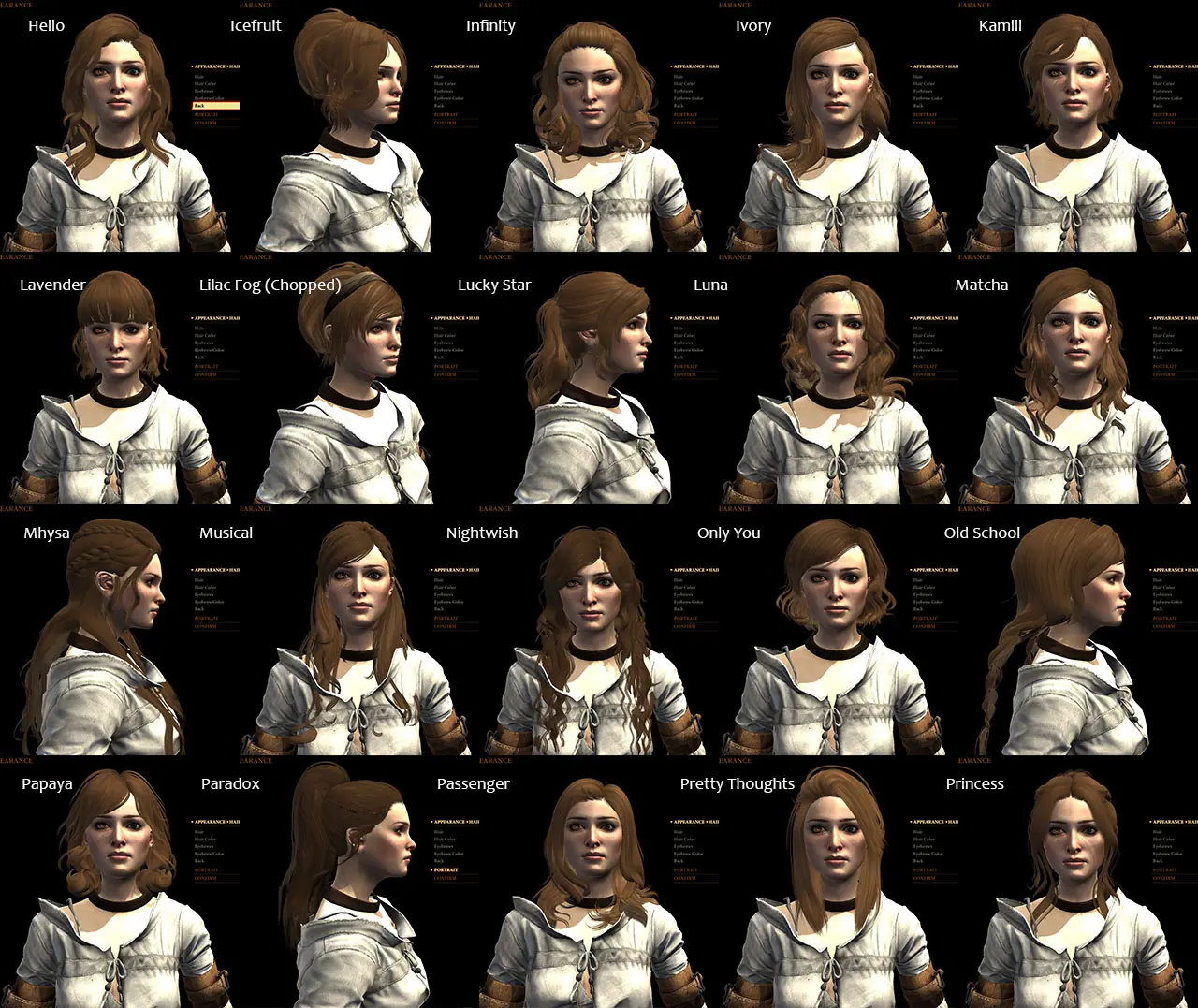 Chargenmorph Lines
Female Hairs Volume Four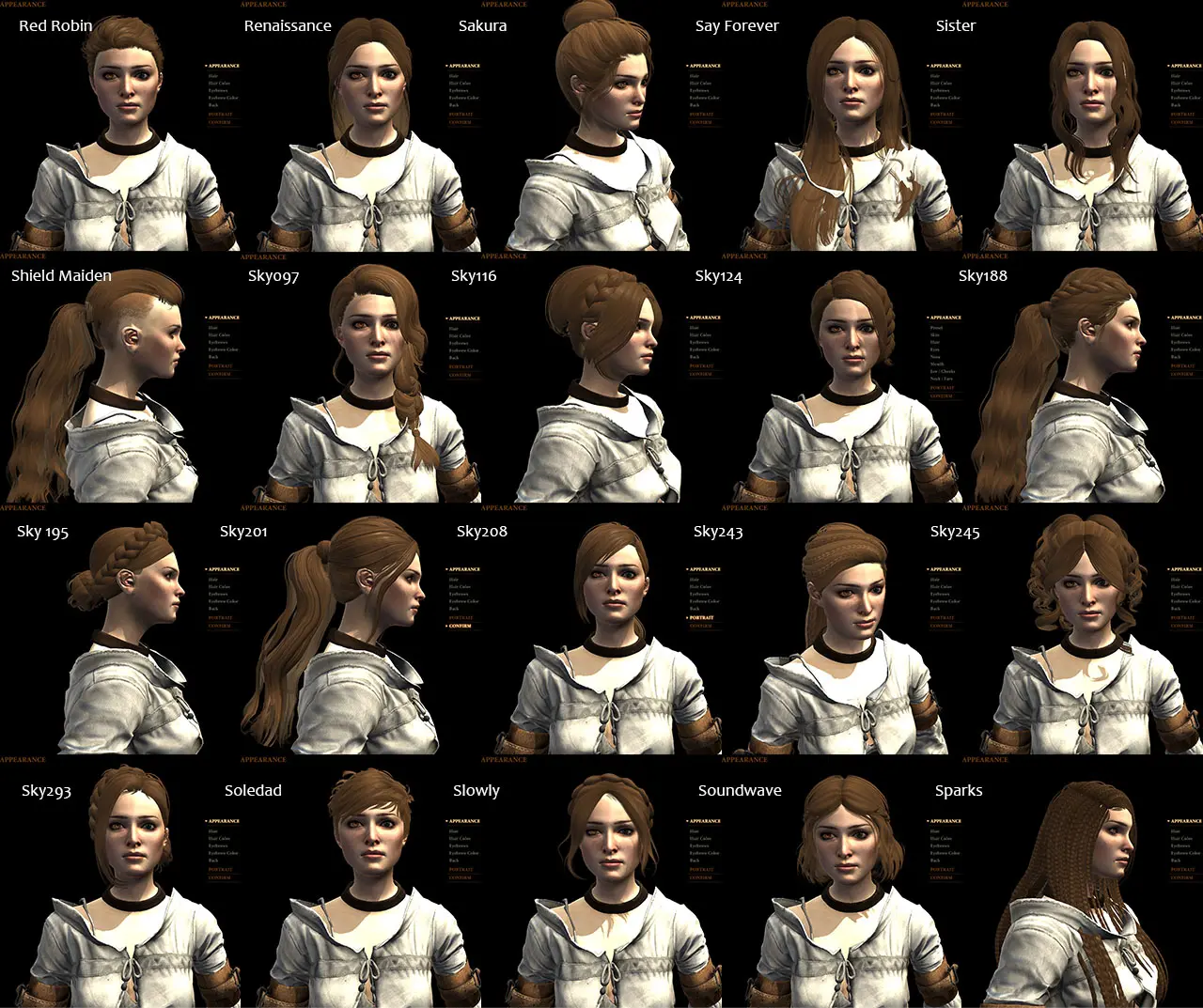 Chargenmorph Lines
Female Hairs Volume Five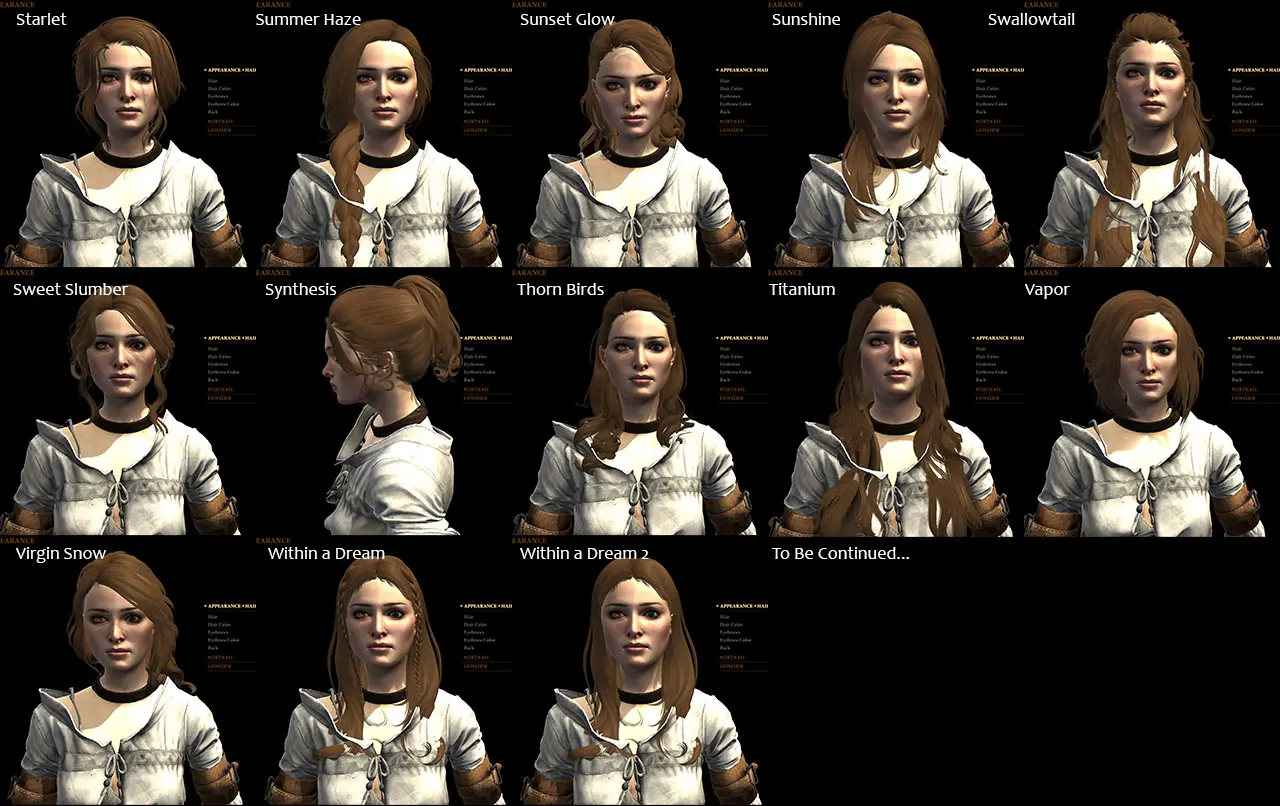 Chargenmorph Lines
Female Hairs Volume Six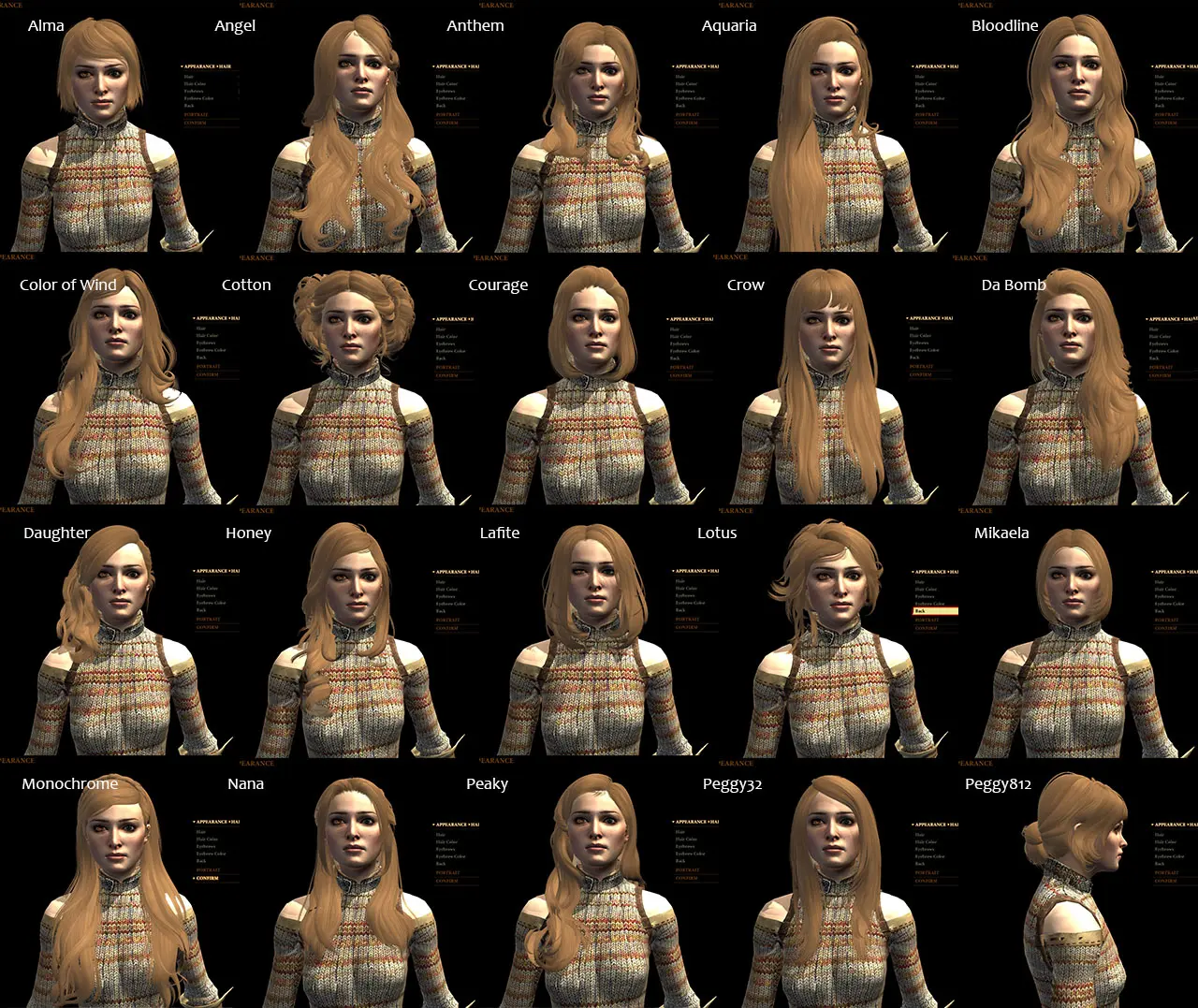 Chargenmorph Lines
Male Hairs Volume One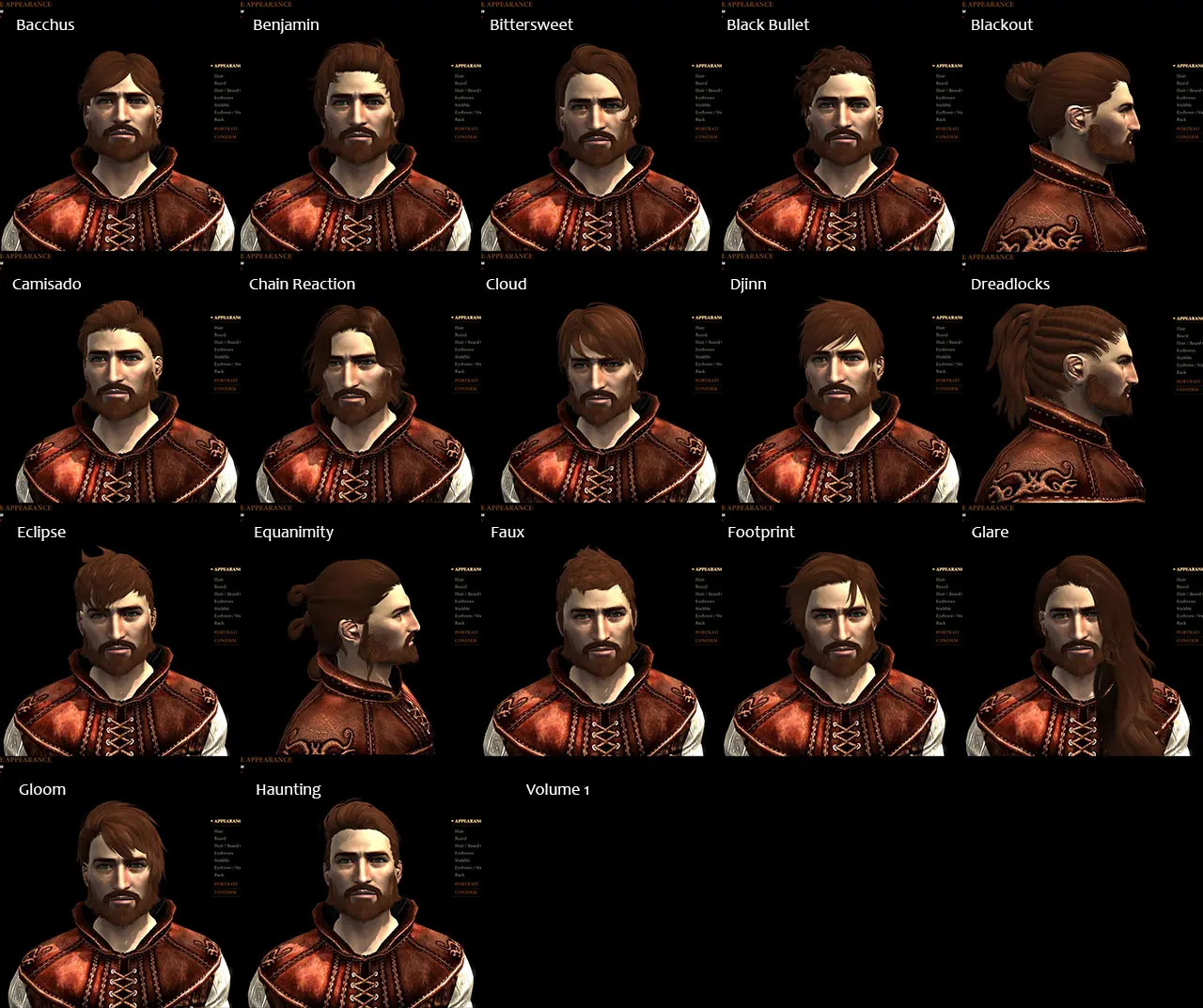 Chargenmorph Lines
Male Hairs Volume Two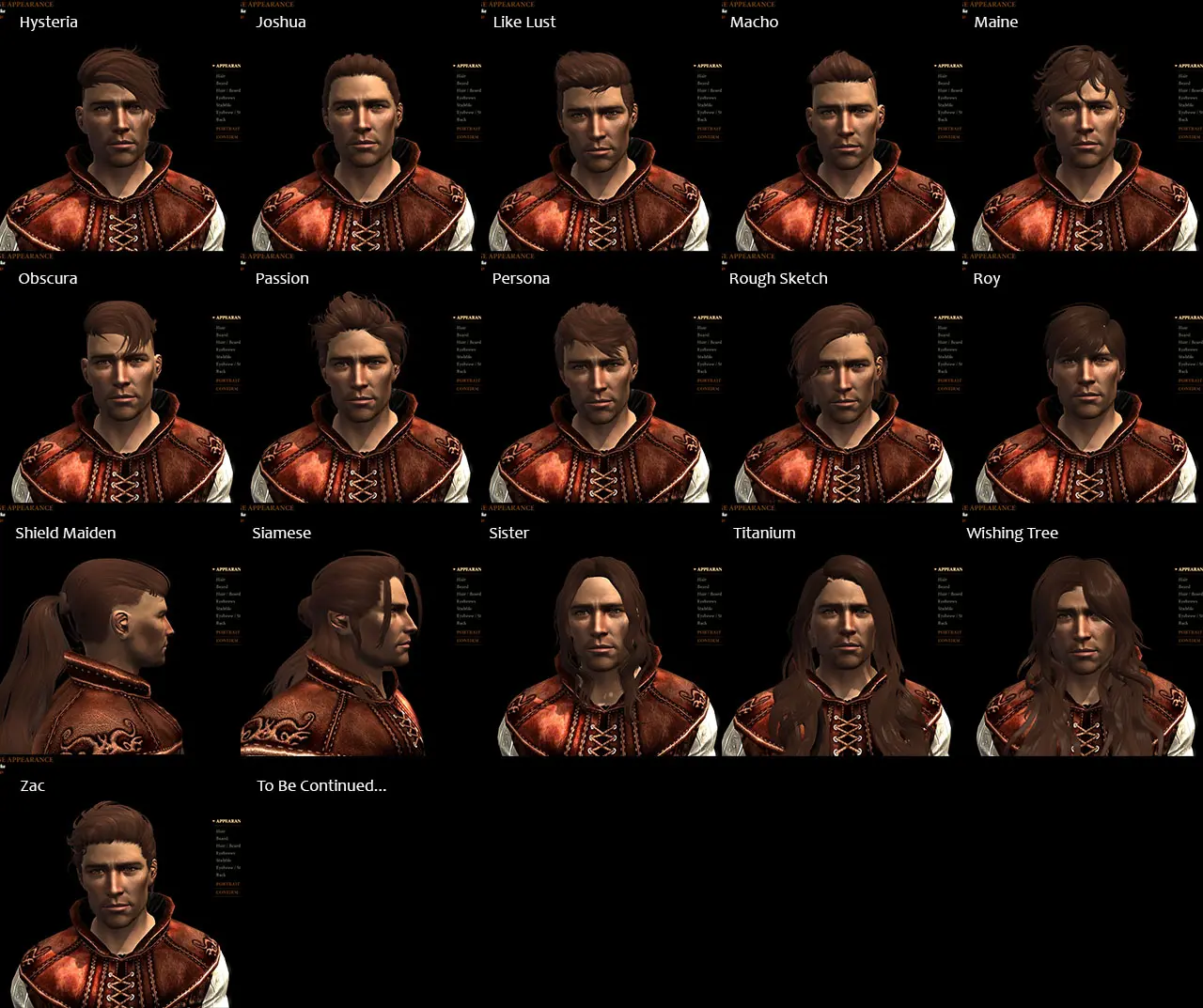 Chargenmorph Lines
Notes and Known Issues

-- There may be some minor clipping in the sides of the faces with wider-faced Hawkes/presets.
-- Yeah, I know not all of these are exactly lore-friendly.
-- Hairs that fall down the front and back will definitely clip through thicker armor; they'll work fine with armors that are closer to Hawke's body.
-- Additionally, hairs that fall down the front tend to be a little bouncy.  I don't have a good solution for that at the moment, so just -- be aware of it if you're planning to use them.
-- These hairs use their own textures, so they may look a little strange with custom tints.  Also, some of the meshes themselves won't seem to play nice with some tints.  I've noticed this most frequently with bright or shiny hairs -- particularly orange.
Optional Files

Blender Files:  Just in case anyone happens to want them, I uploaded a few of my (now rather old and outdated) blender files as a resource, because as a modder it helps me to see how other people work and figure things out from there.  (And I always appreciate it when other modders upload their resources.)  These were all saved in Blender 2.49b (the version that the export script works with).  Reminder that I am not the author of these meshes; I just ported them in!  They were ported from KS Hairdos, and the original authors are credited below.
KS Hairs Elven Edition
: A few of the KS Hairs ported for elves, in case you're using
Playable Elves
or want to stick them on an elven character.  Note:  some of the conversions might not work on all elven characters, and getting them to stick behind ears properly was a little tricky.  The chargenmorph lines you'll want are as follows:
Credits & Tools Used
What went into this mod:
KS Hairdos Renewal
by
Kalilies
and Stealthic
QuenchedSteel's Blender to DA2 Script
(and thank you for all of your help and troubleshooting!)
boodrl's
video tutorials
on converting hair textures for Dragon Age
DA2 Blender Import script
Original Hair Authors:
Ade
,
Alesso
,
Anto
,
Darko
,
Geisha
,
Hal
, 
Jakea
,
Karzalee
, 
Kijiko
,
Lapiz
,
Leah Lilith
,
Momo
, 
NewSea
,
Nightcrawler
,
S-Club
,
Sintiklia
,
Sky
,
Stealthic
, Peggy,
Raonjena
,
Wings
, XM and
Zauma
for the permission to release their hairstyles.
Hellosanta
for her textures, which have been used as a resource for these hair textures.
Mods Used in Screenshots
Amell Ancestral Arms
Dream of Antiva
Harlequin Armor Recolor
SG Finery Shop