Black Durable Synthetic Biker Coat
Black Durable Synthetic Biker Coat
File information
Created by
Eye of Center
About this mod
Retextures the Durable Synthetic Biker Coat into a full black leather coat. Recolours the brown patches by swapping its colour to match the rest of the black leather.
Requirements

Permissions and credits

The Durable Synthetic Biker Coat is easily one of my favourite items in the game. The "Badass Longcoat" trope might just be a staple of the cyberpunk genre at this point - and this thing's easily a futuristic version lifted right out of the classics. And according to the comments on some of my old Youtube videos, I know I'm not alone. Speaking for myself though, this thing always had one problem. The brown swatches of leather sewn in on the black always looked out of place: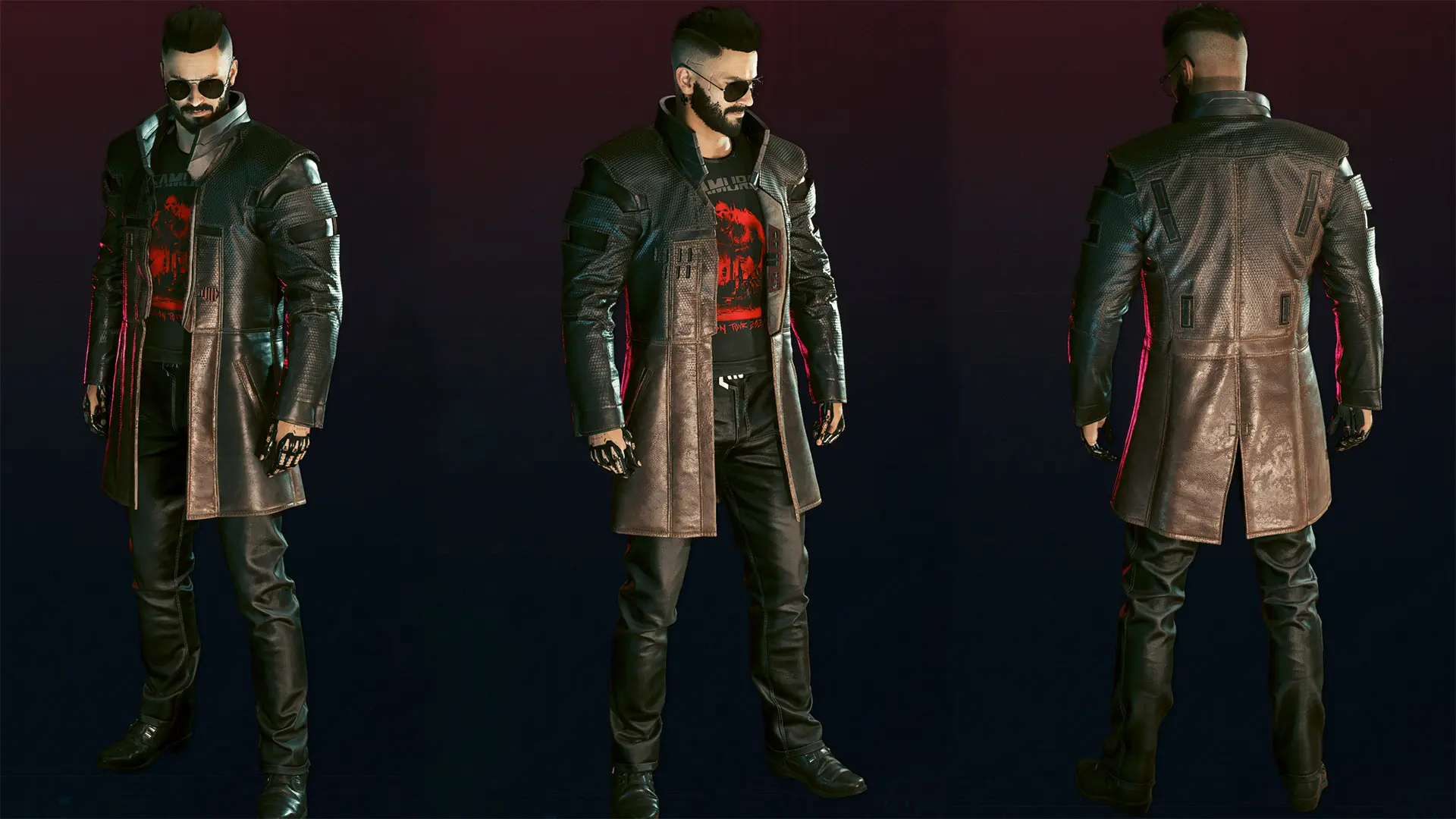 (BEFORE)
Using the 010 Editor, I managed to eliminate this by retexturing the brown to match the rest of the coat's black to make things a little more consistent: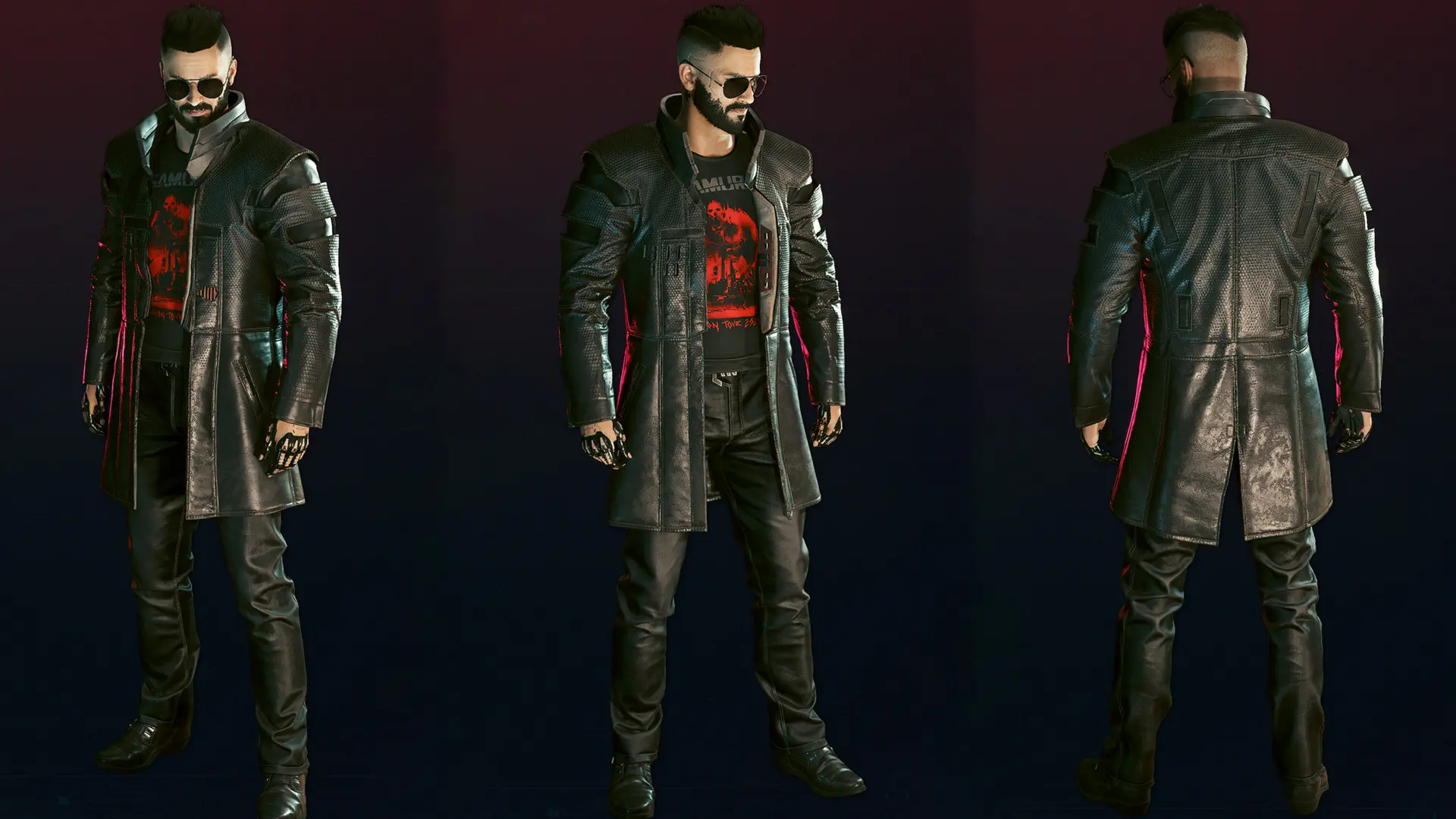 (AFTER)
DETAILS
This is a very basic mod I made a long time back around the time of Patch 1.2. I put this together around the time I first discovered Cyberpunk 2077 modding in general. I was thinking about uploading this to the Nexus back then, but I never got around to it.
This is a complete retexture. No meshes were edited/swapped, meaning it won't change any of the other items using this mesh and it works for both male and female PCs.
INSTRUCTIONS & USAGE
*NEW - DOWNLOAD AND INSTALL "Cyberpunk 2077 Texture Override"
A user has brought a weird graphical bug to my attention. For some reason, one of the files you need to extract and archive into the mod to make the modified texture load in-game causes the arm on the ripperdoc chair in Vic's clinic loses its texture whenever I extract it and use it on my end. DOWNLOAD THE 
CYBERPUNK 2077 TEXTURE OVERRIDE
 MOD AND INSTALL IT TO GET RID OF THIS GLITCH.
*INSTALLATION:
Copy the "archive" folder directly into your Cyberpunk 2077 directory


*Since this is a retexture of something already in the game, you obviously need to have the Durable Synthetic Biker Coat in your inventory.
You can find buy the Durable Synthetic Biker Coat at the Stylishly in Rancho Coronado (spawns up to Epic quality)
It spawns randomly on the Voodoo Boys in Pacifica (spawns up to Epic quality)
Another alternative is to spawn the item using cheats: Game.AddToInventory("Items.Coat_03_basic_01",1)
***I don't recommend using the 3rd method, since it spawns a Level 1 / Level 2 item with an armour rating very close to 0)***
BLACK VS. "NATURAL" VERSIONS
For anyone who wants black but more "natural" looking leather with a brown undertone, there's also a second version. I prefer the full black version, but the second's still a step in the same direction.
SHOWCASE VIDEO
If anyone wants to see what this looks like in-game, I had this godawful idea it might be fun to try and make a showcase video for this:
MY OTHER MODS (MORE COMING LATER)