File information
Created by
FloranceBless
About this mod
Meet Wilford! He's quite an unusual person, but I'm sure you can find common ground.
What can an acquaintance with a lonely florist lead to? Find it out!
Requirements

Permissions and credits

Translations

Russian
Portuguese
Mandarin

Changelogs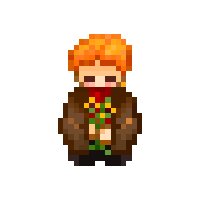 Wilford is the florist for the Pelican town. You can observe each of his works throughout the city and at festivals.
Languages Available: English, Russian, Portuguese, Chinese
Additional files:
-
Additional portraits for Wilford from EvellynYuri
Compatible with: 
Miss Coriel's Unique Courtship Responses
Stardew Valley Expanded (SVE)

At the moment the mod contains:
♦ New location East Woods behind the JojaMart
♦ Wilford's house
♦ Wilford's spouse room
♦ Special heart events
♦ Wilford is a datable NPC (!)
♦ Mails from Wilford
♦ Seasonal clothing for Wilford
♦ Wilford's festival locations and dialogues


Upcoming update spoiler: Someone from Wilford's past life is about to move into the valley... Who could it be?
Gift Tastes: 
Heart Events: 
Shedule:
Please notify me if there are any problems!
Special thanks to
MissCoriel
 and
Lemurkat
 for help and inspiration to create my first mod<3