File information
Created by
pinzol
About this mod
New cute Harvey. He was cute before. But now he finally shaved his moustache
Requirements

Permissions and credits
!!!ATTENTION!!! This mod WILL conflict with Seasonal Village outfits. Or any other mod that changes appearance of the given character. Please, pay attention.

UPDATE: As always I found a few screwed up pixels right after I uploaded everything. Why do I keep doing this..fixed it
'ight, guys, before you call me a coward for not loving Harvey's moustache enough, I gotta elaborate on smth: I watched the movie "the Lovely bones" and it scarred me for life, so disgusted I was by it. And there was a horrible...human being, Harvey, with his horrible moustache and horrible glasses. And I kinda died a little everytime I saw Harvey in Stardew Valley, cause I remembered this unspeakable piece of sh..
SV Harvey deserves better - he's the kindest, smartest and cutest guy. So I decided to make this mod and give myself some peace. Those who watched the movie (or read the book) as well, will get me. Those who didn't... well, I can't say I would recommend it, it's really...awful.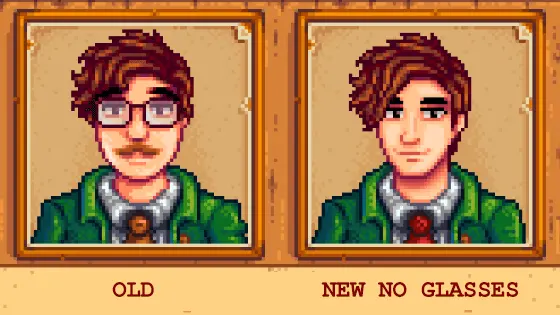 Also check my mods for:
Elliott
Leah


Maru


Clint
Aigail, Sam and Sebastian