File information
Created by
Northward Mods
About this mod
Take your cooking skill to the next level in this cooking overhaul for Skyrim Special Edition.
Cooking Adventures in Skyrim, known as CAS allows you to craft over 55+ new dishes from 3 new workbenches. Smoke meats at smokers, and brew your own teas, wines, and other beverages from the new brewing stand.
Permissions and credits

Changelogs
___________________________________________________________
Cooking Adventures in Skyrim [CAS]A Cooking Overhaul Mod
for Skyrim SE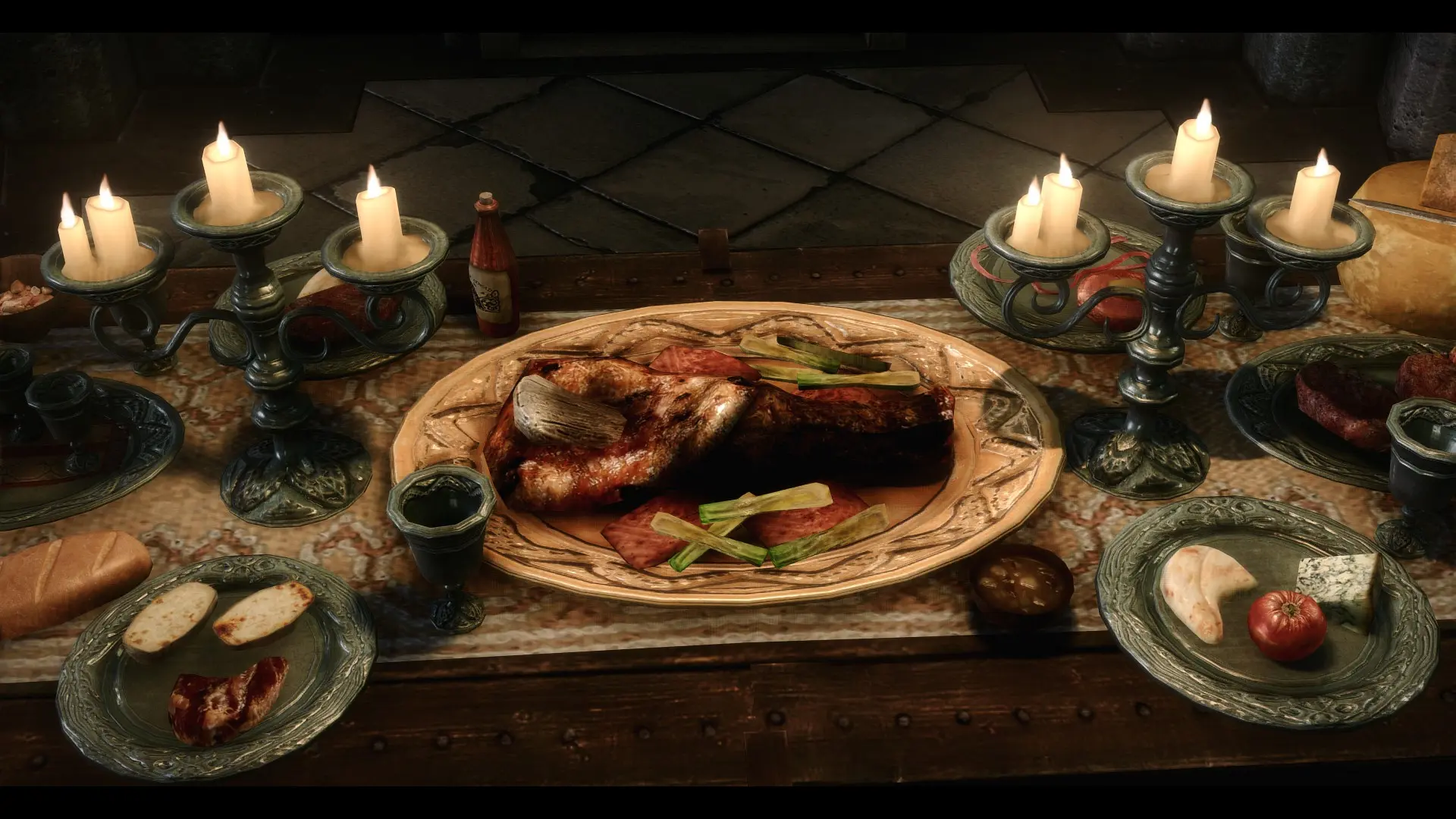 "Ever wanted to smoke your own dragon meat? How about make a dragon egg omelet? Well with this mod, now you can!
Roasted Ox leg anyone?"

________________________________________________________________


This mod introduces a new cooking system with new ingredients and dishes that can be crafted at 3 new unique cooking workbenches.  
Smoke meats from different featured cuts found on all kinds of animals and creatures. Spider Steak? Elk Brisket? Netch Jerky? Craft these dishes, desserts, soups, pastries, teas, wines, and other beverages by combining new and existing ingredients found around Skyrim. Don't have the required mod ingredients? Craft them using Skyrim's ingredients so you never run out!
This mod seeks to add a viable rival or even, replace the vanilla alchemy crafting system with something that utilizes one of Skyrim's most under appreciated elements: Cooking. 
 Get this mod and check out some of our other mods on our Website at: 
https://www.northwardgames.org/
Check out our showcase on YouTube:
________________________________________________________________
How it Works:
Smoked Meats: 
Focus on health buffs and combat bonuses
Vegetables, Wines, and Teas:
Focus on stamina and sneak perks
Desserts:
Focus on magic and mage buffs
Combination Recipes:
Focus on either, or the previous i.e: Vegetable & Meat stew restores health and stamina
 
________________________________________________________________


This Mod features the main CAS core which acts as a framework for a few optional plugins that allow you to customize your cooking experience.
There are a lot of other cooking mods out there, so to prevent conflict as much as possible, this mod is entirely standalone. No vanilla cooking recipes are altered by this mod.
Cooking Adventures in Skyrim Core: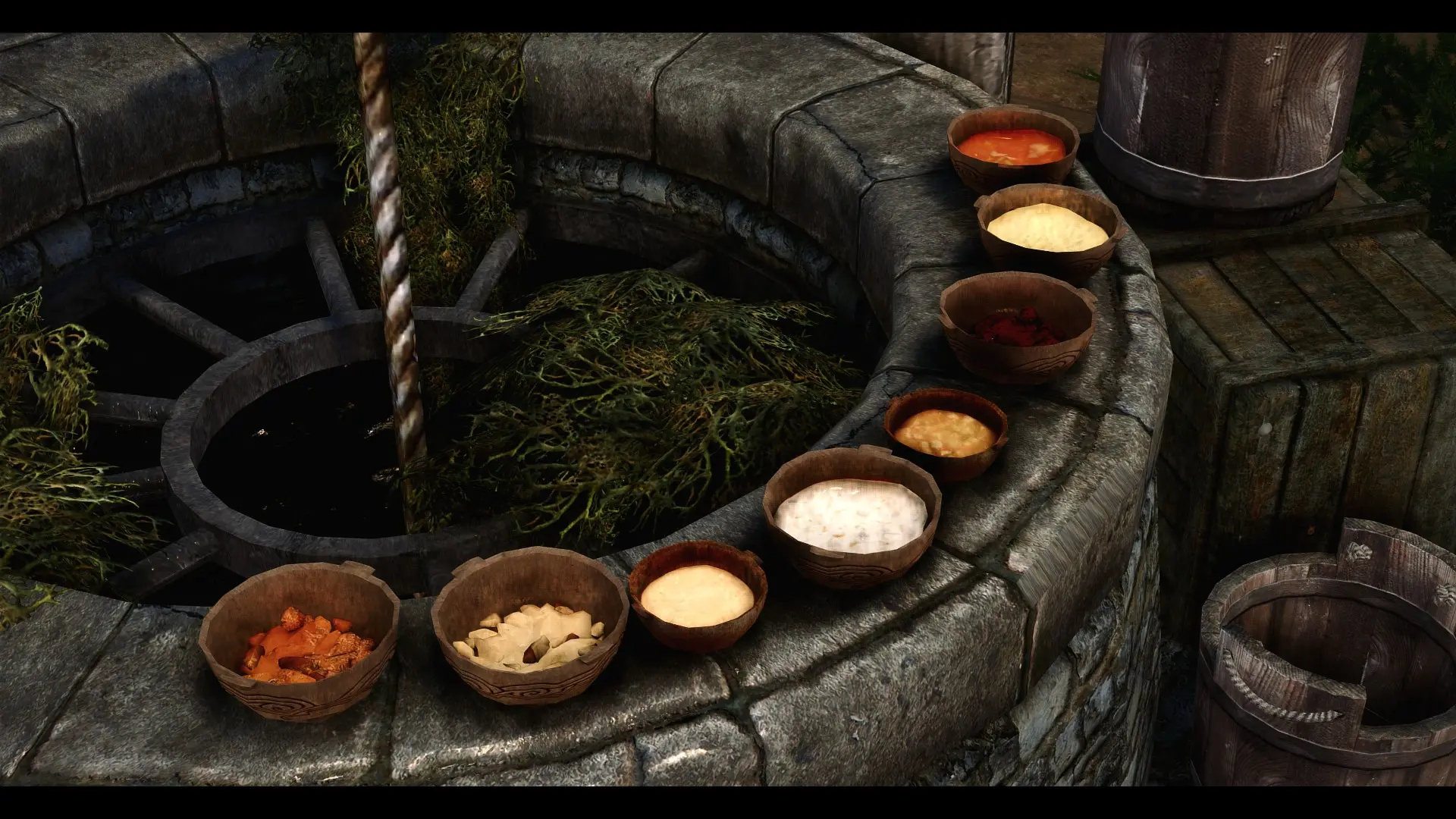 The Main Core Features:
55+ New recipes to craft 50+ unique dishes
3 new cooking workbenches (Cooking Station, Brewing Station, Smoker)
Find the workbenches in the Winking Skeever in Solitude and in the [new] basements of inns and taverns across Skyrim.
New Cookbooks so you can view the new recipes on the go. (craft at tanning rack)
Special Request? Want to add these workbenches to your own player home/mod? Either contact us or use the CAS core to do it yourself, permission free! Find the items/recipes in CK under "CASCookingStat, CASSmoker ...etc"
(If you do add CAS to your playerhome/mod please let us know so we can link to the patch/host it on our files page)
Butchers, Bakers, and Merchants:
Find new merchants in Skyrim's towns and cities that sell exclusive Cooking ingredients and items.
There are currently merchants in Whiterun (Drunken Huntsman), Solitude(Winking Skeever), and Windhelm(Candlehearth Hall).
There are future plans for more merchants in Skyrim's other towns which will come in future updates.
Chef Cellars and Inn Basements:
In most Inns and taverns, find new hatches that lead to small Chef workspaces with a bed and cooking workbenches. This allows the workbenches to be implemented throughout Skyrim without conflicting with other mods/content.
There are currently chef cellars located at the Inns in the following locations:
Riverwood
Whiterun
Markarth
Riften
Solitude
Falkreath
Ivarstead
Dawnstar
Windhelm 
Winterhold
Rival Chef Encounters:


Encounter hostile rival chefs, deranged butchers, and ranged poachers by investigating rumors in order to acquire rare ingredients. Riddles and Rumors can be crafted at tanning racks requiring 1x paper each. These rumors don't involve quest markers, so you must prove you mastery of cooking by solving them without assistance. But fear not, for even a simple milk-drinker could solve them.
Dragonborn Expansion (Optional):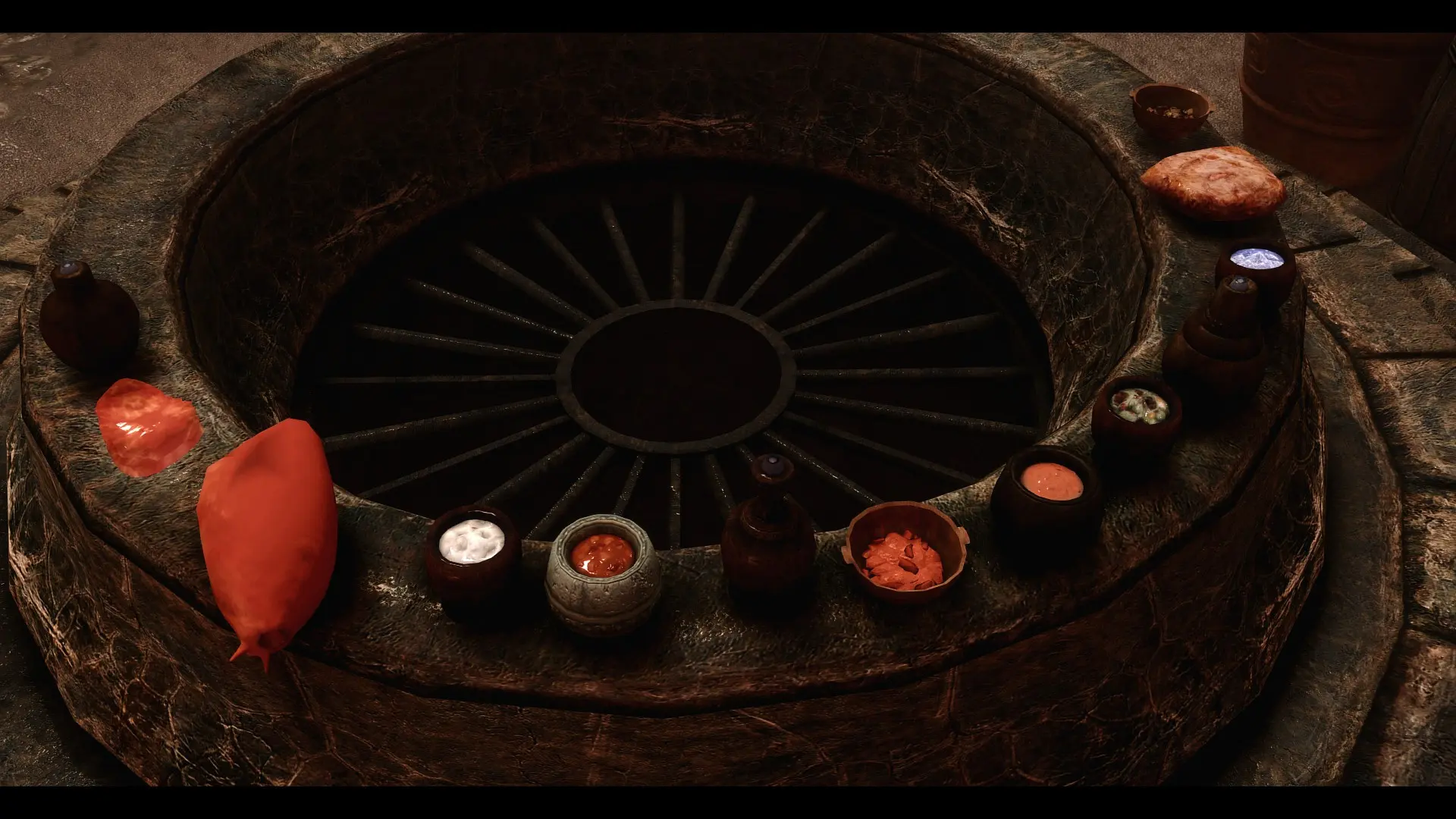 The Dragonborn expansion adds 20+ new unique recipes and ingredients based upon the dragonborn expansion and its creatures. Functionality has also been included to allow recipe crafting in Skyrim using cooking materials gathered from Solsthiem via exclusive merchants (Riverwood [Sleeping Giant Inn], Skaal Village, Raven Rock).
The Gourmet's Hideout (Optional):




Rumor has it that the Gourmet, the famous chef of Tamriel has a secluded kitchen retreat, hidden from prying eyes, allowing him to practice his craft in peace. But many doubt he might notice if someone new moves in..
This playerhome is entirely optional and is located on Clearpine Pond near solitude.
CAS Item Implementation (Optional):

This changes leveled lists and containers to include CAS food so that it may appear in addition to Skyrim's vanilla foodstuffs.

CAS Vanilla Replacer (Optional):

Allows all 3 of the CAS items to be crafted at vanilla cooking stations.
Only recommended
if you would like all CAS recipes to be contained within Skyrim's default cooking stations (Cooking pot/spit).
Disclaimer:

Most creature deathitem lists were altered to include the new CAS items so you should be able to find most ingredients by hunting/gathering. Other lists like barrels and sacks were altered to include some CAS cooking ingredients. If you use other mods that heavily alter these lists you
may
find conflicts.
The unique dishes and items from this mod were created by texture swapping many of the exiting items in Skyrim/Dragonborn/Hearthfire, that being said, if you have food/other texture mods that heavily change these items you
may
find them looking odd.
The food
does not
include compatibility with Survival mods/CC survival features. meaning they will not restore "hunger" or "thirst" when consumed. If you would like to create functionality for such mods in a form of a patch, please feel free to do so. 
________________________________________________________________

Vortex Users, install via the all-in-one installer.
For manual install:
Unpack and place the .esp file and data files in your corresponding Skyrim SE Data folders:
SteamApps\common\SkyrimSpecialEdition\Data
*Directories may vary depending on your system and installation process*
Or use your preferred Mod organizer
(Remember to activate the Esp(s)
________________________________________________________________



This mod should work with other mods/CC DLCs.
If you encounter any incompatibles with other mods/CC DLCs, please let me know. 
Known Issues: 
-There are one or two items where the texture wrap looks odd. Please ignore this as there is no fix for it.
Incompatibility:

None currently
Future Plans:
(Subject to change)


Optional Chef Shacks
More Cookbooks
More merchants/Dragonborn merchants
More Smoker Recipes
More Seafood/Vegetable Recipes
More rumors and riddles
More village inn/tavern cellars at:
Rorikstead
Shoarstone
Dragonbridge
Nightingale Inn
Dawnguard Vamp/Hunter Castle Patch + Expansion
________________________________________________________________
OTHER MODS BY THE NORTHWARD TEAM :
The Tale of The Dwemer - A Questline Mod:
https://www.nexusmods.com/skyrimspecialedition/mods/46622
Winterstar Tower - A Player Home for Skyrim SE:
https://www.nexusmods.com/skyrimspecialedition/mods/33471


Riftcastle Lodge - A Player Home for Skyrim SE
https://www.nexusmods.com/skyrimspecialedition/mods/57921