Security Overhaul SKSE - Lock Variations
Security Overhaul SKSE - Lock Variations
File information
Created by
kreiste-wSkeever-powerofthree
About this mod
SKSE based framework for replacing overused lock model with unique lock variants.
Requirements

Permissions and credits

Changelogs
Description
Gives locks their own unique model and sound effects based on chest/door type
Currently covers Dwemer, Falmer, Snow Elf, Apocrypha, and snowy chests/doors
Related Mods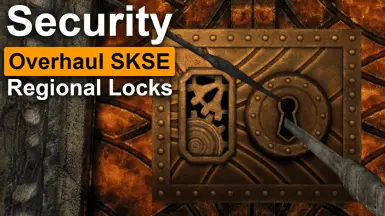 Requirements
Visual C++ Redistributables 2019
(
x64 direct download
)
Address Library for SKSE Plugins

powerofthree's Tweaks
FAQ
Adding your own locks
Lock models should be written to an .ini file containing the suffix "_LID", in the Data folder (for example, MyCustomLock_LID.ini).
They should follow this general format:
Lock type is based on model path of locked object.
Replacing lock sounds (CylinderSqueakA, LockpickingUnlock) requires editorID of the sound descriptor.
Examples
Noble chests (furniture/
noble
/...):
Ayleid locks (bsheartland/Architecture/doors/
ayleid
/...):
Some specific nif (MyMod/
MyMesh.nif
):
Lockpicks, underwater and snow locks
Location based locks (requires Location EditorID)
Credits
Plugin source