File information
Created by
Nesbit098
Virus scan
Some manually verified files
About this mod
A massive world overhaul mod for Skyrim, fps friendly. TPOS Complete has been revamped, corrected, optimised, expanded upon and is a no compromise mod which I have developed for immersive pleasure and game-play.
Requirements

Permissions and credits

Translations

Mirrors

Changelogs

Donations
*WARNING YOU MUST READ THIS PAGE - FOLLOW THE INSTRUCTIONS - DON'T SKIP IT*
YOU SHOULD BUILD YOUR LOAD ORDER AROUND THIS MOD. SEE SETTING UP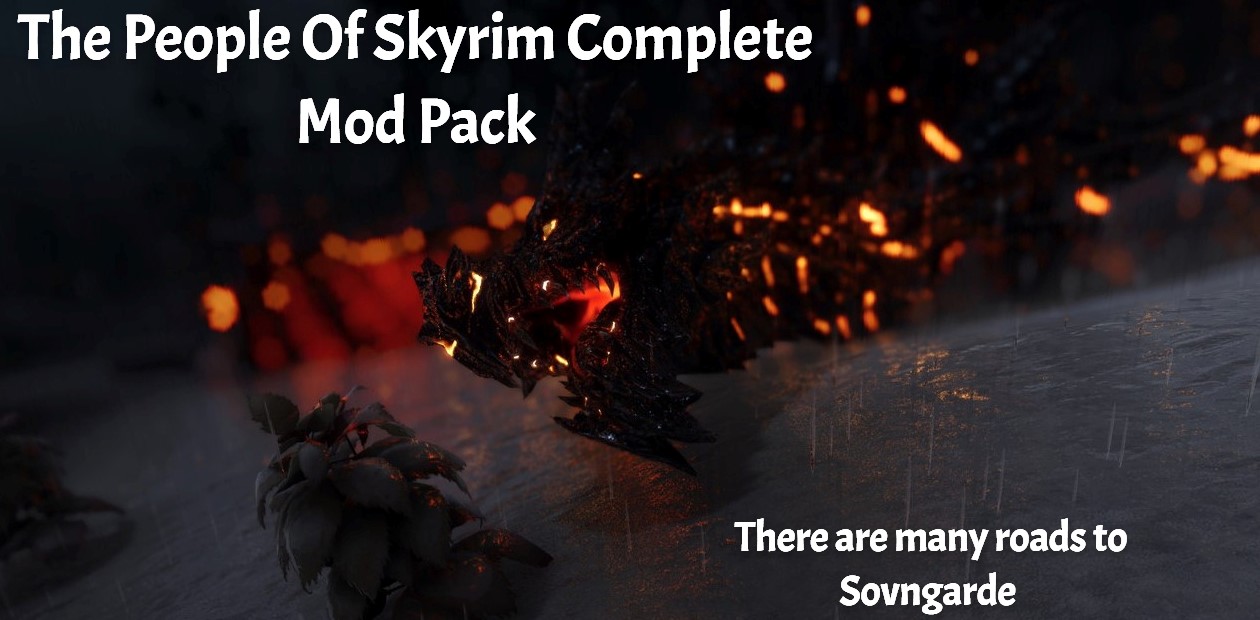 The purpose of the mod:
When I conceived of this mod in the beginning I wished to develop a lore-friendly mod, as best as, which would deliver a sympathetic improvement on the game's elements, such as the Nord way of life, the nature of the Thalmor, and the plight of those in Skyrim; to mix up and change the environment so the player could continue re-exploring Skyrim and feel as if they are adventuring into the unknown in some small way, after so many play -through's, as well as addressing the gaping feeling of an incomplete game. TPOSC foundations were built long ago with LE and the concept at that time was to build on top of the themes and backstories of the game as well as add new content to the game in a lore-friendly manner as best as. The new content which was added to the towns, cities, and villages was in keeping with vanilla and was spread out throughout the interiors and exteriors of the game for the purpose of performance and to support both high and low-end PC machines. TPOSC has also been recrafted in recent years to accommodate XB and links can be found under mirrors.
As the mod grew I started to digress from this hardline approach to lore-friendly builds, as best as, and TPOSC had many new elements added to it including non-linear gameplay; which simply means you will meet enemies who are more than you and less than you at every level, traps which will be straight kills and lesser traps which are added to the world. Cheats in terms of swords, weapons, armour, which you will find on bandits, gold, potions, and so on. For many users, they may not like such unbalanced touches to the game, but to those users, you can easily just ignore those elements, you do not need to pick them up. For my own personal taste, I built a mod that filled in the missing elements of the game as I saw it and added more challenges to the world and less ridged playing parameters.
For me, there is always a bigger fish than you in any pond at any given time; so even though you might find an ebony shield earlier on, let's say on a dead bandit, you will need it much sooner than you would normally because of the non-linear gameplay and added enemies that the mod deploys.
TPOSC changes every town, city, villages and includes many new settlements, new civil war spawns, bandit attacks on towns, cities, and villages, a new injection of dragon spawns', new border holds, and so the list goes on of new additions to the game.
All content is new and doesn't affect the vanilla quests or game. I've removed NOTHING of the vanilla game and the new dragon spawns are released by completing the main Dragonborn questline. Dragons spawn from 1 to 3 dragons depending on the stages completed. The dragons do not re-spawn they are one-off encounters so please note if you have reached, for example, the quest stage of Alduin's Bane MQ206 and visit an area you have not been to before, you may get more than you have bargained for, as in any given area I have placed independent dragon spawns which have been triggered to go off at different stage completions; so it is possible you may end up with a total of 4 dragons at any one time. 
XB users have tested the mod for XB compatibility and had no issues with running such encounters, so I consider the PC will not be an issue if you run your game set up correctly. 
I have not listed everything intentionally TPOSC should be an adventure. See the Load Order section for help with compatibility.
This mod needs to be seen and kept in context, of course, it is NOT compatible with many other mods but if you want a new and different adventure or even a one-off gameplay experience from your usual setup then TPOSC might be for you.
It will not be compatible with many mods you would normally use as it is a full-on DLC-sized overhaul that some really enjoys and some return to their favourite setups after using this mod. Just know this TPOSC adds so much content and covers many categories so follow this advice to start with and get to know the mod well.
If you are new to my work I would start a new play-through with some amour, weapons, graphical/texture, weather, water mods, alternate start, SKSE, ENB if used keeping the LO simple while you get to know my work. TPOSC adds many new elements ( locations/enemies ) and challenges to the game. I do not edit any vanilla values for loot, or enemies, or alter any vanilla quests, etc, all TPOSC content is new. There are no special requirements other than that of common sense and good load order practice. If you decide to USE TPOSC your LO should be built around it. There are patches for this mod see the LO advice sections and follow the load order advice for each patch. 
If you view the map below and watch my videos you will soon get to grips with this mod. Now, go away now, go play, go adventure...and good gaming folks!
Location Map For The People Of Skyrim Complete. Not all wild locations are shown. This map does need updating but most information is correct it doesn't highlight the new content which is the new border holds, bridges, bandit attacks on the towns as MQ stages are complete, with many new dragon spawns, and civil war content.
All Images / Map / Belong To Their Respective Owner[s].
TPOS Complete has been revamped, corrected, optimized, expanded upon, and is a no-compromise mod that I have developed for immersive pleasure and gameplay. A massive world overhaul mod for Skyrim, fps friendly.
Some content in these videos has been updated or changed with the V10 updates.
Summary:
: A one hundred percent navmesh mod. Take your followers anywhere.
: Linear & nonlinear gameplay.
: Expansive overhaul to the following Skyrim inns. Riverwood -Falkreath - Morthal - Dragon Bridge - Rorikstead -      Ivarstead - Kynsgrove - Dawnstar.
: New civil war battles.
: New Border Holds.
: New bridges across Skyrim.
: New collective dragon attacks as you complete the main quest stages.
: New bandit attacks on towns cities and villages as you complete the main quest stages.
: Every town city and village has been modified sympathetically to the times and events. The mixed cultures
and agendas.
: Generic NPC's Followers and trainers. ( The generic NPC's will become more engaging in the coming questing version )
: The landscape changes are many, varied, with opportunities for gold, blood and death! You will find many
new tests to face.
: New forested areas across the Tundra and beyond.
: New caves, forts, bandit camps, and enemies, some of which will spawn only at times of main quest stages 
completion.
These spawns are triggered based, hand-placed in the world, they might conflict with mods like
Immersive Patrols and such. Refer to load order advice, and test any mod you feel might conflict. 
: New merchants with lots of gold and a thieves merchant near dragon bridge, which comes within the new
settlements across Skyrim.
: As for player houses I have accommodated all player types in-game. Vampire, thief, warrior, mage, or
collectors, you will find what you need.
In some of the Taverns in the game, you will find a diary with info on all the abodes and other helpful tips to
boot.
: Skyhaven Temple will provide a more immersive experience for you, as you progress through the questline. Complete the Esbern Skyhaven Temple questline for the new changes to apply.
: There are new followers of every type dotted around Skyrim. Some you can get married to.
: New road travellers, horseback, and foot.
: A percentage of caves, and ruins of Skyrim have been altered for a more interesting experience. You will become more
carefully as you face new traps, in some cases, you will pay the price and you will not be so sure of your steps, as you once were.
: New ruins, Dwemer, Nordic, imperial, and so on. Reflecting the ancient history of Skyrim.
: There are many other small touches to this mod. For example, when dragons attack you will come across farmhouses that are burnt out, they are complete beforehand but with no interiors. When you come across them
they will have 'Key Required' when trying to access the doors and you will come across burnt corpses on
the roads and such.
There are cheats in the game; a high-powered sword that can be obtained
early on, ( found in Dova Hall ) homes too, bandits have advanced armour and weapons in some cases.
Please if you are a purist, just leave these items and homes until you feel the time is right to engage them.
Some people have NO factions to holds, or anyone protecting them or their possessions. Not all life has value and not everyone is brave or jumps in every time wrong is done...Just like real life!! 
Some segments of the roads have been removed and made more sparse, from war, weather, and general erosion. In some areas, the tundra's long grass has been thinned out with the tundra mossy grass or rock/stone alternative. This is not adding new grasses just changing one vanilla ground texture for another in the CK.
Just some of the many new features of the game.
I sincerely hope you enjoy the experience.
How to use this mod:
If you are starting a new game from the default intro wait until after Helgen before loading my mod. Go to an interior cell, save, exit the game, load TPOSC, and then restart. This action is to ensure no chance of any errors occurring.
Vanilla lod's are provided in the download file for the new structures and forests.
If you are using Mathy's 3D Trees, or Vurts, realistic trees, or other mods of this nature then, of course, you will need to delete my lod's from...
Delete
SteamLibrary\steamapps\common\Skyrim Special Edition\Data\textures\terrain\ Tamriel
Delete
SteamLibrary\steamapps\common\Skyrim Special Edition\Data\meshes\Terrain\Tamriel
then run the lod generator after installing your tree and grass mods with billboards if applicable.
SSELODGen
https://www.nexusmods.com/skyrimspecialedition/mods/6642/? 
Compatibility:
This mod author doesn't support patches for other mods except for the following individual patches found under the load order section below. Make sure you only use those patches for TPOSC, not any other TPOS mod.
As for other immersive mods, I strongly suggest that you play with this mod on its own. Get to know it before you add new landscape mods, homes, villages, and the like.
Load Order:
Place tpos_ultimate.esm (not an esm file by the way ) at the bottom of your load order. Ensure it stays there! 
FOLLOW THIS LOAD ORDER ADVICE FOR TPOSC
ALSO, SEE
SETTING
UP FOR NEW USERS OF THIS MOD
TPOSC MOD PACK COLLECTIONS NOW AVAILABLE

Quest Mods ( some exceptions to this - thinking of ESM-based quest mods.)
SMIM
Magic Mods
Grass Mods ( If you still get grass everywhere over other mod/settlements after altering your ini for values..use a different grass mod -this is why a grass mod is placed above settlements, etc. Verdant Not Compatible. I use 
The Elder Scrolls - Veydosebrom
the old version and set grass settings to 80 or 90 which doesn't intrude upon my settlements. If you want to use other grass mods you may need to patch for them.  )
Weather Mods
Water Mods other than RW2 OR WATER FOR ENB
Creature Mods (Do not overload your game with too many spawning mods. TPOSC adds dragons - bandits and many new spawns to the game.)
Tree Mods-Skyrim 3D Trees
( textures and meshes changes are no issues. Mods that add lots of new trees to Skyrim are not, as I do this in this version. )
Town, city, Village Mods. ( This version edits all locations, and in most cases, exterior areas of the towns, cities & villages too. So other town, city, or village mods are NOT compatible. Or many outskirt mods of towns, cities, and villages.)
NPC Mods / AI. ( Any follower mod should be fine unless it is quest base and adds navmesh or new locations in Skyrim. You would need to test.  Running multiple mods that add hundreds of new NPCs and so on is not advisable. You will overload your game engine quite possibly. Immersive Citizens is not compatible.)
Alternate Start - Live Another life 
HD EMBERS  ( HD Embers works well with TPOSC. Some fire FX or lighting mods may need patches for the inns I have edited. A list of those inns edited is on the main description page under the summary.)
OR XD Embers ( Patch & info below )
MAGIC COLLEGE OF WINTERHOLD ( Magic College Of Winterhold can be used with TPOSC there is a small navmesh cross-over, however, I have tested in-game and checked in the CK and it seems to cause no issues. Gully NPC's path as they should and the MCOW seems not to be affected. I will patch should it be required.)
THE PEOPLE OF SKYRIM COMPLETE 
LUX / Lux Via Patch and load order information
HERE
Midwood Isle Patches - Patch and load order information 
HERE
TPOSC Fishing Patch ( CC Content )  Patch and load order information
HERE
XD Embers  - Patch and LO info
HERE
Riften Docks Overhaul - Patch and load order info 
HERE
EL&FX - Patch and load order information 
HERE
RLO - Patch and load order information
HERE
TPOSC Falskaar Patch Patch can be found
HERE
Skyrim 3D Trees 
tpos_S3Dtrees_patch.esp
Weathered Road Signs Fixed - Patch and load order information 
HERE
TPOSC Alt Start Patch - Patch can be found 
HERE
 ( This patch must be placed last in the LO after any other alt start patches that are used and most other patches too. Ensuring pathing stability in key areas.  )
WinterSun TPOSC Patch - Patch Can be found 
HERE
 Follow the load order
AiO collection of patches - 
Patch can be found
HERE
 ( The AiO compatibility patch is for Lux, Lux Via, Orbis, Falskaar, Wyrmstooth, Beyond Skyrim - Wares of Tamriel SE, Alternate Start, JK's following mods, High Hrothgar, Temple Of Divines, Jorrvaskr, Dragons Reach, The Bannered Mare,  Belethors Goods, Warmaiden's, The Drunken Huntsman, Riverwood Trader, for The People Of Skyrim Complete. Other individual patches can be found here also. )
Water for ENB if used
Realistic Water 2
Patch For RW2 
tposc_RW2_Patch.esp
 ( no longer required for RW 2 Version 5.3.0 or above )
NPC MODS ( If you get the black face bug for kids this is another mod altering the meshes. Contact that author for a patch. Some authors have already patched for this mod so check on their pages for a TPOSC patch. )
Optional:
RS CHILDREN PATCH
UNDERSTAND THIS MOD BEFORE ADDING LOTS OF OTHER MODS
DO NOT RUN MULTIPLE TYPES OF MODS THAT CONFLICT OR OVERLOAD YOUR ENGINE.
DO NOT USE MODS THAT ADD NEW TREES TO THE GAME. TPOSC HAS NEW FORESTS.
DO NOT PLACE ANY MOD BELOW TPOSC IN YOUR LO UNLESS IT IS A PATCH LIKE LAL OR IF I DIRECT YOU TO DO SO.
DO NOT ADD MODS MID-GAME OR UNINSTALL.
DO NOT THINK YOU CAN ADD ANY OTHER MOD EVEN A SMALL ONE TO ANY TOWN CITY OR VILLAGE WITHOUT CAUSING AN ERROR SOMEWHERE. IT IS HIGHLY UNLIKELY THAT YOU CAN.
DO NOT RUN MULTIPLE MUSIC OR SOUND REPLACEMENTS OR ANY COMBO OF MODS THAT MIGHT STRESS OR UNDERMINE THE LO AND PERFORMANCE.
DO NOT USE MULTIPLE SPAWN MODS OR ENEMY MODS - CHOOSE ONE IF YOU MUST TO ACCOMPANY TPOSC.
Installation:
Install the mod via Vortex or another. Do not let other mods overwrite the textures of this mod or its meshes.
Uninstall
Uninstall the mod using Vortex or other. 
Final:
I have now started work on the questing add-on for TPOSC. The next major update will be a full questing version which will come as an add-on option for this file. The reasons for this approach are obvious it protects the TPOSC file from potential corruption and allows people to choose whether or not they want the quests and the new locations which might impede any potential running LO of a user. How many quests will I build? right now I do not know, and they will vary in size... The questing version will see the generic NPCs come to life with their own backstories and adventures as well as other questing additions for the mod. 
All other interests are on hold until the quest file is done now and I see the completion of this mod. I feel it deserves to be finished as I always imagined it before other creations got in the way. If you wish to support my work and efforts please feel free to follow the links provided and please endorse the mod if you like it. Good Gaming Folks!
Until then I look forward to receiving your input on the mod and I hope you'll find it a pleasing experience.