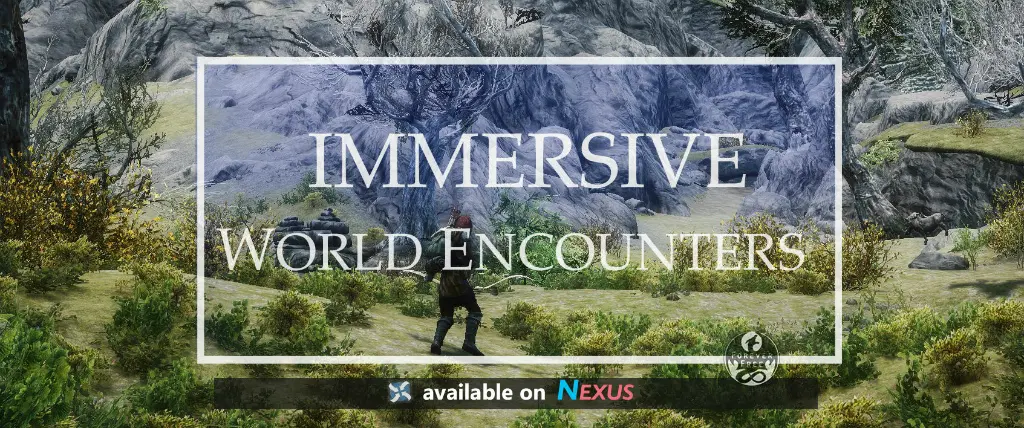 Immersive World Encounters expands the vanilla random events by adding roughly 50 new random World Encounter and World Interaction events.
These new events will start to happen randomly the moment you install it in your game.
It comes with a handy MCM which allows you to configure various aspects of the mod, including toggling on/off certain random events from
vanilla and the mod.
On July 1 2018, this mod made its first debut on Nexus.
I am currently working with over a dozen talented voice actors in order to bring about 20 more new random events that feature new, unique, and
lore-friendly or "vanilla-like" NPCs that are not just memorable, but
also integrate very smoothly into the base game.
In the latest version 1.8, this mod has 7 of such events with newly-voiced NPCs.
I am currently hosting an audition for talented, passionate voice actors who are willing to give their precious gifts for completing this project.
I have over 1000 lines of dialogues still yet to be voice-acted, and I am in process of writing more.
So if you are a voice actor, or have an equipment to be a voice actor, click on the Spoiler tag bellow for the link to the audition page!
So, what are random events?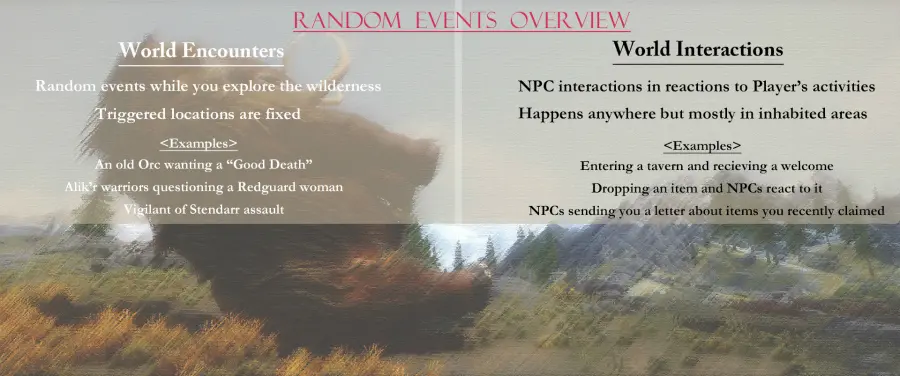 Immersive World Encounters: New Random WE & WI Events
I've had a few ideas for new random events but I also asked some people for more ideas on Nexus Forum and Reddit. (
Here
and
here
). Many of their ideas are incorporated into some of the most exciting WE and WI random events. Much thanks for those contributed!
Although you can see a list of all new events added by this mod in
this Article,
these are the examples of new WE Events.
Immersive World Encounters: Changes to Vanilla WE & WI Events
This mod doesn't just add new events, but modifies some of the Vanilla events as well. Here are the overview of the changes:
Immersive World Encounters: MCM
Immersive World Encounters: Installation and Mod Compatibility
Immersive World Encounters requires all DLCs.
This mod is compatible with most other mods. This includes the ones that have "encounters" or "populated" or "immersive" or "Interesting" or "Inconsequential" or whatnot on their names.
Most of the "encounter" mods out there simply hand-place NPCs in the world of Skyrim. Immersive World Encounters does not place NPCs directly into the world of Skyrim, and all new NPCs from this mod are generated only through the random events and will disappear once the events are over.
Unlike many other "encounter" mods, this mod doesn't add a horde of zombies or tough enemies.
In summary, Immersive World Encounters adds new random events not hand-placed NPCs, and does not make your gameplay more difficult, or cause bad performance.
Compatibility:Installation & Uninstallation Guide:Credits
Amazing Cast of Immersive World Encounters:
Storm Watters
(
http://greystorm2.wixsite.com/stormwatters
)
as
Boyknuckleheadtori
(https://www.castingcall.club/m/knuckleheadtori)
as
Monica
, and other Nordic female characters
Evisane
(https://www.castingcall.club?ref=63DB6E4)
as
Mother
and other female Nordic characters, and female Dark Elf characters
khobis (https://www.castingcall.club/m/khobis)
as
Male Dark Elf
characters
Alex Cain
(https://forums.nexusmods.com/index.php?/user/6289346-completethecircuit/)
as
Male Dark Elf (Younger)
characters
Loveliel
(https://www.castingcall.club/m/Loveliel)
as
Female Breton
characters
Don Ford
(https://www.castingcall.club/m/DonFordVoice)
as
Male Thug
A big thank you to all of my fellow voice actors who are currently working on this project!
Special Thanks:
EnaiSiaion for Modern Brawl Bug Fix (https://www.nexusmods.com/skyrim/mods/77465)
UNI for No More Killing Over Item (http://skyrimeasy.blog-rpg.com/mod/nomorekilling)
Jaxonz for Jaxonz MCM Helper (https://www.nexusmods.com/skyrim/mods/62613)
18 Colascione Partitas composed by Giuseppe Antonio Brescianello on MusOpen
Also my The Greatest Showman soundtrack for being my primally source of motivation. The best musical in a decade, seriously.