File information
Created by
Apachii and Urshi
About this mod
Adds a store.
Merchants sell all kinds of custom made outfits for males,CBBE and UNP females.
- Weight slider support, inventory model and ground object.
- Armour rated outfits can be crafted and upgraded.
- Silver swords, arrows can be crafted and upgraded.

Happy shopping at the Divine Elegance Store!!
Requirements

Permissions and credits

Translations

Changelogs

Donations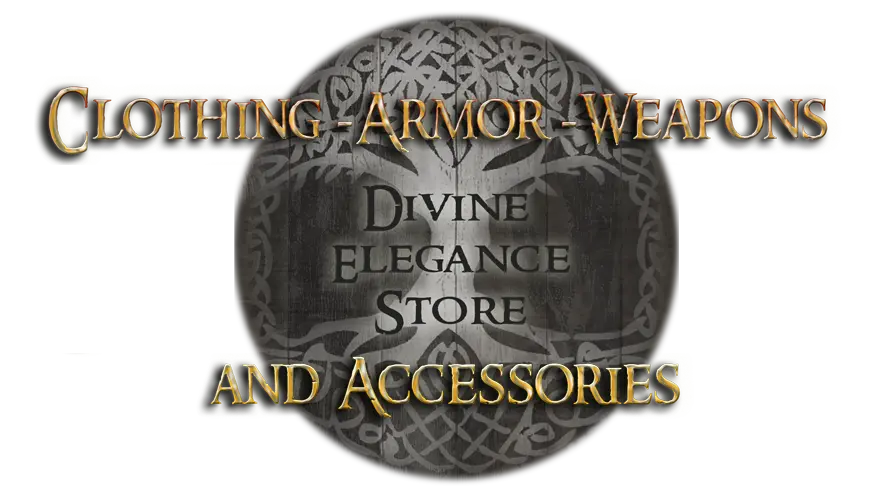 This mod adds a store with three merchants to the game.
The merchants sell all kinds of outfits for males CBBE and UNP females.
- All the outfits in this mod have weight slider support, inventory model and ground object.  
- All the outfits with armour rating can be crafted and upgraded. 
- Silver swords and arrows can be crafted and upgraded.
- Items can be mixed and matched. 
- Earrings, nails, headgears and certain hoods have been remodelled also for Khajiit and Argonians.
- The mod is cleaned with TESVEdit prior to every release.

The store is located in the Reach near Old Hroldan Inn by the water.
There is also a map marker for fast travel.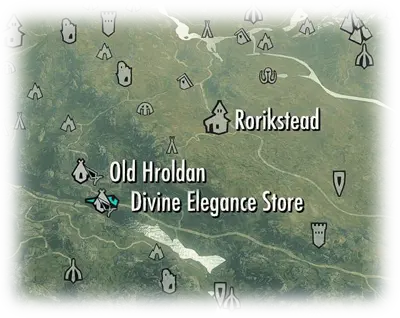 The store is always open.
The merchants go to sleep at 24.00 and go back to work at 07.00.
If you must shop in the middle of the night you can wake them up.

This are the files you need to install.
Apachii_DivineEleganceStore.esm
Apachii_DivineEleganceStore_Patch.esp
meshes folder
textures folder
Installation with Nexus Mod Manager: 
(recommended)
Go to the Files tab, locate the most recent main file version, and click the big, green "Download With NMM" button.
Then install with the NMM application.
If you for some reason can't download the mod with NMM,
you still have the possibility to download the file manually and after that manually add it to your NMM mods list. 
Here is how to do it:
Manual Installation:
Open up Files tab, locate the most recent main file version, click the blue "Download Manually" hyperlink.
By default your PC will download the mod to your downloads folder.
Extract the mod archive using
7zip
, and merge the folder named "Data" with your Skyrim's DATA folder.
 (The Skyrim Data folder is usually found within Program Files > Steam > Steam > Steamapps > Common > Skyrim).
MO2 - Mod Organizer Installation:
1) When you double click to install the mod, the Quick Install box should have three options:
Manual, Install, and Cancel. Click "Manual."
2) You'll see the file tree
Right click on "Data" and select "set as data directory."
Uninstallation:
You're not required to do anything in game.
Just uninstall the mod with NMM application or manually remove all files associated with the mod.

You must have this item in your inventory to be able to craft or upgrade armors. 
You can buy the Raven from Loki.


Body replacer mods:
Most female and male outfits in this mod are compatible with default vanilla body and most body replacer mods.
The revealing male outfit "Huntress for males" looks best for
Better males - FavoredSoul body
 or  SOS - Schlongs of Skyrim.
The female outfits are made for CBBE default curvy but most outfits are converted for base UNP (optional download).
Location mods:

This mod will potentially conflict with any other mod that makes cell edits to the area where Divine Elegance Store is situated.
(Tamriel world space, cells (-27,-4), (-28, -4), player homes, and similar mods.
Whichever mod is loaded LAST in the load order will take precedence.
We have tested all mods we could find that add new shops, bridges, houses near the location
where Divine Elegance Store is placed, and so far all was fine.
If you find a location compatibility issue, please report it in the comments section.
For a long time I wanted to make a mod for Skyrim similar to my Oblivion mods

the GoddessStore 
and 
Heroes Store
,
so here it is, I hope you like it! :-)
Apachii
Slots used in Divine Elegance:
Earrings: slot 48
Claws and nails. slot 60
Fur cape:  slot 45
Armlets: slot 58
Mask: slot 55
Belt: slot 52
Sonja leg guard: slot 48
Choker:  slot 55
Necklace: Amulet slot
I do NOT give any permission for my mod to be reuploaded to any other sites, including Steam Workshop under any circumstances.

This mod is not a commercial modification and no profits will be gained by releasing any parts of it for any material benefits.

All outfits in this mod are made available with permission from original authors or are made from free resources.

The assets from Witcher 1,2 and 3 are used with permission from the CD PROJECT RED legal department. 
The assets from TERA Online are used with permission of the En Masse Entertainment Public Relations Department.
All models in this pack are copyrighted, and belong to their original authors and copyright holders and used with expressed written permission. 
The permissions granted to me, do not extend to other individuals however. 

Therefore I can not allow any further redistribution of the modified meshes and textures included into my mod.
If you want to use any of the outfits included into this mod for your own mod for Skyrim, you'll have to contact me and obtain my written permission,
AND you'll have to use Apachii_DivineEleganceStore.esm file as a required master file for your mod.
Taking into account all said above, no exclusions  will be made for anyone.  

The best way to contact me is via my 
Nexus profile
.That does not mean I want my PM inbox full of tech support requests.
Use the comments thread please. I read the comments thread, and I will be notified about anything you write there.

First of all I want to thank The Nexus Network, for providing and maintaining such a great place for modders to share their work.
Thanks for all your hard work, Nexus team!
And of course I want to thank to all the amazing modders who so generously shared and donated their work for my mod.
Thank you, this mod  would never exist without you! <3

Click on the spoiler to read the detailed credit list. If I have forgotten to mention someone please let me know in a PM and I'll correct this.