File information
Created by
Wrye Bash Team
About this mod
Wrye Bash is a multipurpose mod management and mod installation utility.
Requirements

Permissions and credits

Donations
We only support Skyrim version 1.9.36.0 and
Wrye Bash 311 or higher.

We can not help with NMM / MO / MO2 related problems
Important: Wrye Bash needs developers. If you are familiar with the Python programming language, please consider helping with development. We ported
our repository
to git at github to make contributing super easy. If you are interested, you can find more information in our
Contributing.md
.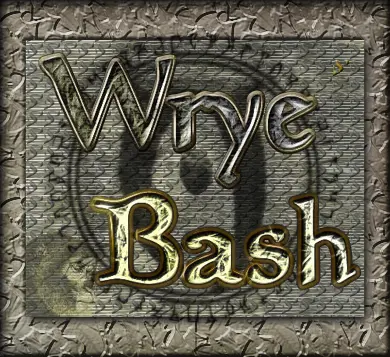 Warning
Since
308
, Wrye Bash no longer supports
32-bit
systems.
Since
310
, Wrye Bash no longer supports
Windows 7
(or older).
If you need a version that works on such systems, please see our
GitHub releases
.
What does Wrye Bash do?
Wrye Bash is a powerful mod management utility for games based on Bethesda's Creation Engine. A few of its countless features are:
Mod installation and file conflict management
Plugin load order management
Screenshot management
.ini tweak management
Clean uninstallation of mods, even conflicting ones
The "Bashed Patch", which allows you to increase the compatibility of mods, configure the game to your liking via tweaks and to surpass the 255 plugins limit by merging patches into it
Feedback? Comments? Questions?
Please give feedback and feel free to join the discussion at the current official thread:
Wrye Bash - All Games
or via the
Wrye Bash Discord
. Be sure to read the first post for information on installation, troubleshooting, reporting bugs etc. If you are having trouble, you'll find many friendly people there who can help. Check out the 2nd post to see the list of known bugs, and, more importantly, whether the bug has already been fixed.
Documentation
Basic information is in the OP of the Wrye Bash topic at the AFKMods forums linked to above. For more information visit:
The General Readme can be launched from inside Bash by clicking the question mark icon on Bash's toolbar.
Requirements and Installation:
Short version:
Just use the installer and install to the Skyrim folder! When you install dependencies, just install them to their default locations.
Long version:
There are two versions available: the Python version and the Standalone version. They are functionally equivalent. Most people should run the Standalone version since it is slightly simpler (no external Python components to install). The Python version allows you to follow the rapidly developed code.
Dependency installation for the Python version can be automated with pip. See the installation sections on the
Advanced Readme
for detailed instructions.
Note that the 64-bit versions are required, we no longer support 32-bit operating systems.
Then:
For manual installations of either the Standalone or Python versions, extract the archive in your Skyrim game folder so that the Mopy directory appears in the Skyrim directory
For Python versions, run by double-clicking on Wrye Bash Launcher.pyw
For WBSA (Wrye Bash StandAlone), run by double-clicking on Wrye Bash.exe
Remember, don't install Skyrim in the Program Files folder due to User Account Control!
See also
File Permissions
.
Version History:
For changes from all previous versions, see the
Version History
.