We only support Skyrim version 1.9.36+ and
Wrye Bash 307.beta3 or higher.

We can not help with NMM / MO / MO2 related problems
Important: Wrye Bash needs developers. If you are familiar with the Python programming language, please consider helping with development. We ported 
our repository
 to git at github to make contributing super easy.  
Our bug tracker
 lists everything we're aware of at present.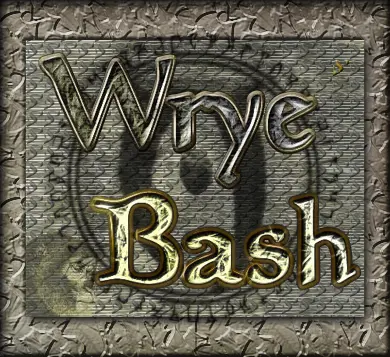 What does Wrye Bash do?
Wrye Bash is a powerful mod management utility for TES IV: Oblivion, TES V: Skyrim, Fallout 4 and TES V Skyrim SE.
Its a mod installation and file conflict manager
A plugin load order manager
Screenshot manager
.ini and settings files tweak management.
It makes it safe to try out new mods because it will restore everything to the way it was when you uninstall a mod
It makes more mods compatible with each other by importing information from different mods into a "bashed patch" .. and many more features
Feedback? Comments? Questions?
Please give feedback and feel free to join the discussion at the current official thread:
Wrye Bash (Oblivion, Skyrim, Skyrim SE, Fallout 4)
. Be sure to read the first post for information on installation, troubleshooting, reporting bugs etc. If you are having trouble, you'll find many friendly people there who can help.  Check out the 2nd post to see the list of known bugs, and, more importantly, whether the bug has already been fixed.
Documentation
Basic information is in the OP of the Wrye Bash topic at the BethSoft forums linked to above. For more information visit:
The General Readme can be launched from inside Bash by clicking the question mark icon on Bash's toolbar.
Requirements and Installation:
Short version:
Just use the installer and install to the Skyrim folder! When you install dependencies, just install them to their default locations.
Long version:
There are two versions available: the Python version and the Standalone version. They are functionally equivalent. Most people should run the Standalone version since it is slightly simpler (no external Python components to install). The Python version, however, allows you to follow the rapidly developed code and is therefore preferred.
Dependency installation for the Python version will be handled automatically by the installer. However, if you want or need to do things manually, see the installation sections on the
General Readme
for information, and the
Advanced Readme
for detailed instructions.
Note that the 32-bit versions are required even if you are on a 64-bit operating system
Then:
For manual installations of either the Standalone or Python versions, extract the archive in your Skyrim game folder so that the Mopy directory appears in the Skyrim directory
For Python versions, run by double-clicking on Wrye Bash Launcher.pyw
For WBSA (Wrye Bash StandAlone), run by double-clicking on Wrye Bash.exe
Remember! In Windows Vista and up, don't install Skyrim Special Edition in the Program Files folder due to User Account Control!
See Also
File Permissions
Version history:
306 Code refactoring, performance [2015/11/07] [Utumno]
Option to list dependencies on a particular mod [Utumno]
Optionally skip instead of ignoring Skyrim .BSL [Utumno]
Wine Compatibility [Utumno]
Oblivion esm version swapping fixups [Utumno]
Switching save profile does not activate mods for this save profile [Utumno]
Master list fixups and enhancements [Utumno]
UnicodeDecodeError on tmp dir creation when username contains non ascii chars [Utumno]
Table.dat fixups [Utumno]
Scroll position not set on startup (Installers, People and Screens tabs) [Utumno]
Delete fixups [Utumno]
Ghosted Plugins Sorted after the Bash Patch [Utumno]
Bash loads an invalid plugins.txt without notifying the user of the error. [Utumno]
Mergeable plugins do not auto deactivate [Utumno]
Error when applying BCF [Utumno]
[Ini setting] re-add setting for BOSS executable location [Sharlikran]
[Ini setting] Disable prompt for activating bashed patch [Utumno]
skyrim_const.py is missing the 3rd hi-res DLC file in bethDataFiles array [jfpelland]
Added a force UTF-8 option to plugin encodings. [Utumno]
Skyrim - New  GMST settings tweaks requests [jfpelland]
Huge lag when switching back to mods tab from another application [Utumno]
Menu item to load only selected mods [Utumno]
Comments box forgets its size [Utumno]
UnicodeDecodeError when importing a face to a save [Utumno]
Rework Mod Groups - remove BALO [Utumno]
Bash should send deleted files to the Recycle Bin [Utumno]
Masters list displays incorrectly [Utumno]
For changes from all previous versions, see the
Version History
.