Charge's FNV HD Texture Packs
Charge's FNV HD Texture Packs
File information
Created by
DcCharge
About this mod
Charge's Fallout New Vegas High Definition Texture Packs. All textures are 2 to 4 times the original resolution.
Requirements

Permissions and credits

Changelogs

What does this mod do?
If you are playing Fallout New Vegas on a large (or high quality) monitor or widescreen TV you have probably noticed that everything is a bit fuzzy. Even if you download every texture mod on Nexus not everything is covered. I set out to fix that. This mod is the result. Almost all of the games textures have been up-scaled from two to four times the original resolutions. These are based on the original game textures. Do feel free to load up your favorite texture pack(s) on top of these.
I have used Gigapixel AI, Waifu2x, ESRGAN, ImageMagick, Open Object REXX scripts and GIMP 2 to do the image up-scaling. Close to 13,000 textures where processed for the base game and another 2,000 for all the DLC. Two PC's and one old laptop running for days on end at 100% usage and a couple of months worth of work was put into this.
The results of the various software have been reviewed and I am hand picking the best results. I am not blindly picking one software's results over another. I do
alpha masks
,
cubemaps
and
normal maps
! I've even hand edited some of the textures and meshes were necessary. No texture is being left untouched! The legion armors together use results from Gigapixel AI, ESRGAN, Waifu2X and a some of my own post processes.
A good portion of the interface files are excluded for now. I will be reviewing these later. A lot of the interface files require a UI scaling mod to work which is why they are excluded from the main downloads.
All of the UI files up-scaled are provided as a modder's resource.
Do not use these interface files with out a supporting mod!!!
All game textures have been processed but I'm still reviewing everything before releasing the full packs. I know I will not be able to check everything out personally. However I do want to make sure the main stuff is presentable before releasing the whole pack.
Screen shots will be added on an on-going basis until I believe I had a good representation of everything.
Looking for a release schedule? Look in the articles tab!
Update - October 25, 2019
I don't have too much time to spend on this right now. So in the meantime I've uploaded All In One and DLC packs that I have done as is. They are not perfect but still an improvement overall over the originals. Do load up you favorite image packs after these.
The files section has been re-organized. The all in one packs are now the main files and separate download packs are in the Optional section.
Update - October 29, 2019
I found that the 2X All In One pack had extra files that should not have been there. They were Fallout 3 DLC interface files and some badly named files in the Pimpboy3000 and Pipboy directories. I've uploaded a new version with these extra files removed. If you've already downloaded the 1.13 All In One 2X pack then it should not cause any problems except taking up some extra space. It
might
cause some minor display problems for TTW mod users. The All In One 4X version 1.13 pack is fine as is.
Thanks to Rafnagud for bringing the difference in file counts to my attention.
Quick Comparison Shots
Here's some side by side comparison images: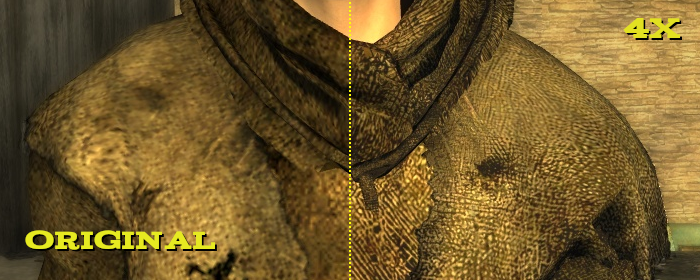 An ESRGAN result. Probably the ugliest armor in the game! Veronica's armor.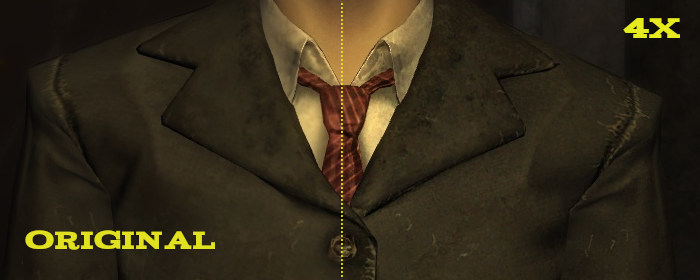 A Waifu2x + Post Processing result. Francine Garret's jacket.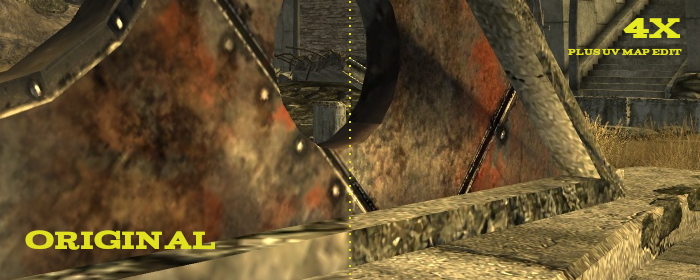 Gigapixel AI + UV map edit result. Repcon Headquarters rocket statue.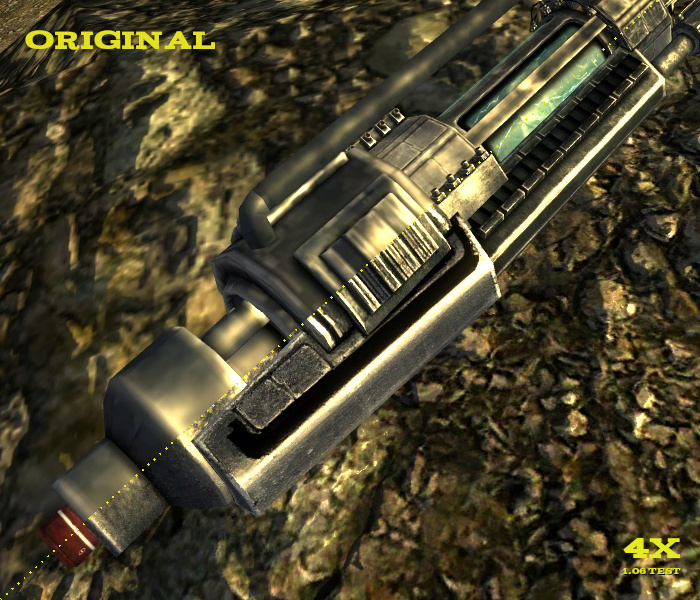 Replaced 3rd person weapon views with up-scaled 1st person weapon views. Tesla Cannon. 1.06 Test.
Features
There are two pack sizes to choose from.
2X Pack
The 2X pack is probably a good size to use for most people. This will take care of the blurry textures quite well on typical monitor sizes. Most of the larger files will be at 2K (2048x2048). This corresponds roughly to
NMC's Large pack
.
4X Pack

Most of the larger files will be at 4K (4096x4096). If you are going to use the 4X pack then size matters! Your PC's physical screen size that is. Larger screens will tend to show more detail than smaller screens (bigger pixels). A high quality smaller screen might show the details as well. I believe the 4X pack is probably best suited to screens larger than 40" and at resolutions greater than 1920x1080 (1080P). A minimum of 3 to 4 GB video ram is recommended for the 4X pack. A good CPU and Video card are a must too! See my "
FNV Large Texture Support
" mod for more details.
How to decide? Check out my screen shots. All screen shots were done using the same game settings at 1080P (1920x1080).
Except the main loading screen shots, these are at the actual resolutions of the in game textures.
The only thing that changed was the textures and meshes. If you can't see the difference between the 2X and 4X on your screen then use the 2X! Also if you are setting up a heavy mod load (150+ mods) then you'll probably be safer starting with 2X and make sure everything works before going to 4X.
Installation
These are just texture (DDS) files and a few mesh (NIF) files. You can install/uninstall these at any point during a play through with no problems. Just use your favorite mod manager (recommended) or install them manually into the game's
Data
folder (not recommended).
However do see my "
FNV Large Texture Support
" mod first! If you do not have the game setup and modded properly first you will get "
Out of Memory
" errors!!
If you want to re-generate the LOD's after installing my textures then there is a guide available on GUN by
burner9875
. See
https://www.gunetwork.org/t19200-lod-generating-guide
.
Potential Problems
If you notice any wonky textures from this pack then please let me know! There are bound to be a few things I've missed. I will make sure you can post user images to this mod so I can check out problems. Just let me know if you are using an ENB Preset when you post a problem. Some ENB Presets are made to work with the base game textures and don't work so well with HD textures.
Software and Hardware Used
Interested in the software tools and hardware I used? Click the spoiler link.
Who am I?
I'm just a long in the tooth programmer looking to do something different. I found that I love modding games! I've been based in Québec, Canada for the last 25 years.
Credits
Bethesda
&
Obsidian Entertainment
- Thanks for allowing us to mod this game!
dbicanski from Pixnio.com
- For the wood texture I used in the Reloading Bench.
alsa64 - For some of the models I use in my ESRGAN processes.
deorder
- For the seam removal process that I'm now using in my ESRGAN processes.