File information
Created by
Duo Dinamico
About this mod
Changes Khartag Point making it the high peak described in the in-game dialogues.
Requirements

Permissions and credits

Changelogs

Donations

Justice for Khartag

J.F.K.
Contents:
I. Requirements
II. Description
III. Compatibility
IV. Installation and Removal
V. Credits and permissions

I. Requirements:
- Morrowind
- Tribunal
- Bloodmoon
- OAAB Data
- Tamriel Data
II. Description
For those of you who don't know about it, Khartag point is a place considered almost sacred to the Orcs. It's named after the famous orc-hero Khartag, who died in that place.
This is a bit of in-game dialogue about the rock:
"Khartag Point? I tell you, it's on the coast up north. Great big rock. Named after a famous orc hero. He kills himself there. Very famous. Long way down from that rock."
We can assume the rock was quite impressive and distinct right?

Well, this is the rock in question: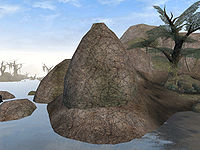 We were a bit disappointed to find a tiny rock, with a shape that can't possibly match the story about Khartag falling as there's no way to stand on it, it's just a tiny, pointy rock, next to a tree bigger than the rock itself...
Well, this nonsense is no more! The verticality god has arrived in Khartag point to verticalize it!
The rock is now massive and dominates the area. As a bonus, during and once the shrine of Boethiah is completed, it's quite a dramatic view.
This could give the kick that is needed to start the Boethiah quest!
We also switched a couple of armor pieces from generic to unique, hidden just as they were in the original game.    
III. Compatibility

It is compatible with Morrowind Rebirth and as far as we know there are no other mods that should conflict with this one.
A patch ESP for OAAB-Shipwrecks is present as an optional download for the mod users.
To use it simply overwrite the OAAB-Shipwrecks original ESP with the one available in the patch file.
Please note that the building scaffolds will appear accordingly to the Boethiah quest!
Due to the Boethiah quest being tight to a startup script, it is suggested to activate the mod and then start a new game.
Activating the mod after having started a new game will result in part of the scaffolds being already present.
Nothing too game-breaking but you are now warned.
IV. Installation and Removal
Manual: Extract contents of the compressed archive into your Morrowind Data Files directory.
To remove it simply remove the installed files.
V. Credits
Tamriel Rebuilt team and MD OAAB Data for their rocks and meshes which have been modified for the occasion.
Morrowgoblins for the awesome orcish pauldrons.