File information
Created by
Better Clothes team and other authors who provided fixes and further versions
About this mod
This is collection of Better Clothes and it's fixes (Tribunal and Bloodmoon included) I was able to find across the internet and those contributed by the community. I don't want to go through the process of finding and downloading all these one by one in the future so I will leave it here for future me and anybody who wants to pick it up as well.
Requirements

Permissions and credits

Translations
Recommended mods:
Hirez Better Clothes
// UPDATE 7.2.2022 Re-uploaded package with .esp that fixes: BM_Nordic02_shoes being invisible when worn
credits to: fly666monkey and especially drav666en for providing the fixed .esp and also steps to reproduce the fix
// UPDATE 13.10.2020 Re-uploaded package with .esp that fixes 1st person clipping of certain clothes (list below)
BC_common_shirt_01_a_F
BC_common_shirt_01_a_M
BC_common_shirt_02_hh_F
BC_common_shirt_02_hh_M
BC_common_shirt_02_rr_F
BC_common_shirt_02_rr_M
BC_common_shirt_02_tt_F
BC_common_shirt_02_tt_M
BC_common_shirt_03_c_F
BC_common_shirt_03_c_M
BC_common_shirt_04_F
BC_common_shirt_04_M
BC_common_shirt_04_a_F
BC_common_shirt_04_a_M
BC_common_shirt_04_b_F
BC_common_shirt_04_b_M
BC_common_shirt_04_c_F
BC_common_shirt_04_c_M
BC_common_shirt_05_F
BC_common_shirt_05_M
BC_expensive_shirt_02_F
BC_expensive_shirt_02_M
BC_expensive_shirt_03_F
BC_expensive_shirt_03_M
// UPDATE 5.3.2020 Deleted previous packages and uploaded manager-friendly restructured single package that was provided by
SpaceDevo
I apologize for making so many changes but for the sake of keeping the mod as compact as possible (which is the original idea), the restructured pack recently provided by SpaceDevo seems to be the best option. 'Original Readme Files' folder was changed to 'Docs' to compliment the Wrye Mash format.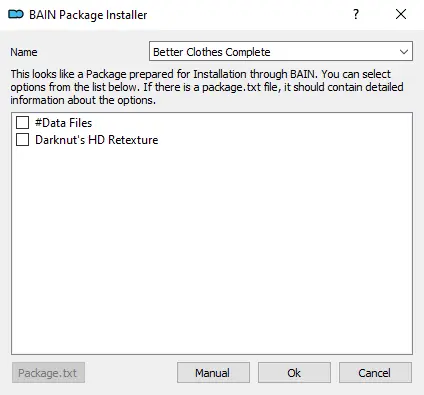 (ModManager Preview; Darknut's Better Clothes textures are now optional in separate folder instead of pre-packed so we can have a single file)
// UPDATE 4.3.2020 Uploaded what I called Darknut's edition that is already pre-packed with Darknut's Better Clothes textures
Darknut - thank you for the creation of the amazing Darknut's Better Clothes textures and granting me permission to use it within Better Clothes Complete, original readme file can be found in Original Readme Files folder inside the Better Clothes Complete (Darknut's edition) package.
// UPDATE 3.3.2020 Re-uploaded package with updated .esp and meshes
SpaceDevo

 This time I managed to pinpoint the cause of the missing groin for those Bloodmoon pants: the corresponding Body Part record was using a shirt NIF file instead of the proper pants version. Fixed those two Tribunal pants that were missing their waists. Turns out that, for some reason, they had an AlphaProperty that was causing unwanted transparency, so I removed those. I also tweaked a male common shirt so the base of it has an inner lining instead of being completely invisible.
// UPDATE 1.3.2020 Re-uploaded package with slave bracer fix and missing .dds (replacing last .tga file in the package)
badboyzay - thanks for pointing out the slave bracer fix
C3pa - .dds file
// UPDATE 29.2.2020 Re-uploaded package with left leg parts fixes (.esp) and .dds textures instead of .bmp
SpaceDevo - thank you for the fixed .esp
C3pa - thank you for the .dds files
// UPDATE 17.2.2020 Re-uploaded package with Ra'Virr neck fix
Olaf - thank you for finally fixing this bothersome collar bug (filename: bc_shirt_com_02_Male.nif)
// UPDATE 31.1.2020 Re-uploaded package with missing Tribunal textures and merged esp
SpaceDevo - thank you for merging esps into one
Stiffkittin - thank you for pointing out missing textures
// UPDATE 30.1.2020 Re-uploaded package with hopefully all available fixes and completed credits
half11 - thank you for checking the 'Who's there?' bug and providing cleaned esp (I apparently failed to fix it at first), for pointing out incomplete credits and sharing bundle of fixes
Better Clothes Version 1.1 (no argonian change) -- CLEANED from 'Who's there?' bug
More Better Clothes
BetterClothesForTB
BetterClothesBloodmoonPlus1.5
No endorsment allowed for obvious reasons. If anybody is lazy just like me, feel free to grab this package.
Credits:
Calishlan (textures) shirts, pants, shoes, skirts
Dereko (meshes) pants conversion, shoes, underwear (Project Coordinator)
Greybeard (physiqueing) shirts (Texture Mapping assistance)
Neuman (original pants)
NioLiv meshes (all Skirts, Shirts) (texture mapping)
Shon (mesh editing for armor and alternate body compatibility)(scripting)
Special thanks to:
Korana - textures 2 shoe textures common1 and common2,
Sierre (original skirts)
Silaria (Meshes original Shirts)
And of course
Fariel, Neuman, Zenorf, and the other contributers at Psychodog Studios for the BB mod, without which none of this would have been possible.
Plangkye
PsychoDog Studios - Better Bodies and Better Clothes, both of which were used in the creation of this
Bethesda Softworks - original clothes and textures
Special thanks to Hrnchamd for the screenshots!
Keazen
Robert
Spirited Treasure
Greatness7, LizTail, & R-Zero