HunterPie - Overlay and Rich Presence
HunterPie - Overlay and Rich Presence
File information
Created by
Haato
About this mod
HunterPie is an overlay for Monster Hunter: World with discord rich presence support.
Requirements

Permissions and credits

Translations

Mirrors

Changelogs

Donations
What's HunterPie?
HunterPie is an overlay with Discord rich presence support. It works by reading the game process memory, storing all the necessary data to later on display everything in the overlay and in the discord rich presence. Since this project is still in development, it's not 100% bug free, but I'm working on fixing every bug as soon as possible. HunterPie also supports auto-update, so whenever there's a new patch, it will automatically search and download all the new files, it can be disabled though.
HunterPie is open-source, feel free to check it out on
GitHub
.
If you want a more organized way to see HunterPie features, consider checking out it's
official documentation
.
You can find the planned features and development roadmap
here
.
Main Features
Discord Rich Presence support: it's highly detailed, tracks all your activity and displays it for your friends on Discord. Also has an "Ask To Join" feature where other people can join (requires HunterPie due to how Rich Presence works).
Honey Hunters World build uploader: Tired of manually selecting your gear in Honey Hunters World? HunterPie automatically gets your current character gear and gives you a link to your build with only 1 click!
Decoration & Charms exporter: HunterPie can export your decoration and charms in Honey Hunters World string format!
Clean and detailed Overlay: HunterPie has a nice and clean overlay.
Automatic Updates: HunterPie has an automatic way to check for the latest files, so you don't need to manually download a new version whenever a new update comes out! That also includes automatic update for the latest localization files.
Plugin System: You can make your own HunterPie extensions and they have access to everything HunterPie tracks including Player, Monsters and Game information!
Easy to configure and to use: HunterPie has a settings tab, so you don't have to manually edit a config.json file!
Installation
Download the files by clicking on the "Manual" button here in Nexus.
Extract the .zip file you downloaded anywhere you want.
Run HunterPie.exe that is located inside the folder you extracted the files to.
You can now show your friends what you're hunting! The Discord Rich Presence feature shows what stage you are in, your character name, Hunter Rank, Master Rank, your weapon, and the size of your party. This feature can be disabled in HunterPie settings. You can read more about the Rich Presence implementation
here
.
HunterPie has a complete, modern and simple-to-use overlay.
Monster Widget
HunterPie has a detailed monster widget, monster parts, ailments, enrage timer, monster size crown, name, weaknesses and it all in a very clean design. The colors can be changed with a theme file. You can read more about the monster widget
here
.
Harvest Box Widget

If enabled, this widget is shown in "peace" areas by default (Astera, Gathering hub and your room), however you can enable it to show in all zones too in HunterPie's settings. It displays the fertilizer names, their duration and the amount of items in your harvest box. It also has an animation for when a fertilizer is close to expire (under 4 days left). In the bottom part, it displays your steam fuel, argosy and tailraider safari, a red bubble will warn you whenever your steam fuel is full, when argosy is in the town and when tailraiders are back from their expedition. You can read more about this widget
here
.

Specialized Tool Widget


They're shown whenever your equipped mantle cooldown/timer starts. This widget color can be customized in HunterPie's settings.
Damage Meter Widget

Displays total damage, damage per second, player classes, HR, MR, percentage and quest time. You can read more about it
here
.
Abnormalities widget
Tracks Hunting Horn, palico's orchestra, elemental debuffs and consumables, you can choose whatever abnormality you want and you can have up to 5 different abnormality trays at once! Make sure to read its documentation
here
.
Class Helper Widget
This widget shows your current weapon information, it still doesn't support all classes but I'm still working on it, so please, be patient. You can read more about this widget
here
.
Design mode
In version 1.0.3.3 a design mode was introduced, you can press ScrollLock to enable it (you can change the keybind to whatever you want in HunterPie's settings). During design mode, all your widgets will become highlighted and you can move them around with your left mouse button and re-size them individually with your mouse scroll. Tap your design mode key again and all your changes will be saved.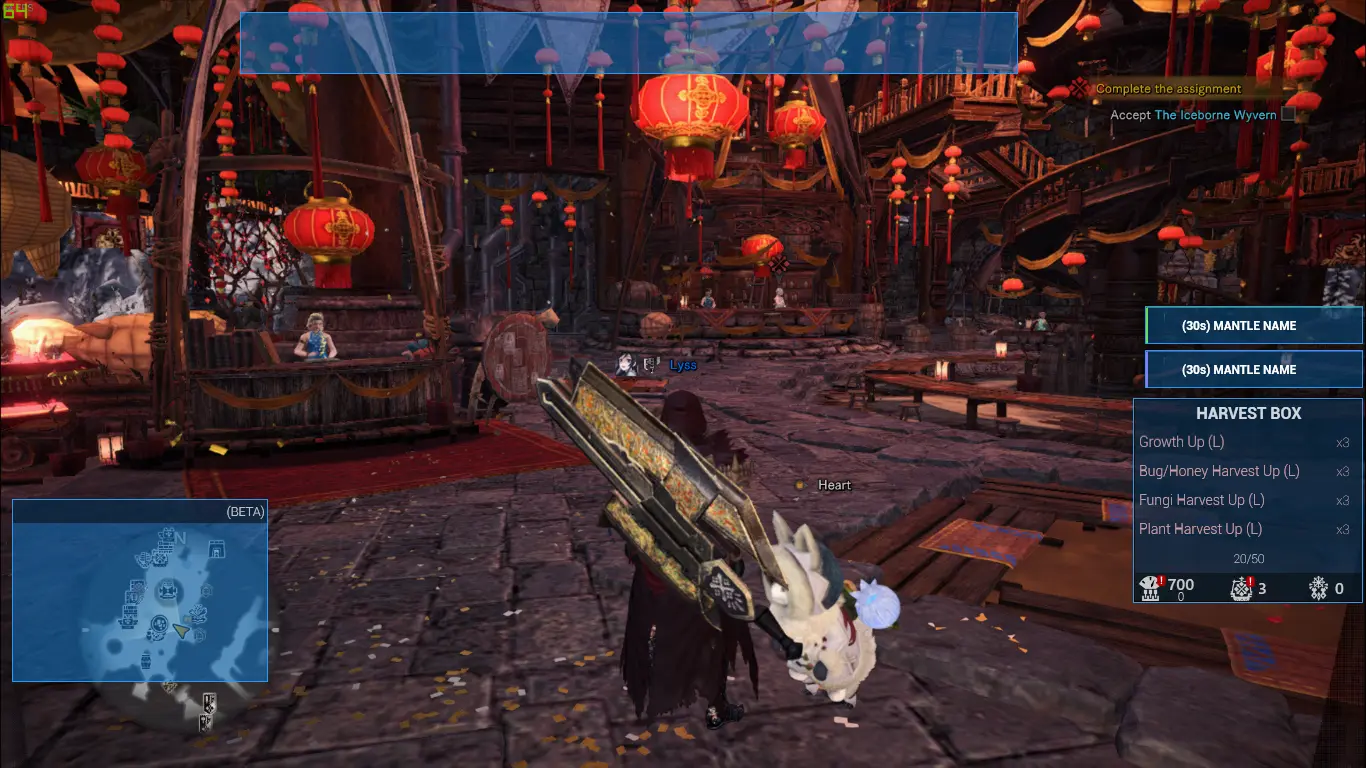 HunterPie Console & Settings
You can launch the game directly from HunterPie, it also supports arguments for launching the game. HunterPie has an user-friendly console and settings tab, so there's no need to edit the
config.json
by yourself!


Translations
HunterPie version 1.0.3.85 introduced full localization support. Localization files are automatically downloaded and updated so you don't have to download any file from here anymore. If you want to submit your own localization file, please make sure to read
this
and contact me on Discord.
Suggestions & Issues
Suggestions are welcome, feel free to open a ticket if you have any idea, or if you're having issues or found a bug
here
, or if you want, you can also join
HunterPie's Discord
, I'm always reading messages there.
Credits


Ezekial & all the Monster Hunter Modding community for their modding wiki;
Marcus101RR for his MHW cheat table;
/u/chuanhsing for his MHW database;
FengYuu#9220 for simplified chinese localization;
Schneitizel, JJOEY#7777 for french localization;
Ward#5971, jmins20k, BUM#4593, Moroa#0001 for south korean localization;
elappale#4205 for japanese localization;
Houer, ThanatosDi#9332, 丁丁#9332 for traditional chinese localization;
Sky Crownguard#9751, Elafos#2211, DuFuhrer#9575 for spanish localization;
M1S0#5093 for italian localization;
Darahan#7692 and ? Kurisu ?#9322 for german localization;
King261#6176 for portuguese localization;
RadioVs for russian localization;
Dirty Hairy#2120 for helping me with some optimizations in HunterPie's core;
Everyone who helped and supported HunterPie development;