File information
Created by
RADRR1985
About this mod
This mod will add standalone 12 new scenery items to Jurassic World Evolution Game.
These items will appear just after the standard scenery trees, rocks, Park entrances.
Requirements

Permissions and credits

Changelogs
Jurassic World Scenery Items 1.2

-Updated 
Amber Statue
Textures and Materials (Many thanks to 
JurassicMeikel
 for helping me with the transparency for the Amber )
-Updated 
T-Rex Skull Statue
 Textures and Materials 
-GUI Icons updated for T-Rex Statue, T-Rex Skull Statue and for Amber Statue

Jurassic World Scenery Items 1.1
-Updated
Golden T-Rex Statue
Textures and Materials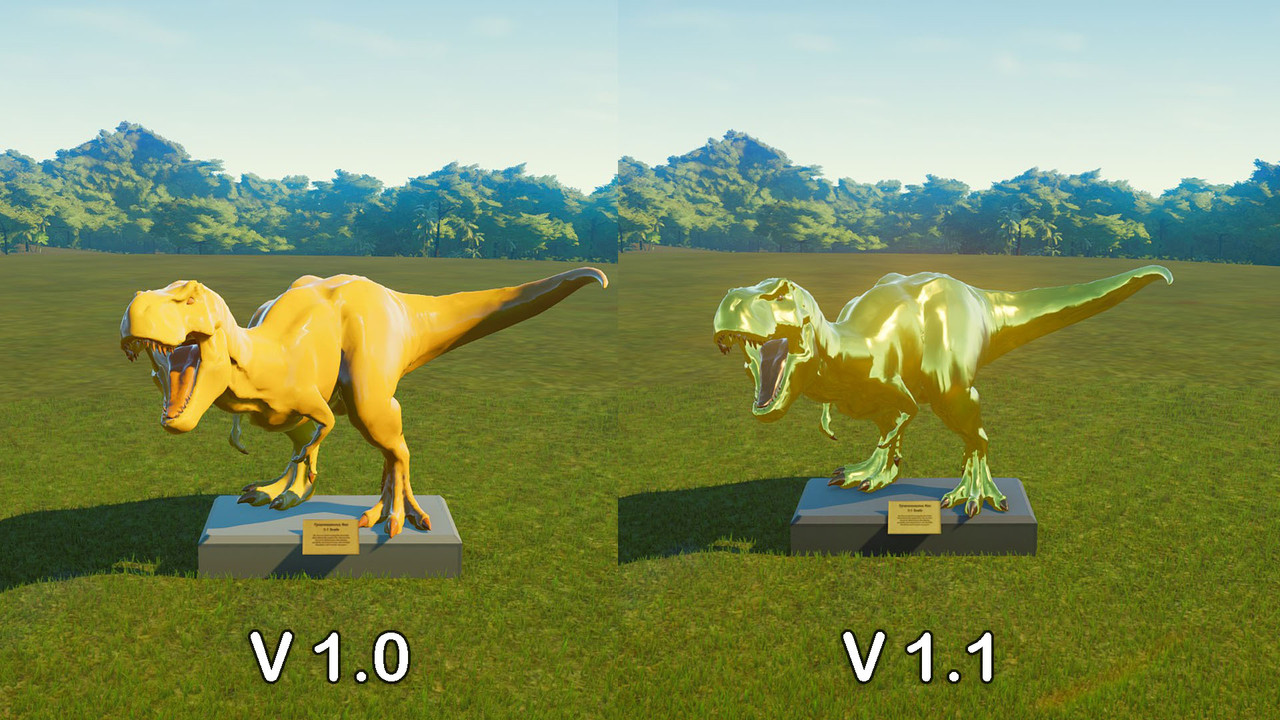 Jurassic World Scenery Items 1.0
Greetings to all my fellow park managers, 
I'm delighted to release my second mod here in NexusMods for Jurassic World Evolution 1 and this is my very first standalone scenery mod
pack. (Don't worry this won't be the last one 😊)
Hope you'll like this. 
Functionality
===============================
-This mod will add standalone 12 new scenery items to Jurassic World Evolution Game (You read right, not replacements) and these items will
appear just after the standard scenery trees, rocks, Park entrances.
01. Outdoor umbrella - White
02. Outdoor umbrella - Blue
03. Outdoor umbrella - Yellow
04. Outdoor Table+ 3 Chairs
05. ATM
06. Vending Machine 1 Coke
07. Vending Machine 2 Pringals
08. Cool Drinks Booth
09. Amber Statue
10. Spinosaurus Skeleton 
11. T-rex Statue
12. T-rex skull display 
Don't forget to check this out YouTube video, it is the mod spotlight by
BestInSlot
.
This feature my mod, so you can have an idea before you install this.
Thanks 
BestInSlot
covering this soo quickly..
DLC Requirements
===============================
-You do not need any other DLCs to use this mod, only base game is required. 
MOD Requirements
===============================
-No other mods required.
-But you can get better results if you have installed
Ultimate Mixed Eras Mod 1.7
(or latest) by Kaiodenic. (Removes scenery and
terrain constrains which is very useful). Otherwise you cannot place scenery items on the paths or too close to buildings.  
Installation Steps
===============================
-Download the Mod zip file (Only
17 MB
, read below for more info)
-extract the downloaded .zip file
-Find the ovldata folder in your Game installation folder(For Example C:\Steam\steamapps\common\Jurassic World Evolution\Win64\ovldata\)
-Copy extracted folder in to ovldata folder like other scenery mods. Make sure to verify the path to init.ovl file and it should be something similar to this.
   C:\Steam\steamapps\common\Jurassic World Evolution\Win64\ovldata
\JwScenryItm1\Init.ovl
-Open the game and check the scenery items.. 
Known issues
===============================
-         Nothing Major
-         But some materials of the models are not 100% realistic for me. (Eg: Gold and Amber textures) Those will be addressed in future when I
learn and find more options on in game materials
-         Amber stones are not having the shadows due to the strange transparency 
File size
===============================
The downloadable .zip file is only
17 MB
(16.8 MB) in size.
You may wonder how come I created the Mod file with extremely low file size while other mod packs release so far is approximately over 300 MB.
The secret is there are a lot of unused textured are in other mods and those are just eating the space. What I did was converted all of them to black color or blue color using Photoshop's automation feature. Usually an image filled with a single color takes only very few KBs and I used this method to reduce the mod file size.  
My Effort
===============================
I have spent my last 4 weeks to reach to this point. I have wasted 2 – 3 weeks (4-5 hours each day) to learn, how to create an addon mod pack myself.
I struggled with more than 100+ failed attempts with game crashes while I'm trying to create a standalone mod pack. I reached to some of the previous
modders to get some advice but no one helped me. But in the end I figured out everything.
For creating \ modifying the models and doing materials for this mod pack, I have spent more than 10 days (3-4 hours each weekday and 10+ hours during
weekends). So I'm bit tired at the moment and hope you can understand the effort I put on to this. 
My Expectation from Community
===============================
- Please respect the effort that all the modders put on this game or any other game.
- We are not getting any benefit from doing these.
- Only thing we need is your love, respect and appreciation of these works. The best way to show this is add some good thoughts in the comments, endorse the Mod after downloading it. Don't just be a leecher and download the mod and forget about it.
-Please spend 2 more mins after downloading the mod to add your thoughts and endorse the mod.
-If you're using this mod for any other work, such as doing a YouTube video, etc. please don't forget to mention about me and provide the link to this mod in the description.
-Also most importantly, please don't push us what to do next. But you're always welcome to suggest things for future, but politely. 😊  
Future plans
===============================
Depending on your endorsement, feedback and the free time I have, I may work on more mods in future.
But I'll take some break now since I couldn't get a proper rest for last 2 weeks.
Don't worry I'm not stopping this, this is just a start only. 😊  
Note of Thanks
===============================
To all the developers who developed this great game, without them I won't have the opportunity do this Mod. 😊
Creators of Cobra-tools which made modding possible for JWE.
My special thank goes to Kaiodenic for his wonderful
Ultimate Mixed Eras
Mod.
3D models are not 100% my own creation. I have used reference models and edited those to my preference. Some of 3D model references are from various web sites that I don't have track. Along them I would like to give credit for below authors.
PlanetZoo : Vending Machines and ATM
Jurassic Explorer Season 2 (Michael Pearce & Andreas Strom) : Spinosaur skeleton, T-Rex statue, Amber statue, T-Rex skeleton.
3 Umbrellas, Chair, table: unknown internet resources, I guess those are from SketchFab.com
All the people who supported, encouraged while I'm doing this work. (Specially my wife, my little one for their patience and understanding)
All the users of this mod and for your endorsements and for the feedback.
Thanks for reading this loooong note.
Enjoy the game now.
See you soon. 😊
RADRR1985