Version 2.0 of Worsin's Immersive Power Armor Garage is now in Alpha Testing!
COME JOIN US ON DISCORD
WIPAG DISCORD




Welcome to Worsin's Immersive Power Armor Garage
The Largest Power Armor Mod On the Nexus!
Adds 106 Paint Styles for T-45, T-51, T-60, X-01 plus 
Matching Styles for Jetpacks!
Also Includes 100 Decals and a
Complete Power Armor Overhaul!

Please Endorse If You Like My Mod!
Features:
FOMOD Installer with custom install options and crafting table integration patches.
Power Armor Progression system
Paint Shop Overhaul (major compatibility improvements)
Easy or Immersive Paint crafting system
100 Power Armor Decals (Clean or Scratched)
106 Jetpack Styles to match your paint!
Model-X Lining - Bring all models up to the level of the X-01
Power Armor Mod Overhaul - Stackable Power Armor mod system for Advanced Power Armor
New Power Armor Mods to add to your armor
New Craftable Advanced Power Armor
New Crafting Components for an immersive crafting system
Advanced Power Armor Workbench
Materials Overhaul - Allows you to use any Material bonus with any paint job!
New Power Armor Materials to add to your Power Armor
Compatibility with, Jetpacks Unlimited, Legendary Modifications, Craftable Workbenches, More Power Armor Mods, Wearable Backpacks and ArmorKeywords
Tons of bug fixes and usability improvements to the Power Armor menu
Built-in support for Better Armor Mod Descriptions
Other Features:
ALL Paints meticulously handcrafted by me.
ALL Paints are now in Unique Category and can be applied ON TOP of Default Game Materials!
424 Paint Style/Color Variations and Counting!
3 Paint Finish Options (Matte, Normal Shine and Waxed)
Single ESP and Multiple ESP Options
Lite and Full Feature Options (LITE acts like normal standalone for maximum compatibility)
Hand Crafted Textures, Normals, and Specular Maps
ALL paints have been created to look brand new with clean shiny paint jobs
ALL paints are standalone
ALL Paints have custom chrome parts buffed to a nice shine (Custom Specular Maps)
4 Different versions of paint jobs Classic Flames, Inverted Flames, Solid and Camo
Mix and Match any colors together or mix inverted with regular flames or solids to get the look you want
Compatibility:
New patches available for WIPAG + More Power Armor Mods + Jetpacks Unlimited + Wearable Backpacks + Legendary Mods + Armor Keywords.
Jetpacks are ARMOR!
That's right! Jetpacks will now act like Power Armor Pieces. This means you can apply Mods, Materials, Plating, and Paints to Jetpacks just like you would regular Power Armor pieces.  This does NOT remove the regular Jetpack Mods the default game adds, it only adds a new craftable Jetpack that is available through the Mod Overhaul and the Advanced Power Armor Workbench.
This includes 106 matching paint styles currently available for Power Armor only these are custom created for Jetpacks. Camo, Flames, Solid Colors, even Black with Chrome Flames!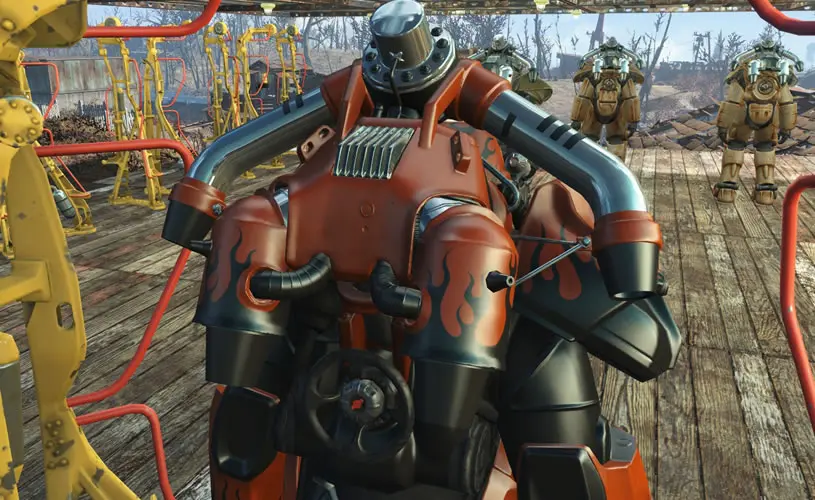 New Improved Worsin's Paints!
I have rebuilt my paint mod from the ground up. No longer will you NOT see the paint categories when using Legendary Mods or Similar mods that alter the Armor entries!
This should greatly improve compatibility with other mods.
Also, I have added 2 difficulty versions to my paints mod, Easy and Hard.
Easy:
All paints are free and you start out with all of them unlocked.
Hard:
All paints are locked until you purchase the instruction books to unlock them and all paints require ingredients to apply to your armor. For example, the Red with Yellow Flames paint style now requires red paint, yellow paint, and chrome solution.
The instruction books and paint ingredients can be found at various vendors across Boston.
Paints and Chrome solution can also be crafted at the Chemistry Station.
Paint crafting works as follows:
Taking the games 3 default paints, Red, Yellow and Blue you can now "mix" these colors to create any other color you need for the style you want to paint. Additionally, I have also added White paint as another base paint you will need to create the other colors such as pink.
So using pink as an example, you would take red and white paint and use them to craft pink paint in the Chemistry station. The only paints that require special ingredients to make other than just mixing paint together are the primary colors and white. All other colors are created by combining those primary colors and or white.
Decal Station
This addition provides 100 (50 Black and 50 White) Fallout 4 related decals to a new category in your Power Armor Station. These decals come in Clean and Scratched versions! You can now apply any decal you wish to any paint job you want. This includes 3rd party standalone paints by other modders!

Model-X
This addition is aimed to prevent the other Power Armor models from becoming outdated and irrelevant when you get to higher levels. Currently, when you find X-01 the other armor models are useless. This mod and the Mod Overhaul that I will go into later is aimed at re-balancing these Power Armor Models to make them all excel in certain areas providing more strategic choices in your missions and giving you a reason to use and need the other models.
This add-on provides a brand new Power Armor Lining called Model-X. This lining brings any piece of power armor up to the same level as its X-01 counterpart. This lining also changes the balance of "Health" that all your power armor pieces receive balancing them to be more in line with the chest piece.
This way you won't lose your arms and legs so fast. I have lowered the health of the chest, however, to keep this not so overpowered. Further adjustments will be made to this based on user feedback.
Model-X also provides a unique bonus for each Power Armor Model, this is the first step in making each model excel at certain roles in the game while attempting to keep it lore friendly. Below are the "Roles" that these armors are geared towards. These are also subject to change based on user feedback. Also because this is essentially an Aftermarket Product developed by post-war engineers this keeps the lore intact as much as possible.
X-01: Heavy Assault – Gives +30% Explosive Protection
T-60: Gunner – Gives +30% Resist against Robots.
T-51: Sniper/Recon – Build in stabilizers for unparalleled aiming stability
T-45: Survivalist: +30% Poison Protection and Additional Radiation Resistance.
Power Armor Mod Overhaul
This is a massive overhaul of the entire power armor system without touching any of the vanilla game armors.
This adds a new "Advanced" set of power armor parts to the game that gives some huge advantages to how you customize your power armor. This is meant for end game and requires Science 4 and Robotics 3. This armor also comes with Model-X pre-installed so you aren't recreating linings that you already made for your previous power armor from earlier in your play-through.
This mod overhaul gives you access to the following:
Advanced Power Armor Workbench
This is a new workbench added to the game that allows crafting of the Advanced Power Armor as well as the components needed to create it.
Note: Patches are provided in the FOMOD installer that let you craft these items in either Crafting Workbenches or Legendary Modifications workbenches (this is to save on categories and space in your settlement)
Advanced Power Armor
This is a special set of power armor with additional attachments that allows multiple mods to be attached to the same piece of armor.
This special set of armor is the only armor in the game that will have access to the multiple Mod Categories which allows mods to stack with each other.
More Power Armor Mods!
New powerful Mods such as Storage Racks, Electronic Stabilizers, Micro Expression Analyzers and much more. The list of available power armor mods will be expanded with each release based on user suggestions.
Stackable Mods (improved category structure)
New Mod category system that allows you to stack certain mods together based on the model you are applying the mods to. This expands on the power armor roles discussed in the Model-X section. With this system, certain models cannot stack certain mods.
For example, The X-01 can stack Emergency Protocols and Reactive Plates, whereas the other models cannot.  However, the T-51 and T-60 can stack the Targeting Hud with Recon Sensors providing superior enemy tracking but the X-01 and T-45 cannot.
This will greatly diversify the load-outs that each power armor model can create over time. The first version of this is somewhat basic, but I will be greatly expanding on this in further releases. For now, you will get a good idea of where this is heading as this will provide a base for user feedback to further improve this system.
Note: This stackable system is ONLY AVAILABLE on the Advanced Power Armor and will not show for Vanilla Power Armor pieces. This keeps the game balanced and restricts this to end game content only.
Immersive Crafting System
All Advanced Power Armor pieces require special components to create. These are new items I've added to the game to make the crafting feel more realistic. Parts such as Gearbox's, Servo Motors and Detachable Mounts have been added with much more to come. No longer will you feel like crafting power armor is too easy.
Right now all of these components are craftable in the new Advanced Power Armor Workbench but future releases will require some of these parts to be looted off of droids and other tech-oriented NPCs around Boston.
Jetpack Skins!
I have added compatibility for Jetpacks Unlimited! This addition gives you access to special colored Jetpacks that will match your power armor! Special thanks to J3litzkrieg for creating all of these colors.
In future releases, I will be revamping the entire Jetpack system but this is top secret so I cannot expand on this further =)
VISIT JETPACKS UNLIMITED FOR AWESOME JETPACK SKINS!
Materials Overhaul
The reason for this mod is simple, apply any paint with any material (bonus) you want!
This mod revamps how the materials are applied to your power armor. Materials are no longer stacked with the paints. Vanilla paints are now in a category called Vanilla/Standalone paints (this is actually the game's default Materials category) so all standalone paints will show up here by default.
The materials have been added to a new category called well…Materials. The paints have been stripped of these materials so they do not "replace" your paint style when applied. I have also added new materials to the list to give you a ton of new bonuses to add to your armor.
Currently, there are materials for every Stat such as CHA, Luck, and Str etc. as well as all the default vanilla material bonuses.
More materials will be added based on user feedback!
RECOMMENDED MODS:
Legendary Modifications
Crafting Workbenches
Customizable Targeting HUD
Jetpacks Unlimited - Special Version Matching Worsin Paints!
About WIPAG
This mod is a work in progress!
I made this mod because I believed given the time period my character comes from (the 50's) he would want to rebuild his life the way it was and that includes HotRods with Chromed out Parts and fancy paint jobs.  Since there are no working cars around he has to settle for beefing up his power armor! 
The long-term goal of this project is to provide an in-game Garage that will sell the paint jobs and custom modifications not in the game for a small fee. This may include small quests as well to unlock things like chrome. I have a ton of plans to make this much more immersive.
Paint Finish Options:

NOTE: ALWAYS LOAD ANY COMPATIBILITY PATCHES BELOW THE MASTER FILES!!
Videos
Installation:UNINSTALL BEFORE UPGRADING TO v1.7!! ALL FILES HAVE BEEN RENAMED.
FOMOD INSTALLER is now the main file so install using either NMM or MO
NOTE: MAKE SURE YOU DOUBLE CHECK THE FALLOUT4.INI FILE AFTER UPDATES TO ENSURE THE CORRECT CHANGES HAVEN'T BEEN REVERTED.
Step 1. Install Main File using FOMOD MAIN FILE
Step 2. Install Texture Packs
Step 3. Move compatibility patch ESP files blow all other mods
Step 4. Add these lines to your Fallout4.ini and Fallout4Custom.ini
bInvalidateOlderFiles=1
sResourceDataDirsFinal=
This will set you up for all mods.
NOTE: ALWAYS LOAD ANY COMPATIBILITY PATCHES BELOW THE MAIN FILES!!
Installation Videos by Gopher:
Credits:
Bethesda of course for making an awesome game. 
Expired6978  - for making the compiler to allow for standalone paints click below for link
http://www.nexusmods.com/fallout4/mods/2053/?