Version 2.5 of Worsin's Immersive Power Armor Garage is now in Beta Testing (Dirty Paints Available in Discord)!
COME JOIN US ON DISCORD
WIPAG DISCORD




Check out this video on the new PA Overhaul



Welcome to Worsin's Immersive Power Armor Garage
The Largest Power Armor Mod On the Nexus!
Adds 106 Paint Styles for T-45, T-51, T-60, X-01 plus 
Matching Styles for Jetpacks!
Also Includes 100 Decals and a
Complete Power Armor Overhaul!

Please Endorse If You Like My Mod!
Features in 2.5:
FOMOD Installer with custom install options.
Massive Power Armor Overhaul.  Completely changes how Power Armor works.
Leaves vanilla PA intact so any mods that effect vanilla PA remain unaffected.
Craftable Advanced Power Armor
Power Armor Progression system with Unique 6 specializations
100's of new PA MODs, Materials, Linings
Custom Sounds for many mod effects...more to come on this!
Vastly expanded flexibility in configuring PA to a playstyle perfect for any playthrough
Paint Shop Overhaul (major compatibility improvements)
106 Paint Styles for T-45, T-51, T-60, X-01
Choose Easy or Immersive paint crafting system
100 Power Armor Decals (Clean or Scratched)
106 Jetpack Styles to match your paint!
Scrap PA frames and craft new ones
New unique mods like Time Slow on Iron Sights, Hacking Perk, Lockpicking Perk and much more.
Craft your own Thermal Vision System with 1,000's of configurations
New crafting components for an immersive crafting system
99.9% compatible with every mod on the nexus.
Tons of bug fixes and usability improvements
Reduced ESP count and will be offering ESL files for all compatibility patches
LL Script Injector for Compatible Leveled Lists
Other Features:
ALL Paints meticulously handcrafted by me.
ALL Paints are now in Unique Category and can be applied ON TOP of Default Game Materials!
424 Paint Style/Color Variations and Counting!
3 Paint Finish Options (Matte, Normal Shine and Waxed)
Hand Crafted Textures, Normals, and Specular Maps
ALL paints have been created to look brand new with clean shiny paint jobs
ALL paints are standalone
ALL Paints have custom chrome parts buffed to a nice shine (Custom Specular Maps)
4 Different versions of paint jobs Classic Flames, Inverted Flames, Solid and Camo
Mix and Match any colors together or mix inverted with regular flames or solids to get the look you want
Incompatibility: These are no longer needed when running WIPAG
Buildable Power Armor Frames
Craftable PA Frames and Pieces
Configurable Power Armor Core Drain
Power Armor Overhaul
Craft any power armor model as Advanced Power Armor and choose 1 of 6 Unique Specializations:
Recon
Unparalleled speed and mobility. Recon is for scouting and getting around the map quickly. With unfettered access to both Powered Hydraulics (Jump) and Improved Gears (Speed), Recon Specialization is by far the fastest Power Armor in the game. It's light as a feather and as a result, can carry more than most other specializations can. This spec is not designed for fights though due to its low access to defensive platings and damage mods.
Assault
Pure combat specialization. Assault Power Armor is designed to slaughter. With access to some of the highest damage Targeting Matrix as well as a wide variety of other damage boosting mods Assault is the second highest damage rated Power Armor in the game. Assault also has really good access to defense mods so this is definitely a specialization that can hold its own in any fight.
Heavy Assault
With access to the highest tier defensive mods Heavy Assault is bar none the tankiest power armor available. This Power Armor Specialization can take a severe beating but is not going to do the damage that Assault can and is the slowest Power Armor of all the specializations. This is the power armor spec to use when you are going into the most difficult situations in the game.
Wastelander
Wastelander Specialization is the jack of all trades type power armor. Great for exploration due to its access to decent run speed mods and its good defense in high radiation environments. It also has decent access to damage buff mods. Its good at a lot of things but definitely not the best at any one thing.
Brawler
Dedicated to unarmed combat the Assault Specialization has the best unarmed mods in the game. No other spec can compare with its access to not only unarmed damage buffs but AOE damage emitters as well. Brawler is the unarmed version of the Assault Spec.
Sniper
Pure offense. Sniper Specialization has access to the coveted 3 second Time Slow on Iron Sights as well as superior Targeting Matrix options allowing large bonuses to damage against specific types of mobs but has a very low defense. Sniper also gets good bonuses to speed so it can avoid damage and get into sniping positions quickly. It also has access to some good carry weight options so you can lug that heavy sniper rifle around!
Craftable Power Armor Frames
You can now craft PA frames, scrap old frames, carry frames with you in your inventory and drop them down in any settlement. The following mods are not needed and will not work with WIPAG
Buildable Power Armor Frames
Craftable PA Frames and Pieces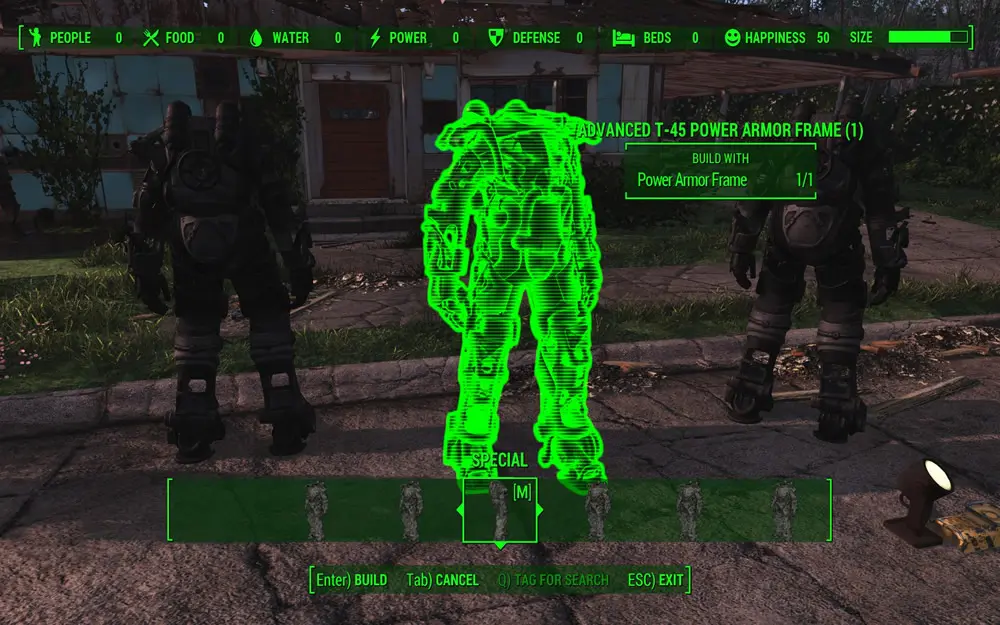 Build Your Own Night Vision
With WIPAG 2.5 you have access to unparalleled options for Night Vision. You can now choose from a wide range of Night Vision and Thermal Effects as well as choose all your NPC highlighting colors independently. Want Pink Hostile highlights with Blue Friendly and Purple Corpse but everything totally different at night? no problem. This system gives you literally 1000's of Night Vision/Thermal Vision configurations to choose from. This will be available for Darker Nights as well!!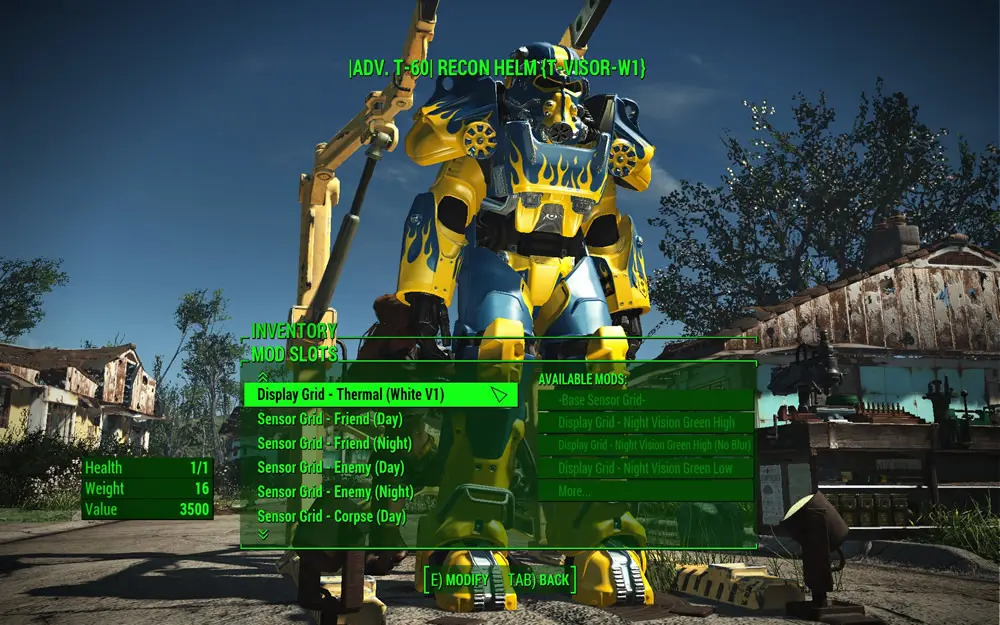 Jetpacks are Paintable!
That's right! Jetpacks are paintable and use the same paint as the Torso.
This includes 106 matching paint styles currently available for Power Armor only these are custom created for Jetpacks. Camo, Flames, Solid Colors, even Black with Chrome Flames!
New Improved Worsin's Paints!
In WIPAG 2.5 we now use a new system for paints.  By simply unlocking the category you want to access from the default paint menu we can ensure that you never have a problem accessing paints for WIPAG.  This new system should ensure 100% compatibility with all other mods.
Also, I have added 2 difficulty versions, Easy and Hard.
Easy:
All paints are free
Hard:
Paints require crafting Paint Cans using the new paint bench in Armor Keywords.
Paint crafting works as follows:
Drop a new Paint Workbench from Armor Keywords mod and craft pigments/paint cans and paints.  Armor keywords added all of the paint colors needed for WIPAG in its latest releases so no problems with compatibility now.
Decal Station
This addition provides 100 (50 Black and 50 White) Fallout 4 related decals to a new category in your Power Armor Station. These decals come in Clean and Scratched versions! You can now apply any decal you wish to any paint job you want. This includes 3rd party standalone paints by other modders.
New in WIPAG 2.5 you can now add either scratched or clean decals in the same game!!!  Put scratched on some PA and clean on others.  Paints will soon work the same way so stay tuned for that.

RECOMMENDED MODS:
coming soon
About WIPAG
This mod is a work in progress!
I made this mod because I believed given the time period my character comes from (the 50's) he would want to rebuild his life the way it was and that includes HotRods with Chromed out Parts and fancy paint jobs.  Since there are no working cars around he has to settle for beefing up his power armor! 
The long-term goal of this project is to provide an in-game Garage that will sell the paint jobs and custom modifications not in the game for a small fee. This may include small quests as well to unlock things like chrome. I have a ton of plans to make this much more immersive.
Paint Finish Options:

NOTE: ALWAYS LOAD ANY COMPATIBILITY PATCHES BELOW THE MASTER FILES!!
Videos
Installation:

NOTE: I RECOMMEND A NEW GAME IF YOU ARE UPGRADING FROM 1.7x. 
INSTALL IN SAVED GAMES AT YOUR OWN RISK!
Step 1: INSTALL FOMOD (Located in MAIN FILES section)

Step 2: INSTALL Texture Pack (Located in MAIN FILES section)
Make sure these changes are made in your INI file.
bInvalidateOlderFiles=1
sResourceDataDirsFinal=
This will set you up for all mods.
NOTE: ALWAYS LOAD ANY COMPATIBILITY PATCHES BELOW THE MAIN FILES!!
Installation Videos by Gopher:
Credits:
Bethesda of course for making an awesome game. 
Expired6978  - for making the compiler to allow for standalone paints click below for link
http://www.nexusmods.com/fallout4/mods/2053/?