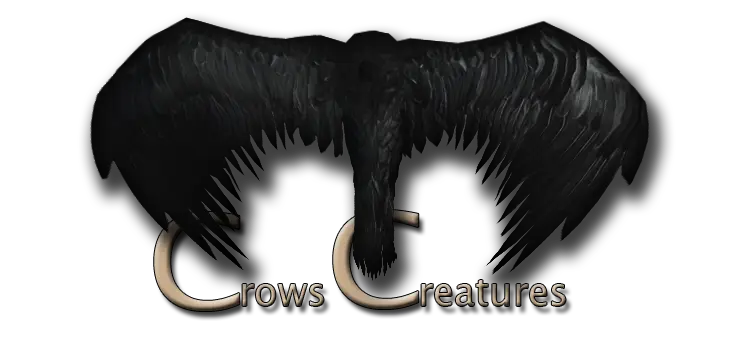 This mod is getting bigger then i whas planned to do. Thanks to Yatz - C&C got now a
FoMod Installer
. No more single downloads  easyer to choose your preferences.
- I get many questions about things they like to see. I can only say this. I
can't
tweak meshes or  create animations .
- Well i started this mod becuase i realy disliked the crows. I found them way to glossy and the feathers  were made more in relief then that they are feathers.
I think most creatures are to glossy, but that is personal taste maby. Still i like to share my work  for others to use.
- All textures are created with real photoresources and own hand work to get them realistic as possible.
- Maby the normal needs some work still, still not happy to work with the new normals FO4 using. But i tryed to get the details as much as i could in the normals.
- Same goes with specular  textures, not often used myself  in NV, but i try. Forgive me if they are not perfect.
- maby there are  still a little seam to see on the creatures, but i got a feeling it is more the mesh itself that cause it that the textures , can't see it in Adobe 3D the same issue.

Crows & Creatures is still a WIP
The small and tiny things and little changes to make them better will be done finished with creating creatures. What will be done? Eyes that are not reflect light, little seams issues or other things i may be forgotten to do.
- Savannah Cat
-The cat use still hte vanilla normal map with a little tweaks on the ear,eyes and paws, i don't think it will give any trouble for the mods that use the same normal map.
- Why this breed?
Becuase it is an awsome one, and i wont make other races. if you don't like it, don't download it. All creatures get their own download.
- Radroaches:
I know i don't like them either. But i think also if we like to create a realistic world, then also those creatures needs to be real looking. For sure it will help your gameplay to make it look scary.
- Brahmin:
The brahim you got in two flavors. The wild version or the healthy version. I think with the upcoming mods for mil'king and keeping cows, the healthy versions wil be an good replacer insted the vanilla versions. How can you resist milk and meat from a healthy cow.
But they are still mutated? Yep, being mutated will not always say being sick and unhealthy. It's just mutation.
The wild version is more lore friendly and will fit better in a world for people that doesn't whant the clean and healthy animal wandering the wide world of the Commonwealth.
Can pick one file for the brahmins. Doesn't matter what file you choose, the dead and bloodsucked use the same textures
-Seagull:
The seagull was an creepy ugly thing, at least my personal thought. half naked with creepy sores all over.
 I tryed to use the common seagull,but it was hard to find good photo recourses for this bird. or the wings were not clear enough or wrong bird.
 So not everything is accurate as the real one but close to.
Thanks to
andrey4791
, i could make the skin seamless. He made for me an obj for adobe , the meshes for the little feathers that are sticking out i couldn't manage that in adobe. 
[center]Other Creatures that are done:
Angler DLC
Bloatfly
Brahmiluff DLC
Feral Ghouls
Feral Ghould DCL
FEV Hound - 2 Options
Ghourilla
Ghourilla DLC
Gulper DLC
Hermit DLC
Mirerlurk
Mirelurk Hunter
Mirelurk King
Mutated Wolf DLC
Rad Rabbit DLC
Rad Scorpion
Stingwing - 2 options
Yao Guai
[center]
Install:
This is NMM friendly
But if you can not wait for FoMod Updates and don't whant your NMM cluttered:
Place the texture & Meshes or any other folder like Materials or props, into your Data folder of your game
FOMOD:
Created By
yatz
He will keep the FoMod up to date as possible. Thanks for your help. Realy appreciate this ,Kudos to you
Crows Featured by 
Gundamzeppelin
Crows & Creatures Featured by
Vatiwah
THIS UPLOAD IS NOT RESOURCE MATERIAL.
No one may assign, directly or indirectly, all or part of my creative
rights or obligations to other modders without our written consent.