File information
Created by
Indipindi


This simple Mod adds Real Sounds to Birds, adjusts their Volume and distant audibility.
Now they should be realistically audible.
                                                 Be honest did you really noticed that there even Birds in the Game??!
Crows should now actually be kinda scary,while Seagulls doing their best to just annoy you! ...  mine .. mine ...mine...mine!...

  Current Version v0.5



Installation:
1.
  Go to your
Documents/My Games/Fallout 4
and open the
Fallout4Custom.ini
and just add
[Archive] bInvalidateOlderFiles=1
sResourceDataDirsFinal=2.
  Download the Mod and activate with your favorite Mod Manager ... Done!
3.
  How and why...wth?! No Problem ... Please head over to
Gophers
awesome Tutorials on 
how to edit
your .ini Files,and how and why you should use a Mod Manager for Mods like this.
Updating:
1.
  Uninstall old Version and just Install New Version.
Uninstall:
1. 
No need to change back the .ini File edits,just leave it.
2.
  Click Uninstall in your Mod Manager ... Done!
Compatibility:
Should be compatible with everything,except other Sound Replacer of course.
For Mods like "Reverb and Ambience Overhaul" load Radiant Birds before mods like this.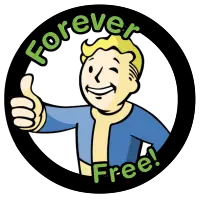 Work stopped and abandoned
No support
All Assets available as Modders Resource at
Bird Sounds
Known Bugs: It just Works...

Credits
FO4Edit PreRelease Alpha
All Sounds added by this Mod are from
http://freesound.org
and under no Lizens "CC0" to my best knowledge.if i'm doing something wrong here!Please Contact me.