File information
Created by
Mangekyoumadara1987
About this mod
Redefines all relic blades from scratch to be useful/gives you access to NPC only weapons/let you upgrade all relic blades,DLC and Kaer Morhen Armor,DLC and Witcher Crossbows,Viper and Vesemir Swords/adds dozens of new loot into the world/modifies some Vendors/adds many quest rewards/heightens Gwent bet to 50/adds new animations/effects etc.
Requirements

Permissions and credits

Translations

Changelogs

Donations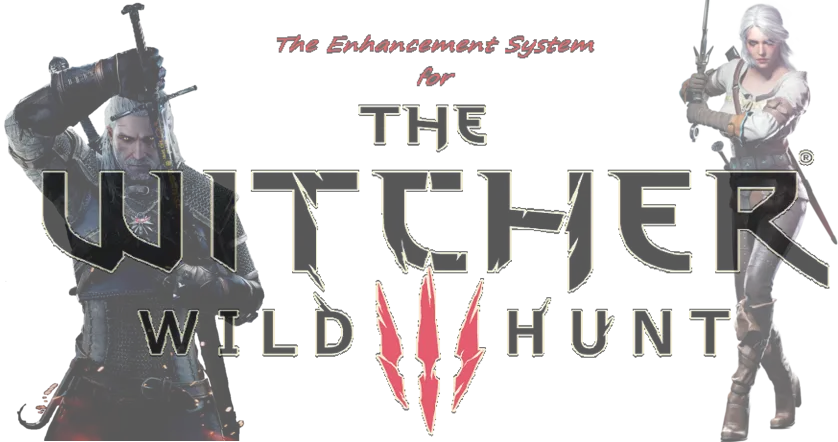 List of content:
Introduction
Videos
All functions of TES/What the mod does (IMPORTANT!)
Different mod versions explanation (IMPORTANT!)
Installation/Uninstallation (IMPORTANT!)
Integrated mods (IMPORTANT!)
Recommended mods in use with TES
Item Spawn Codes
Last words/Credits
The Enhancement System is created to enhance the RPG feeling of the game by adding more depth,functions and possibilities into many aspects of the game.It started as simple weapon upgrade mod,and became what it is now: a huge Overhaul for The Witcher 3.Many mods you may know were integrated in TES,to deliver the best possible experience for you. 
Further informations you`ll find in different sections below.
I recommend to remove the questionmarks from your map in the graphic hud menu to enhance the RPG feeling even further and make treasure finding truly rewarding.
It is advised to start a new game to get the full experience out of the mod,but it will work on an existing save also.
Armor and Weapon access and upgrades now available without The Enhancement System! Customize your functions and only take what you want, those files have no compatibility issues like TES:
Relic Weapons Redone



Witcher Gear Redone



Exclusive Weapons and Armors Redone

 Here are one Spotlight Video and a Version 2.5 Changelog Video,in which most changes are described:
But you should read the description written down below also
   In the image section you can view most changes as well    

New Video soon!
TES Review New:                 TES Review Old:
Thanks goes to 
Gundamzeppelin
 for those Videos                                                                     
All functions of TES/What the mod does:
Different mod versions Explanation:
Installation/Uninstallation Instructions:
Integrated Mods:
Recommended Mods in use with this:
Item Spawn Codes:
My other mods:
The Gwent Card Dealer

The useful Witcher Tool Innkeeper
Last words:
This mod has taken enormous amounts of time and frustrations,so I  appreciate all your feedbacks,endorsements,votings,kudos or what the hell ever you like :)
Also If you like The Enhancement System with all its features,please show it to all integrated mods and authors.I can not say this enough.I myself have to thank all mod authors of the integrated mods on this point too.Without you,TES wouldn`t have become what it is now!
Credits: