File information
Created by
Arrbyte
About this mod
Adds lovebirds with real sounds! Compatible with my canary mod. Drops chicken eggs and sometimes drops a fruit!
Requirements

Permissions and credits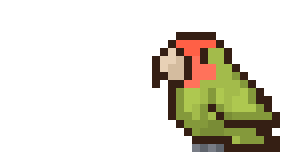 Content

This adds lovebirds to marine's shop. Lays chicken eggs and brings secrets from the forest. They really make nice sounds! 
For sounds, thanks to Jasar for the recordings of his lovebirds.
Download this if you really like lovebirds.
If you like the style of the lovebirds, i used the Parrots from
Gizomo
 to inspire me, maybe download his
chicken to parrots
mod while you check him out :)
Sound
SAAT 
technically allows adding of multiple tracks, but doesn't allow them on the same ID, so you would hear the same sound over and over.
So we stick with custom music for now. Replaces "powerup" track. Not used ingame but maybe by another mod. Keep an eye out.
This is perfectly compatible to
my other mod adding Canarys with sound
.
Everything is recorded by Jasar, and cut by me.
Drops

Lovebirds, their drops are---  fruit based like their heads? *shuffles paper*.... well here some totally real quotes.

Issues
- runs mostly stable.
- Tested in multiplayer. 
- One known issue is that I experienced (in multiplayer) that the bfav animals became a chicken for a day, and then reverted. But thats BFAV being wonky, nothing i can change.
- Buying an chicken, and trying to hatch and you might get a totally different chicken. Take it as a coocoobird surprise :)
looking to both mods a solution would be to make a egg for each bird, so peach-egg, exotic-egg, canary-yellow-egg for example and so on, that would be quite some bloat. i am not a fan. i like the roulette!
Requirements
-
 BFAV Unoffical Version
- Custom Music