File information
Created by
HopeWasHere and SoftPandaBoi
About this mod
Updates and expands on an NPC named Alec, originally by HopeWasHere.
Requirements

Permissions and credits

Translations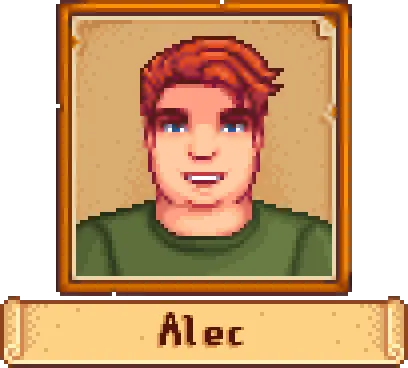 Alec is a custom NPC from 2018 that used frameworks that no longer even exist, making him essentially impossible to use unless you rewrote the entire mod to use Content Patcher. I had been working on an unofficial update for personal use since fall 2021, but thanks to
LemurKat
, I was able to get in contact with
HopeWasHere
who was meaning to hand Alec over to someone who had to the time to update and maintain him. Since I had already done a lot of work and wanted to continue, I offered to do it. This mod has all of the content from the original mod (except the furniture, because I couldn't figure out how to make it be sold in Alec's pet shop, if you have ideas please tell me!), and a few new features! With more content on the way! Like the original mod, I'd consider this one to be in beta, so there might be bugs and stuff like that.
In the forest next to Marnie's Ranch, you'll find a new building. The Pet Shop. In it, you'll find Alec, animal and computer expert from the Fern Islands. He doesn't have many friends and doesn't really know how to change that, but does he even want to? He decided he wanted the pet shop away from town and seems to go out of his way to be alone. He currently doesn't have any animals for sale, but maybe he'll get some soon. It might be a good idea to keep visiting and checking!
Current Features:
Planned Features:
Compatibility/crossover with other NPC mods
More events! More dialogue!
Adding pet shop and it's open times to the minimap
More stuff! 
Note, if you're adding this mod to a preexisting save Alec's pet shop will have a few weird bushes around it, so I recommend using
Destroyable Bushes
!