File information
Created by
Angilla
About this mod
Installs the DCR - King Crusader Armor, Locust Spell, and Blade Set Reloaded.
Requirements

Permissions and credits

Translations

Turkish
Spanish
Russian
Portuguese
Polish
German

Changelogs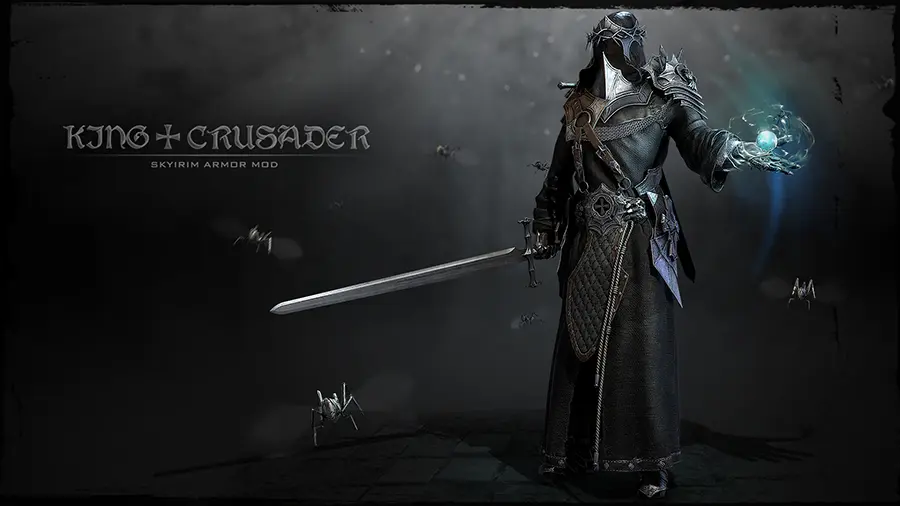 Remakes
The Kind Crusader Armor has been out for over two years now... To answer all emails in one pass, you have my permission to alter it in any way you see necessary. All I ask is to make it AWESOME and do your BEST!
Mod Content
Installs the Dark Crusader Reforged - King Crusader Armor, Locust Storm Spell, and Blade Set Reloaded.
Where to find the armor?
Head to Bloated Mans Grotto (South West of Whiterun) and look for two chests (one behind & weapons to the left) the Talos statue half way through.
The armor is craftable and found under the "Ebony" tree.
Extracted Sanctified Light
is found at the smelter.
Locust Storm
Currently, the mod only comes with one signature spell / feature "Locust Storm". This spell is castable only when the robes are equipped.
So where can I get the weapons?
I decided to go old school with this one and introduce them to the game via chest. (no crafting) Head to 
Bloated Mans Grotto.
 Search Inside, there will be a chest (to the left of Talos Statue) with the weapons and a note to Acilius 200 years go for some lore if your into that sort of thing.
I was sure to add a few extra weapons just in case you want your companion to rock some serious hardware too.

Future King Crusader Updates
The mod currently is designed for the male body but has a folder and placeholder .nifs for a future female fitting. There will also be accessories coming for the armor too with matching enchants / features.

DCR Mods to come!
Bow
Shield "Reloaded"
Mount
Twitch Streams

If you're interested in 3D art and mod creation, I stream my work on Twitch Creative.
JDGameArt - Twitch


JDGameArt - Discord
Special Thanks to...