File information
Created by
phenderix EchoEclipse Nightfallstorm
About this mod
Skyrim Cheat Engine will enable you to quickly add any item, spell, perk, or shout in the game to your player character as well as enable you to spawn any NPC.
Requirements

Permissions and credits

Translations

Changelogs

Donations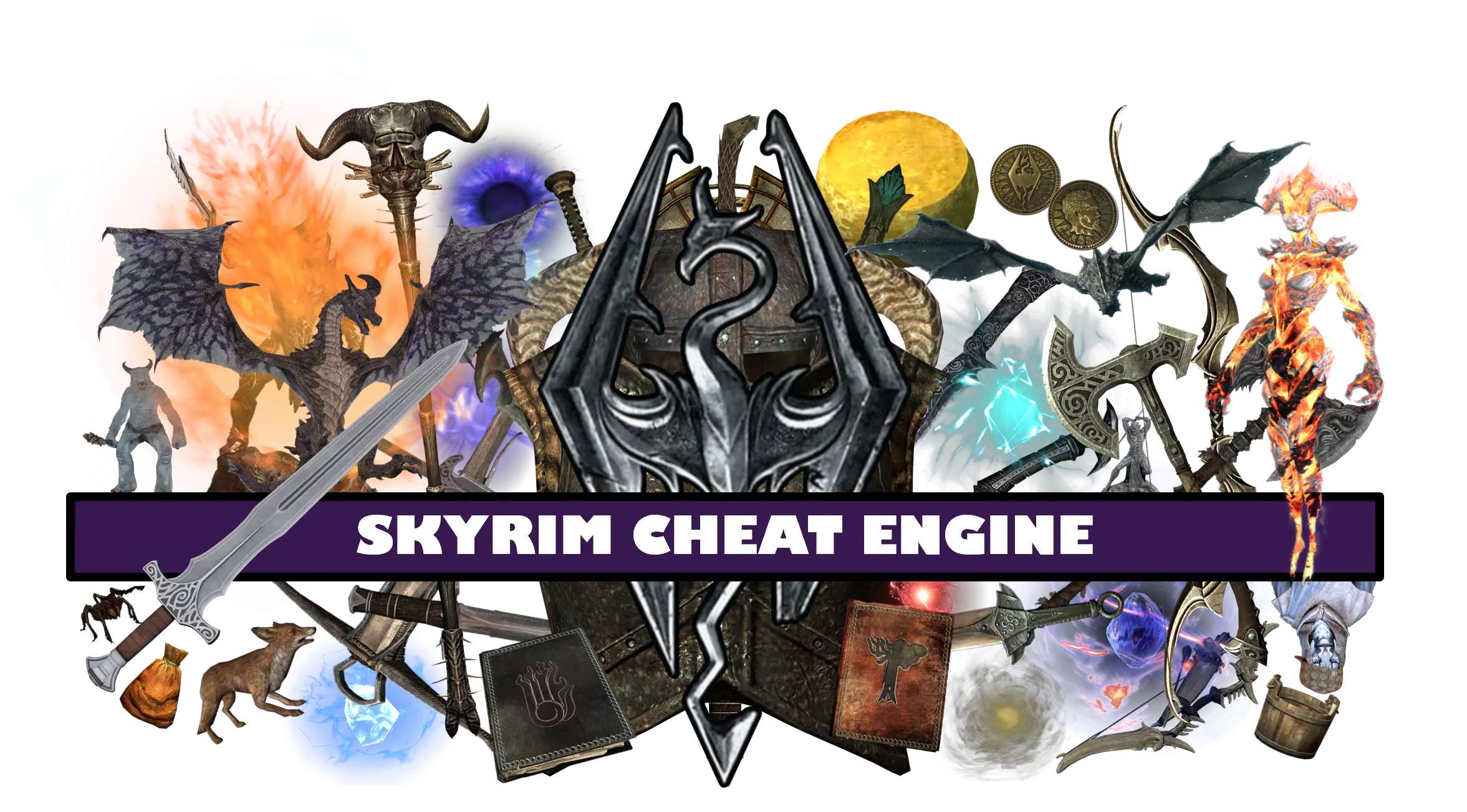 Compatible with Skyrim AE & Skyrim SE
VR version in the optional files section!
Works well with
Proteus
!
GENERAL OVERVIEW
Skyrim Cheat Engine will enable you to quickly add any item, spell, perk, or shout in the game to your player character as well as enable you to spawn any NPC. This works on all content within your game world, including content added by mods, no patches required. Search for essentially anything in Skyrim and gain easy access to it.
Skyrim Cheat Engine supports ESP, ESM, ESL, and ESPFE mods.
The cheat menu can be brought up by holding down the 
left bracket key [
.
This hotkey is customizable and can be changed in the MCM settings.
Hit tab or whatever your back key is to exit out of the menu system at any point in time.
Skyrim Cheat Engine Menu
:
All Items (explore) (bit slower than other options)
All Items (search) (bit slower than other options)
Ammos
Armors
Books
Ingredients
Keys
Misc Items
NPCs
Perks
Potions
Scrolls
Shouts (automatically unlocks any associated words of power)
Soul Gems
Spells
Weapons
The mod will also allow you to:
Add dragon souls
Add perk points
Clear active magic effects
This mod has several advanced features that similar mods do not have. Here are a couple highlights:
Easily traversable menu system with hotkey activation. (use mouse, keyboard, or controller)
Type in the name of any item/spell/perk/shout/npc to search for it and easily find it.
In one click, easily add all items from a mod to your inventory. (or spawn all NPCs, add all spells, etc.)
View searched items in a container/inventory menu that shows you applicable inventory art.
Specify the exact number of the item you want to add to your inventory. (e.g., add 100 cheese wheels to inventory)
Specify the exact number of an NPC you want to spawn. (e.g, spawn 300 mudcrab followed by 2 fire dragons, who would win?)
This mod is an ESL and will not count towards your maximum total mod count.
If the hotkey isn't working for you, or you are using a controller and can't get the hotkey to work, there should also be a spell automatically added to your spells list called "Skyrim Cheat Engine", which you can use to launch the cheat menus.
I truly believe this is the most simplistic and useful cheat mod available for Skyrim in 2023. :D
Also, if you are not using my associated mod
PROTEUS
- please check it out!
SKYRIM AE/SE INSTALLATION REQUIREMENTS
Skyrim Cheat Engine comes with a DLL file (built off CLib NG) that should work for all versions of Skyrim AE and SE.
Except for 1.6.659 (GOG Version) as a couple of mod requirements still need to update. (hopefully fixed soon!)
This mod will not work with Skryim VR or Skyrim LE.
Skyrim Cheat Engine requires several other mods to work properly. You must absolutely ensure you have the versions of these required mods installed that matches up to your Skyrim version so that this mod works properly. 
To check your Skyrim version number, right-click the SkyrimSE.exe file in file explorer and go to the Details tab. Here's an image showing what you should see:
I also recommend downloading
powerofthree's Tweaks
. It enhances this mod and shows the names of more game items, instead of showing "(Missing Name)" as a search result.
It is important that you download the correct version of JContainers.
Pay special attention to the version you download, one is for Skyrim AE and one is for Skyrim SE. (use the links I provided above for convenience)
SKYRIM VR INSTALLATION REQUIREMENTSUPDATES

V.2.0.2
Can now view items in the inventory menu even when there are many search results. This may load slow and container may continue to populate while you are viewing items.
Mod names in the explore option will be sorted alphabetically.
V.2.0.1
Updated DLL to match Proteus version. (YOU MUST download this if you use this mod with Proteus)
V.2.0.0 - CLib NG
V.1.2.1
Added soul gems as a menu item category.
V.1.2.0
Massive enhancement to this mod that allows the mod explorer function to load significantly faster. (finally had a eureka moment on this)
This mod now requires JContainers.
V.1.1.0
New feature to easily search for an item across all item categories.
Script improvement that makes base cheat menu load significantly faster.
V.1.0.3
Spell to open cheat menu will be added to player spells list upon installing this mod. 
Existing users will need to use console to add this spell.
V.1.0.2
Added option to add dragon souls and add perk points.
Added option to clear active magic effects.
V.1.0.1
Added option to see all items in a mod. (bit slower than other options)
V.1.0.0
FAQQ: Mods like Nether's Follower Framework & Jaxonz Renamer have conflicts with this mod! What do I do?
If your mod manager shows conflicts, ignore them. It is completely okay to overwrite the files found in these mods. The files being overwritten and shared between the mods are UILib files that should be identical in all the mods. This means overwriting them won't matter. You would essentially be overwriting a file with an identical file.
Q: Didn't you release a mod like this before? Wasn't this content previously included in your mod PROTEUS?
Yes, I did previously release a mod that was somewhat like this. This mod release has improved the content significantly with many bug fixes and additional features added. It also enables you to view mods that are ESL or ESPFE format and is faster and more streamlined. I rewrote almost all of the code that was included in previous releases.
Some of this content used to be included in PROTEUS, but version 1.9.1 of PROTEUS stripped the mod of this cheat content. Instead, I have chosen to release this content as a separate, standalone mod. (with new content and many fixes / improvements)
Q: Does this mod require PROTEUS? Can I use this mod with PROTEUS?

This mod is standalone and does not require PROTEUS to work. I do recommend that you check out my mod
PROTEUS
though.
Q: I am getting an error regarding the PROTEUS DLL? What do I do?

You may have the wrong version of this mod installed. Try the other option in this case. (AE or SE)
CREDITS
phenderix
 - created all content not otherwise noted below
EchoEclipse
 - created the initial Proteus SKSE dll - adds many functions that Skyrim Cheat Engine requires to operate
Nightfallstorm 
- converted Proteus SKSE dll to 
CLib NG
 and made several fixes to make it work on the latest version of Skyrim AE
--------------------------------------------------------------------------------------------------------------------------------------------------
expired6978
 - created the amazing UIExtensions and RaceMenu mod which many Skyrim Cheat Engine menus rely upon to function properly
silvericed
 - created JContainers which is a framework Skyrim Cheat Engine uses to permanently save and load edits to armors, weapons, and spells
powerofthree 
- created Papyrus Extender of which this mod learned a lot from its open-source code. (including utilizing parts of it)
SKSE
 - adds many features to the game that make a mod like Skyrim Cheat Engine possible
SkyUILib 
- adds the text entry menu that many features of Skyrim Cheat Engine rely upon (these files are included in the Proteus mod)
I want to give a huge thank you to the modders above whose works helped make this mod possible.
If you haven't done so already, please endorse their mods and support them on their respective mod pages.