File information
Created by
johnskyrim
About this mod
Adds Glowing Eyes (with ENB Particle Light) to enemy NPC's that change color based on combat status. Fully configurable MCM menu included.
Requirements

Permissions and credits

Translations

Turkish
Russian
Portuguese
Polish
German

Changelogs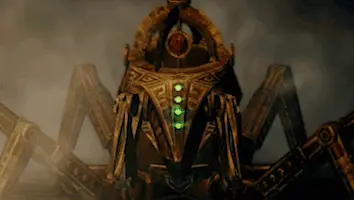 About this mod:
Glowing Eyes (with ENB Particle Light) are added to enemy NPC's which change color based on combat status. The included MCM menu controls which colors a monster will use when they're in and out of combat, as well as being able to turn the effect off completely. Each monster type has its own setting.
Draugr & Skeleton Eye effects have been replaced with a less derpy looking version.
SPID (Spell Perk Item Distributor) compatible v1.2
Affected Enemies:

• Afflicted
• Ash Hoppers
• Ash Spawn
• Chaurus Insects (Chaurus, Chaurus Hunter & Chaurus Fledgling)
• Death Hounds
• Dragon Priests
• Draugr
• Dremora
• Dwarven Automatons (Ballista, Centurion, Sphere & Spider)
• Gargoyle
• Giant
• Hagraven
• Lurkers
• Necro Skeletons (Black, Soul Cairn)
• Rieklings
• Seekers
• Skeever
• Skeletons
• Slaughterfish
• Spriggan (Spriggan, Matron, Earth Mother & Burned)
• Trolls (ex. Udefrykte)
• Vampire Lord
• Werebear
• Werewolf
• Wolf
Note: 
It is recommended that you do your color selections in an area where there are no monsters loaded. Eye Glow Color will only be updated on combat change if the enemy is already loaded. By default, everything is set to
Off
This is only an
overlay effect
, it does not affect Eye Retexture mods. Appearance may vary based on game version & ENB preset.
Installation:
• Mod Manager / Manual Extraction to the Skyrim Data folder.
FAQ:

1) Is this compatible with other eye texture mods?
• Yes! Providing that the author did not change the size of the NPC eye ball or the position, there should be no issues. This does not change any eye textures.
2) What potential incompatibility could there be?
• Custom NPC's that use a vanilla race but different body mesh/skeleton may experience Glowing Eyes that are aligned incorrectly.
• Any mod that adds ENB Particle Lights to the eye area may be incompatible and cause overblowing of colors.
3) Will you add more enemy NPC's later on?
• Yes! The mod will be expanded in the future and revised once plugins are fully updated with AE.
4) How come there are no Dragons?
• Dragon's combat status is only detected when they are on the ground, so it didn't make sense to add them at this time.
5) Does this work without ENB?
• Yes! You just won't have the particle light effect.
6) What is "Custom"?
• It is my own preference or a default setting. Later on this will be changed to instead bring up a color picker.
Known Issues:

• Player combat status is not detected by the game, so if you are a Werewolf, Werebear or Vampire Lord, your Eye Glow Color will not change from Passive.
• If an enemy NPC follows the player through a load door, the Eye Glow is not re-applied.
If for some reason the files do not work, cause crashes or any other problems, please do not hesitate to contact me.
All screenshots are taken directly from the game and resized down from 1920x1080 to 1280x720. No other editing has been done. 
Under no circumstance is this mod allowed to be uploaded to another website without my given permission. No permission will be granted in regards to porting to console.