The DoubtSuspended Quest Pack
The DoubtSuspended Quest Pack
File information
Created by
DoubtSuspended
About this mod
Adds three fully voiced, short, and lore friendly quest mods to Skyrim Special Edition.

Retirement: There has been an assassination attempt against a former slave trader. Help Endryn Dredayn clean up his past be eliminating his former business partners.

Fredas Night Fashion: Uncover the fate of a missing fur trader for a w
Requirements

Permissions and credits

Changelogs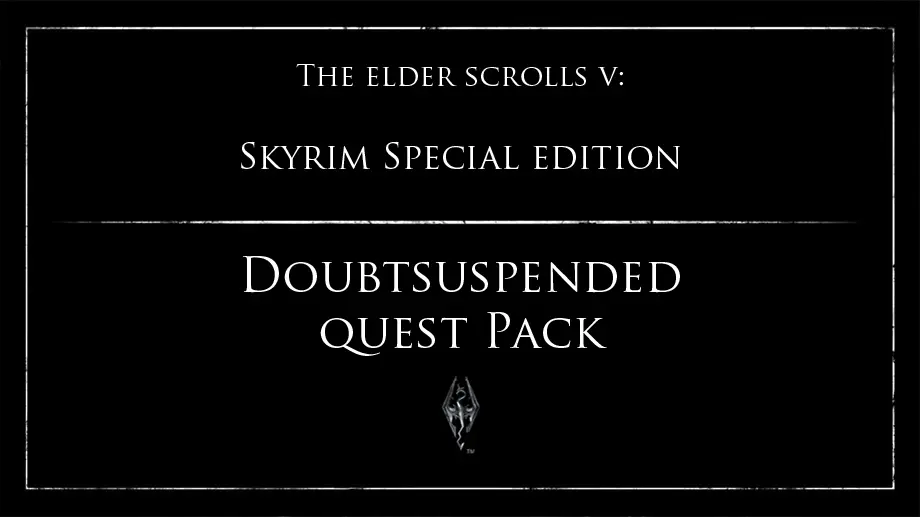 Need more quests for Skyrim Special Edition?

The DoubtSuspended Quest Pack includes three fully voiced and lore friendly quests!

Overview:
There has been an assassination attempt against a former slave trader. Help Endryn Dredayn clean up his past be eliminating his former business partners.
How to Start:
Start the quest by searching the body of a dead assassin that can be found south of Whiterun, near the Honningbrew meadery.
Overview:
Uncover the fate of a missing fur trader for a wealthy noble in desperate need of a new coat.
How to Start:
Start the quest by speaking to Hellen, who can be found inside Solitude's Winking Skeever Inn.
Overview:
Help avenge the deaths of an imprisoned smuggler's crew.
How to start:
Start the quest by speaking to Radovar, who can be found inside Solitude's jail.
Extract the contents to your Skyrim Special Edition data folder.
This includes:
Retirement.esp
Retirement.bsa
Fredas_Night_Fashion.esp
Fredas_Night_Fashion.bsa
radovar's revenge.esp
radovar's revenge.bsa
I plan on merging the quests into a single .esp and .bsa files once merging tools have been updated for Skyrim Special Edition.
Note that small edits have been made to the Tamriel world-space, so compatibility with other mods cannot be guaranteed, although the conflicts should be rare.
Special thanks to the wonderful voice actors that helped bring each quest's characters to life!
Endyrn Dredayn voiced by Vicdlc.
Waldran voiced by Griffon.
Dirk voiced by Newrasputin.
Sharper-Scales voiced by Shugo.
Hellen voiced by Mskrysdescending.
Jedd voiced by Brendaniel.
Radovar voiced by Canthui.
Irnsin Law-Skinner voiced by Harrison Goulden.
Each of the quests was designed and scripted by myself.
If you have any questions or issues with the quests, please post in the comments section.
Please direct any other inquires to
[email protected]