File information
Created by
ChrRubin
About this mod
A zEdit Patcher that shuffles the Shouts rewarded by each Word Wall. Supports DLCs, Falskaar, Wyrmstooth and potentially more mods!
Requirements

Permissions and credits

Mirrors

Changelogs
Description
Have you played Skyrim so many times that you know exactly which Shout each Word Wall gives you? Want to add a bit more randomness to the rewards of beating that mod-enhanced Dragon or that deleveled Draugr Deathlord? Well, now you can with this zEdit Patcher!
This patcher
shuffles around all the Shouts rewarded by each Word Wall
, meaning now you will have no idea what Shout you will get when you approach a Word Wall. This patcher is heavily inspired by the
Randomized Word Walls
mod by Sjogga, which has the same concept as this patcher but with an in-game power instead. However, that mod had a few limitations, which lead me to create this patcher.
This patcher supports randomizing Word Walls for
Dawnguard
,
Dragonborn
,
Falskaar
,
Wyrmstooth
,
Word Walls Relocated
, and potentially any other mod added Word Walls with dynamic patching! (Read FAQ)
Installation & Usage
Standard zEdit UPF patcher installation & usage. Refer to Google/YouTube, or follow Steps 5 & 6 of
this link
for an example of installing and running a zEdit patcher.
Note that zEdit has a 254 plugin limit, so if your load order exceeds it, merge your plugins or selectively load mods that affects word walls.
Compatibility
Word Walls from the following mods are
official supported
in the randomization:
Other mods that do add Word Walls are potentially supported with dynamic patching (FAQ), but it will be better if you let me know what those mods are so I can check them out and officially support those mods if possible.
Mods that add shouts without adding Word Walls such as
Thunderchild
are fully compatible, but their shouts will not be included in the randomization. Read FAQ for more details.
Mods that retextures Word Walls such as 
RUSTIC RELIEFS
are compatible.
Mods that edits the WordWallTrigger REFR records of Word Walls are probably compatible. Just make sure to load them in zEdit before running the patcher.
Mods that edits the WordWallTriggerScript vanilla script are most likely not compatible, although I am currently not aware of any mod that does that.
FAQQ: Why can't you include shouts from mods like Thunderchild into the randomization process?Q: Couldn't you just add more Word Walls into the world then?Q: Can I install this patch mid-save? / Can I re-run the patcher mid-save to get a new set of randomized Word Walls?Q: Are there any Word Walls that don't get randomized?Q: Why are some of the Word Walls still giving me the same shouts as normal?Q: Can't you just randomize each individual word instead of the whole shout then?
Q: Can I check the results of the randomization without manually checking every Word Wall in-game?
Q: What is dynamic patching? Do I need to enable it?
Q: Is this patcher on GitHub? Can you explain a bit more about the inner workings of the patcher?Q: Can you make a Synthesis patcher version?
Credits
Thank you to Sjogga for the original
Randomized Word Walls
, which heavily inspired me to make this patcher.
Thank you to Mator and all the contributors of
zEdit
for making this patcher even possible at the first place. Special thanks to Mator's Modding Tools discord for answering any questions I had about zEdit.
My Other Randomizers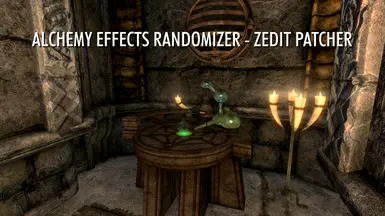 Alchemy Effects Randomizer
More coming soon!