File information
Created by
Wolfman5750 using resources from Cabal120 and SRW0
About this mod
This mod is a mashup between Ancient Dwemer Metal and the Amidianborn Dwarven Armor and Weapons.
Requirements

Permissions and credits

Changelogs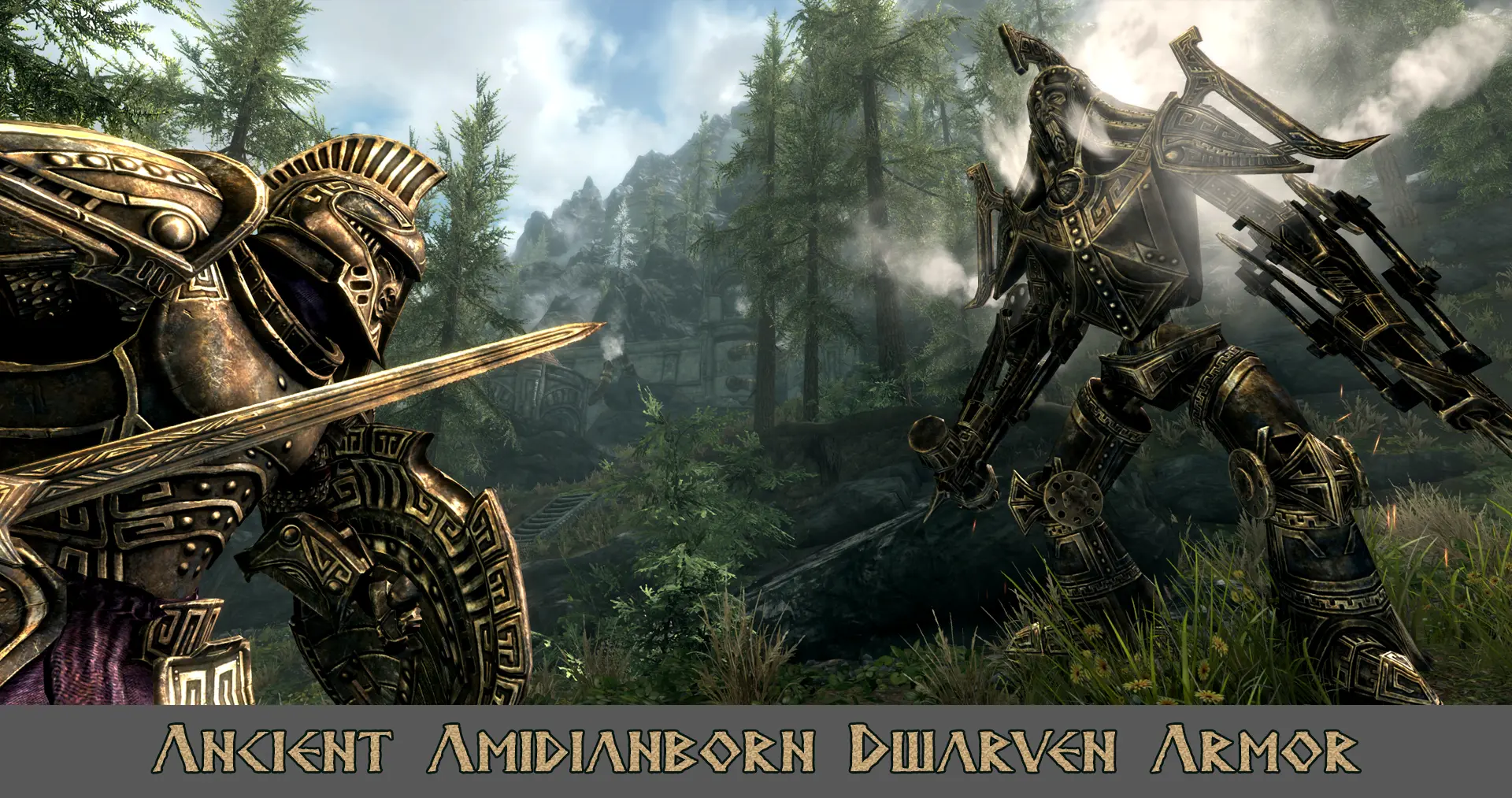 Mod Description


Ancient Dwemer Metal
 has always been my favorite Dwarven retexture. 
The Amidianborn Book of Silence
 has always been my favorite weapon and armor retexture. I decided that I wanted all the Dwarven armor and weapons to have a consistent look in my current modlist, so I took two of my favorite mods and merged them. I kept the awesome detail of
Cabal120's 
Dwarven equipment and recolored it to match
SRW0's
 awesome weathered Dwemer metal.
I originally made this mod for my personal use, but I was so happy with the results that I decided to ask for permission to release it on the nexus. SRW0 and Cabal120 graciously gave their permission to use their assets. So here it is!
What's Included
Dwarven Weapons and Armor
All of the Dwarven Armor and Weapons included with Amidianborn have been included. (I'm going to try to put something together for the missing weapons, but it will be stretching my abilities. We'll see if it turns out)
Four Cloth Color Options
Original Purple: Unchanged from the original Amidianborn Textures
Burgundy: Based on some concept art I found that I really liked the look of
Green: Based on Markarth colors. Really surprised me how good this looks
Dark Gray / Almost Black: For those evil playthroughs
Reweighted Male Dwarven Gauntlets for VR (Optional)
The bone weighting for the male gauntlets is weird. One of the twist bones only goes half way up the metal bar that's on the side of the gauntlet. 
This probably isn't a noticable in SSE, but I play exclusively in VR nowadays. With the VRIK mod, certain positions would cause that bar to twist like it was made out of rubber. I reweighted the male guantlets to be the same as the female gauntlets, which don't have this issue.
Recommended Mods


Special Thanks
Rallyeator
 for getting me started with editing textures, being a sounding board, and for answering all of my many questions
SRW0
 for Ancient Dwmer Metal  and for letting me use his resources in this mod
Cabal120
 for letting me use his textures as a base