File information
Created by
Mentha
About this mod
New and improved bug jars, Adds new plants, and optional file that makes ingredients look like bug jars.
Requirements

Permissions and credits

Translations

Changelogs

Donations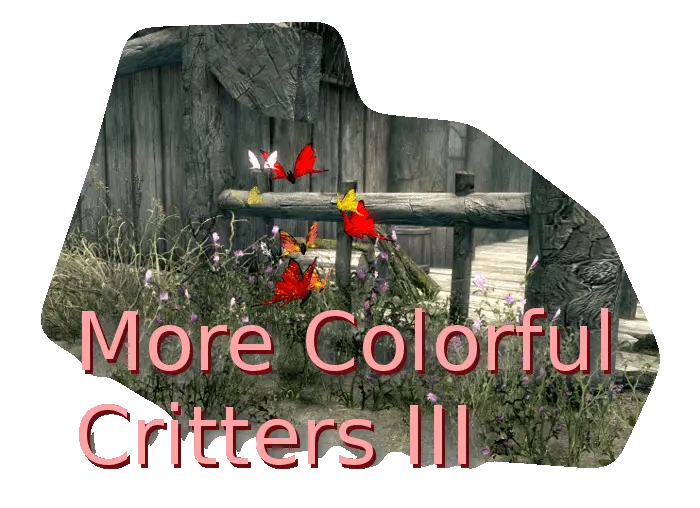 Tired of running around catching bugs or shouting them out of the sky with fervor? Then this mod is not for you. More Colorful Critters, the 7th installment of the More Colorful series, adds new colored critters with ingredients using in-game meshes with altered textures to make a bigger variety of ingredients and colors for the alchemist.
All form lists and bug spawn points are new so there should be little conflict except where the bug jars come in. They may conflict with mods that revamp the furniture of vanilla houses. If you feel overwhelmed with trying to catch all the critters, just shout at them and they will fall to the ground. It also adds over 1000 hand-placed alchemy plants to many of the Skryim world spaces. Each Bug jar has been handcrafted and placed in cells around Tamriel. There are over 150 different kinds of bugs and fish and almost 100 different kinds of plants.
It is not incompatible with Open Cities, but you will not see the bugs and plants in the cities if you use both mods.
v 3 includes:
Now ESM flagged so you can use the patches and make your own mods with MCC as a master. You MUST start a new game after updating.
New and improved bug and fish jars
15 kinds of Nirnroot
craft a Nirnroot basket
There are no longer 2 moss torchbugs
New flowers: Anthuriums 
New textures for some of the flowers
Spawn count set to 15 bugs per activator,
Look for the patches that change the spawn count. Only use one.
There is also an option to change the meshes of the ingredients to those of the bug/fish jars.
catch count set to 1
Still compatible with
MCC/LOTD patch 
This is not compatible with More Colorful Critters, pick one.
~~~~~~~~
Credits:
~~~~~~~~
To The Good Lord
Bethesda for creating Skyrim.
Special shout out to skinnytecboy & Arron Dominion for the encouragement and the comments about Skyrim needing more critters. :P
~~~~~~~~~~
Tools Used:
~~~~~~~~~~
Nifskope
GIMP
CK
3 DS Max
xEdit
NOT A BUG: I am not responsible for newer versions of xEdit calling ITM's that were not considered ITM's when I cleaned the file. The two that are listed by LOOT are in my testing cell and have no bearing on the game whatsoever. I do not consider it worth using my phone's limited bandwidth to update the file.
Enjoy ~ Mentha
Any questions or problems, please contact me on Discord.