More Colorful Plant Summons
More Colorful Plant Summons
File information
Created by
Mentha
About this mod
Makes the plants from More Colorful Critters plantable anywhere you want with togglable spells
Requirements

Permissions and credits

Donations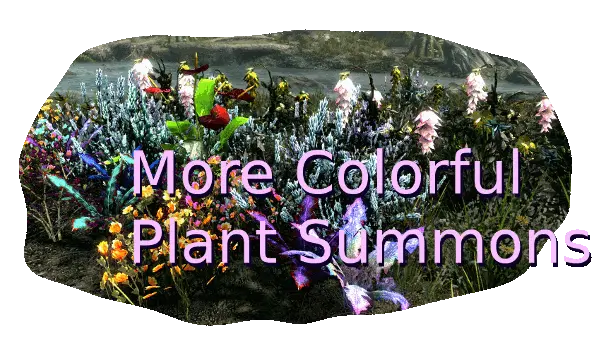 More Colorful Plant Summons is a small mod that adds spells to "plant" and place the plants from 
More Colorful Critters 3.0
 anywhere you want to. 
How it works:
1. Find a shovel in one of 6 locations; Riverwood behind the Sleeping Giant, Whiterun at Pelagius Farm, Rorikstead, Hlaalu Farm, Salvius Farm, or Sarethi Farm. 
2. Activate the shovel from your miscellaneous menu. 
3. "Craft" the spell for the plant you want to plant
4. Plant your plants via conjuration
5. Access the shovel again in your Misc menu
6. Pick the spell again to remove it from your spell inventory
7. Harvest your plants if you want to
8. Plants will respawn after 3 days.
9. Use the spearmint and anthurium sparingly as they can cause lag in large numbers
10. If summoned inside they will become the property of the cell's owner
11. Do not summon them at NPC's or you will end up with floating plants. 
12. Requires More Colorful Critters V3
13. I suggest using a positioner to rotate and move the plants if you are not happy with their positions
14. ESL flagged  
Credits: 
Thanks to Kriemen for the initial setup. 
Thanks to OldMansBeard for testing
Thanks to
Arthmoor
for helping me remove the annoying nirnroot sound and other suggestions
Thanks to
DrMonops
 and
BigAndFlabby
for the scripts used
Thanks to
ShadowShayde
 for the xEdit scripts to make my life a lot easier
Thanks to the rest of the xEdit Discord for help with scripting and ideas. (I've forgotten everybody) It's been a rough week.
Tools used: 
3 DS Max 
Nif Optimizer
Outfit Studio
Nifskope
Creation kit
Usage: 
You may NOT upload this file to any other site without my permission. You may not use the assets in this mod without my permission. 
Any questions or problems, please contact me on Discord.