img 3 loading...
img 4 loading...
img 5 loading...
img 6 loading...
img 7 loading...
img 8 loading...
img 9 loading...
img 10 loading...
img 11 loading...
img 12 loading...
img 13 loading...
img 14 loading...
img 15 loading...
img 16 loading...
img 17 loading...
img 18 loading...
img 19 loading...
img 20 loading...
img 21 loading...
img 22 loading...
img 23 loading...
img 24 loading...
img 25 loading...
img 26 loading...
img 27 loading...
img 28 loading...
Description
Last updated at 5:09, 25 Sep 2017 Uploaded at 8:18, 30 Apr 2017
IT FINALLY HAPPENED: v4.1.0 adds an in-game Configuration Menu!
IMPORTANT PSA:
If you get the Crash At First Save Bug or the "Exceeded 255 Entries" Warning: This means you have too many dragons in your leveled lists (255 max). The only ways to fix this are removing the other plugins that are adding dragons, or disabling some DDC dragons in the config menu.
The most common cause is using patches from old versions of this mod. If you have any patches for this mod, you MUST delete ALL of them. Whether you found it here, or on another page, or made it yourself. Only the Deadly Dragons patch is necessary now, and that must be updated for 4.1.0.
Don't forget about Bashed Patches / Smashed Patches either! If you built one of these with an old version of DDC, you will need to rebuild it.
If your problem isn't caused by patches (unlikely) and you don't want to get rid of dragons from your other mods (if you insist), you will need to disable creatures from my mod. I recommend starting with Config Menu -> Control -> Disable All. Then you can re-enable creatures one at a time, and test to see if the issue recurs. When you encounter the issue again, you know you've added too many.
If you have SKSE and DDC v4.1.2+, you will get the warning window and your game can save successfully. If you don't have SKSE or still have DDC v4.1.0-4.1.1, you will get the crash when you attempt to save. Fixing the issue as described above will allow you to save.
<end of PSA>
Uniting resources from 13 different mod authors, this is a dragon mod like none seen before.
28 new dragons, each with a unique model & texture
7 ranks of strength for each dragon, creating a challenge that scales with your level
16 new breath attacks & 19 new abilities used by the dragons
Integrated into vanilla leveled lists to appear in your game seamlessly
Now fully customizable. See only the dragons you want to see!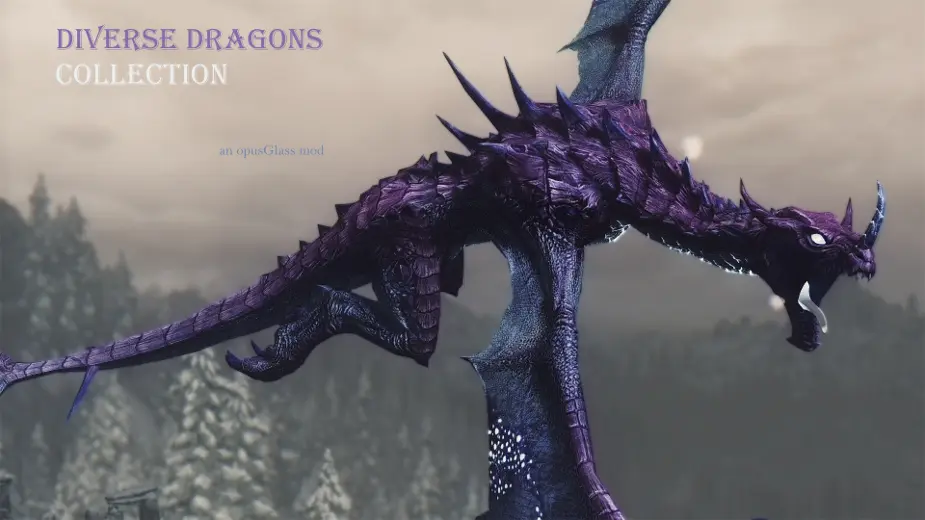 Installation
Dawnguard and Dragonborn required. SKSE, SkyUI, and FISS are optional but will improve your experience.
If you use Deadly Dragons, download the optional patch (if you already have it, be sure to update the patch).
As of v4.1.0, patches are not needed to use this with other mods that add dragons. If you have a patch from an old version, delete it. If you already built a Bashed Patch with an old version of DDC3, rebuild it. Otherwise you don't need a bashed patch for this mod.
Not compatible with DDC2, but you won't want it once you've tried DDC3 :)
If you used the Beta (v4.0.0 or v4.0.1): It is important to either delete the save file you used, or clean it if you know how. It is also important to delete the loose script files added by those versions.
FAQs
Credits
Meshes: yousukeve, opusGlass, Zerofrost, Link815, junin, Madcat221
Textures: Bellyache (wrig675), opusGlass, yousukeve, Zerofrost, sepherose, luddeman, digitalLion, Versispellis, Aipex8, junin, LoginToDownload
ESP content & scripts: opusGlass
Helpful dragon texture template: LoginToDownload
Video: DonProtein
Screenshots: fiszi
Testing: DonProtein, fiszi
Detailed authorship info can be found in the
Readme
Recommended Files:
SPLENDOR: DRAGON VARIANTS
My Mods:





Also on Skyrim Special Edition!