About this mod
Add a Standalone (fake)Vampire Follower.
Need Dawnguard DLC.
Requirements

Permissions and credits

Changelogs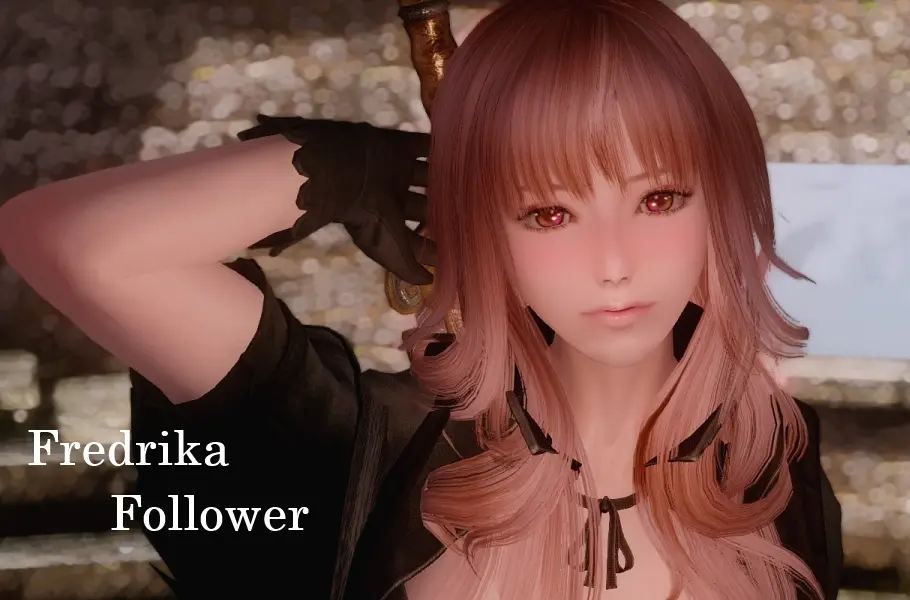 <This Mod...>
Add a Standalone follower, Fredrika.
You can find her Bards College in Solitude.
Need Dawnguard DLC.
<Character>
Name : Fredrika
Voice  : Serana Voice ( FemaleYoungEager and FemaleYoungEager)
            If you Can not recruite her, choose " FemaleYoungEager" or " FemaleYoungEager" Voice type.
Body   : UNPB-BBP or CBBE(Weight:100)   
     Open console, select her and hit "setnpcweight 100"  -->  "disable" --> "enable"
      You can change her weight.
Place  : Bards College in Solitude.
Combat style :Cross Bow, 2HS, Bound 2HS,Heal Spell.
 She uses heal spell when player health is under 50% and player is in combat.
         However, she can't use the spell during use "Bound Claymore".
  (Because She uses all Magicka for Bound Claymore)                       
<Recommended Mods  (Screenshot and Video)>
HRK ENB TWO
by hrk1025
Face Light by tktk

SIZE DOES MATTER - NPCs do not rescale shrink resize - less camera restrictions
by Mahlzeit88
<Credits>
Adorable Face
by Lumina
Animated Animal ears for humanoid
by No user
Butterfly Female Warpaint
by NameD
BVFE - Better Vampire Fangs and Eyes
by Aipex8
Caliente's Beautiful Bodies Edition
by Ousnius and Caliente
Enhanced Character Edit
by ECE Team
Expanded Bound Weapons including Bound shields v2_2
by Aetherius           
Fair Skin Complexion
by HHaleyy
KS Hairdos
by Kalilies Stealthic Khaos and Shocky
Mikan Eyes
by nerune
R18Pn 00 - Heilige Mutter Armor
by NPR
SLPackages by Uni
http://skyrimeasy.blog-rpg.com/
The Eyes Of Beauty
by Gabriel Mailhot
UNP Replacer Configuration Package
by sillumlt