File information
Created by
Gamwich
About this mod
This mod is a lore-friendly retexture of the silverware used in Skyrim and Sovngarde. 2K and 1K versions available.
Permissions and credits

Changelogs
RUSTIC SILVERWARE 
is a lore-friendly retexture of the silverware of Skyrim and the "goldware" of Sovngarde. Textures are available in 2K and 1K versions.
Version 2.0 is still rustic in appearance, but it is more dimensional and is much more reflective in the light. For people who wanted a less dull and worn version, this update is for you.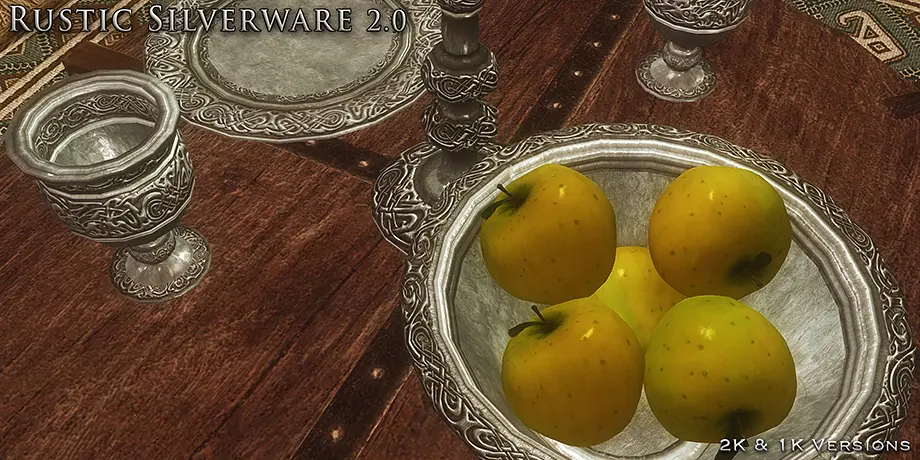 The vanilla silverware textures are low-res and frankly uninteresting. In our world, silverware is expensive and people tend to pass it down in families from generation to generation. The patterns tend to be rather traditional for that reason. I thought that in Skyrim silverware would be even more precious, and the same tradition of passing it from generation to generation would exist. The design should therefore look very old. The vanilla normal map is shared between the Skyrim silverware and the Sovngarde "goldware", so I felt it was important for the pattern to look appropriate in both settings.
The ancient Nordic ruins show animalistic designs and scrollwork, which is similar to Norse or Celtic design. Therefore, I went with a pattern that incorporated a scroll design with dragon and bird motifs. I felt that this design would be suitable for both Skyrim and Sovngarde. Since the silverware would be used by families for many many years, I gave the textures a very rustic and used appearance.