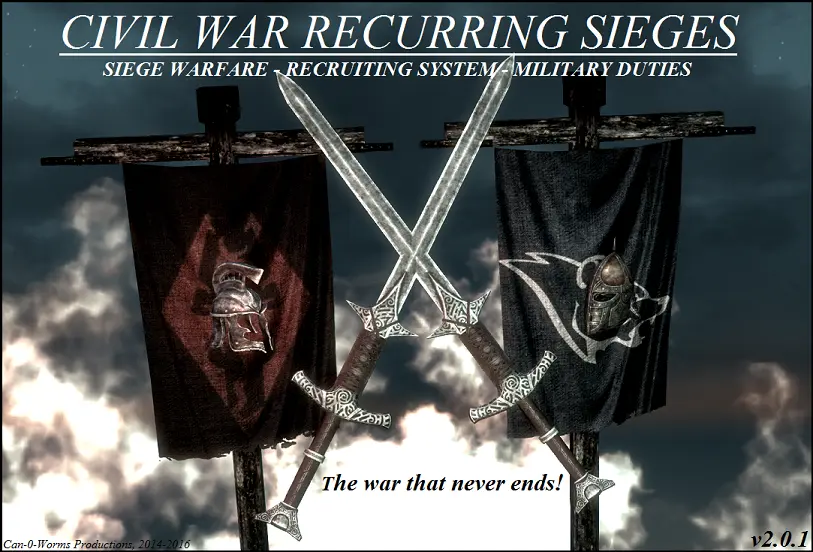 ~Many thanks to
Robele95
for transcribing to SSE
The Soldiers Life. . .
Here I add a little excitement to the civil war, with the focus being to play a game that can essentially be based solely around it, without any mod requirements or game breaking alterations. Start off from the beginning going to wherever the enemy is active. Then as you rise in the ranks of the vanilla Civil War, you'll get more responsibility, the ability to recruit soldiers as the battles get more deadly. Then finally when the civil war ends, you will find that the remnants of the enemy force remain and are still fighting back with a vengeance to regain control of Skyrim.
I seek not to outdo or provide an alternative for any of the other CW related mods, and appreciate the work done by those authors. No one ever need ask me "Should I use this or CWO" because I will just tell them to use both. The goal here is to complement what vanilla has done and what other modders may have done with the Civil War, without completely eviscerating it.
So I give you the war that never ends, the war we all wanted to see from day one, the war we can build a whole game around, which is what inspired me to do it. I just did this for myself at first two years ago, someone told me I should go public with it, and well, here we are. May it give you the same civil war satisfaction that it gave me.
Dynamic scripting and Radiant Features
-RECURRING SIEGE BATTLES: Initiating every 48 game hours, with the actors reflecting the side you chose, at one of the random Civil War fort locations throughout the world. Kill the enemy commander, receive a trophy and some gold.
-MILITARY DUTIES added in 2.0.1: A recurring event where you are tasked to investigate forts involved in the Civil War, and check in with an officer there while keeping an eye out for enemy attack objectives which may occur while you are there.
-RECRUITING SYSTEM: Once you attain the rank of Snow Hammer or Tribune, you will be tasked with more responsibility. Seek out wayward folk looking for a cause to join, or enlist powerful Battlemages and build your own personal squad, complete with most of the follower commands.
Instructions
Auto-install CWRS.ESP and CWRS.BSA using nexus mod manager, or unzip manually and drop into the Skyrim Data folder. There are no loose files. To uninstall you need only remove those two files. There will be no lingering detriment to your save file as a result. The plugin is self-executing; there are no NPC you need to talk to in order to start it. My programming traces where you're at in the civil war, and delivers events accordingly. You do not need to start a new game to run CWRS. It will pick up on wherever you are in the game and do what it's supposed to do. No other mods/utilities/dlc are required to run this plugin, and never will be. I want this to be accessible to users without excessive fumbling about with other mods and utilities.
Compatibility and Troubleshooting
One of my goals is cohesion with other mods and with vanilla itself; I conduct my work in a non-invasive way in terms of programming. Therefore, you should have no compatibility issues. Keep in mind however, that I cannot speak to overall compatibility with your mod list. Unfortunately, that would require telepathy. If however, I see enough attention on any particular mod which may have compatibility issues, I will investigate said mod, and communicate with its author, and attempt to create a workaround.
-If you install this mod in the midst of the Truce in 'Season Unending' you will receive incorrect events. If you install it prior to starting the quest you will have no problems. If you experience this problem, you will need to uninstall, save, and then reinstall to correct the issue, once the truce is over(when you complete the main quest). I've yet to find a way to work around this issue without editing the vanilla scripts; something I simply refuse to do. However, I will continue investigating the intricacies of under-the-hood vanilla events so I may find a workaround for this in a non-intrusive way.
-Everything will work fine if you start a new game with CWRS installed, and then start the civil war. If however, you deliver the Jagged crown to the opposing faction you will begin receiving the wrong events. You will then have to uninstall and reinstall the mod after turning in the jagged crown to correct the problem.
-There are no malfunctioning quest markers. If you encounter an objective with no map marker it was intended that way.
-The escort objective in the duties quest -can- be a little wonky. This is only because the objectives are randomly selected through the game. I have attempted to to fine tune it as much as possible in the aliases with keywords--but it will produce silly outcomes sometimes. Keep in mind this is a side sandbox objective. Maybe something fun to do between main sieges, it is entirely optional and you do not need to complete it to recycle the recurring duties quest.
-My edits to vanilla are highly minimal. I code around vanilla and make everything alias and keyword oriented to avoid conflict. The mod is 'clean' in terms of how all and sundry define it. If you run it through TES5Edit to take a look, do not clean it, you may very well break something :)
-You should be fine using this with Arthmoor's work.
Credits, permissions, and special thanks
The Below mods/assets and their Authors have been utilized in CWRS, either by expressed
permission or through credit for usage.
Heroic Stormcloak Armor by hothtrooper44
Special thanks to
AdamAtom
,
sc4m
and
Defiance053
for playtesting version 2.0.1
Words of Power, Words of praise
"This is one of those special mods which had the power to bring me back to Skyrim, with the opportunity of immersing myself in the civil war."
--sc4m
"Thank you so much for creating this mod! This is the civil war mod I have been wanting since I first played Skyrim."
--arashikage01
"I love the concept of your mod. this is something that i was looking for. and this is what warzones and civil war overhaul couldn't provide me"
--joshuathedork
"Really great mod mate I think its underrated around the 500 endorsements for a mod what deserves a thousand. also the part I like about this mod is that i don't need to start a new game to get some more play time in the civil war"
--dragonvsdemon123
"With this mod I can finally play through the civil war and not be bothered afterward by npcs talking about it as though it's still occurring, because it IS now"
--Nakoichi
"Excellent mod! Kind of RTS feeling and of course, heavy RPG."
--TmaxInSkyrim
"Been wanting something that does this since the game came out. Really never felt like a war when I could end it in like 3 in-game days."
--themusicman
"This is one of the coolest mods I've ever downloaded."
--Salovas17
"Awesome, great to see this here. A great wrong has finally been righted."
--herculeswill22
Thank you everyone who has spoken and shared their experiences with CWRS. It is those of you who use it which actually define what it is and your commentary, negative or positive attribute to the direction it takes. This was my ideal for side events on the civil war. I decided to add stuff on the side to make it fun without breaking the game--now it's your turn to add to and share that inspiration; please speak up, and share your images and adventures on the mod page. Also, so far as posts in the threads go, as much as I welcome everyone's insight--posts which pertain to old technical issues that have been addressed and corrected will be removed. If a discussion arises about an issue in the current version, it will not be removed until the issue has been addressed. Posts which are of an inflammatory, unduly negative or insulting nature will be removed as soon as I see them.
If you wish to contact me and get my immediate attention, please PM me, It will go straight to my phone.
If you enjoyed this please check out my other mod
Crime Punishment and Redemption