File information
Created by
ikhsanvr
About this mod
Replace User Interface or HUD with look a like MMORPG.
Requirements

Permissions and credits
At first, this mod intended for myself. But I gladly to share it, perhaps some people like/want this mod.
Requirement and install order :
1. 
Less Intrusive HUD II 
- Main files
2. 
Less Intrusive HUD II 
- FISS Patch -towatot
3. 
FISS
4. 
A Matter Of Time
 ( The time widget. )
5. 
Widget Mod
 ( The level number, gold widget and carryweight widget. )
6. 
GreenTea
7. Optional, main font.
    
Font for Skyrim - Futura Condensed Light
8. This mod.
9. Load the preset / the FISS preset for Less Intrusive HUD II, A Matter Of time & Widget Mod.
10. Apply these setting manual for SKY UI Active Effects.
( This image include in the mod archive.)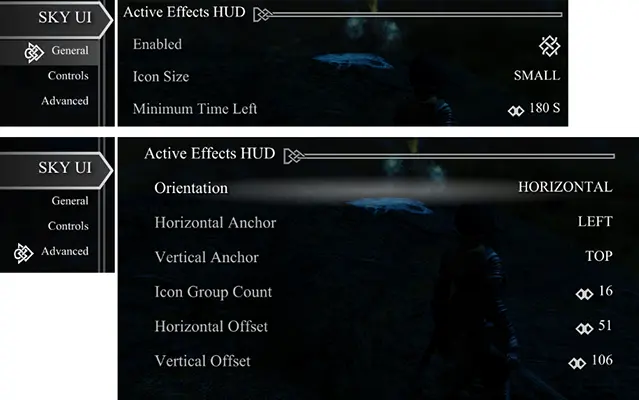 NOTE : Make sure inside Greentea.ini, DisableMiniMap=false, and DisableStatusDisplay=false.
- If you using 
moreHUD
, please using v2_1_3 than latest ver. Because latest ver. conflict with Greentea's Enemy name/level text.
Tutorial:
Change enemy name, arrow, etc... font (inside hudmenu.swf) by Miery
1. Open hudmenu.swf in 
JPEXS 
software, then expand fonts submenu.
2. Then click on "DefineFont3:Gautami",
3. Click on "Embed" in low right section and check a "ttf file" option.
4. Then choose your ttf and check "all characters" option and then confirm overwrite.
5. Save file.
Known Issues:
- Enemy health bar reduce to the right, instead left.
- Level up bar still default.
FAQ:
Q: How to re-arrange Health bar, Compass, resize enemy health bar and more?
A: You can check and read PDF user manual from 
this mod
.
PS:
English is not my native language...
Sorry if I'm not descriptive enough.
CREDITS:
Bethesda.
elxdark - For reference and sample UI. Customizable UI Replacer.
Felisky - GreenTea. 
Lavinge77 - Less Intrusive HUD II.
LordConti2 - FileAccess Interface for Skyrim Script.
Skyamigo - A Matter Of Time.
CrEaToXx - Widget Mod.