Consistent Pip-Boy Icons v5 - Weapons
Consistent Pip-Boy Icons v5 - Weapons
File information
Created by
ItsMeJesusHChrist aka LOC - Devastatin Dave
About this mod
A hand drawn recreation of every single weapon icons in two games. Featuring perfect alignment, more poses, redesign of Vault Boy and higher fidelity,
Requirements

Permissions and credits

Changelogs
Please consider making a donation to show support for this massive project.
ItsMeJesusHChrist (LOC): Ko-Fi or PayPal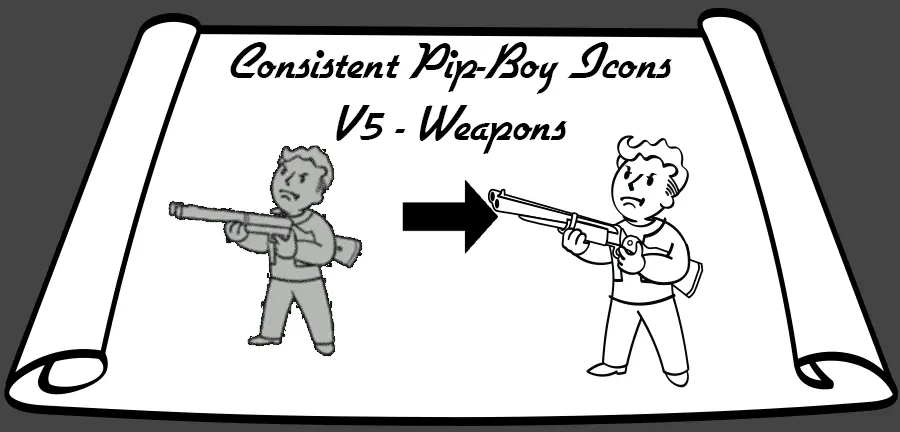 Features:

210~ hand drawn weapon Icons. A meticulously recreation of every single weapon icons in two games along with every single DLC for both of the games.
Perfect Alignment.  No more Jumping and moving icons. In vanilla, even though Vault Boy is using the same pose, he would move slightly to either side and/or up or down, making the icon "jump" when scrolling through the UI. Perfect alignment is something even AAA Game developers struggle to achieve. 
One Vault Boy to rule them all! In Fallout: New Vegas there are two different styles of Vault Boys, making the game feel more like a "mod"  for FO3, rather than its own game. Having one "Main"  Vault Boy will hopefully mitigate that feeling. 
More poses! Because Perfect Alignment highlights another issue with the Vanilla Icons: it lacks variation of poses. 
Higher fidelity, without being noisy/too much going on. Some of the weapons were painfully flat and forgettable. I've taken liberty in redesigning some of the weapons altogether.  
Consistency in minor details.  For instance, Vault Boy will always have the same thickness in the lines of the vest. 
All the expected fixes from previous Consistent Pip-Boy Icons! No more unwanted backgrounds, inconsistent coloration, inconsistent sizes of vault boy, unwanted noise, and etc.
Grandma Vault Boy! 
Special Thanks
NoBarkNoBiteNoonan - for helping out with references. ☺️