Fallout - The Frontier German
Fallout - The Frontier German
File information
Created by
Sandgeist
About this mod
This is the German Translation of Fallout: The Frontier by the Frontier Team
This is the German Translation of Fallout: The Frontier by the Frontier Team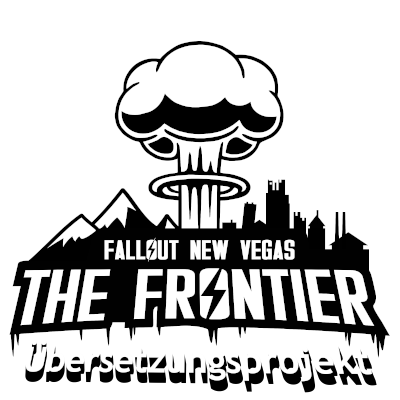 **Beschreibung**
Fallout: The Frontier ist eine gigantische DLC Mod. Als "Kurier" beginnen Sie ein neues Abenteuer, das sich um einen Konflikt zwischen der RNK und der Legion in den schneebedeckten Überresten von Portland Oregon dreht. Mit 3 Hauptquests, über 60 Nebenquests, hunderten von neuen Rüstungen, Waffen und Gegenständen und zehntausenden von Zeilen neuer gesprochener Dialoge!
In den kalten, verschneiten Straßen von Portland Oregon kämpfen die Neukalifornier Exilanten und Caesars Legion um die Vorherrschaft in einer Stadt, die reich an Ressourcen und militärischer Ausrüstung ist, aber was lauert unter den verschneiten Ruinen?
The Frontier ist eine neue Modifikation in Spielgröße von Fallout: New Vegas. The Frontier wurde von einer leidenschaftlichen Gruppe von Dutzenden von Community-Mitgliedern über einen Zeitraum von sieben Jahren entwickelt. Es ist die größte Modifikation, die jemals für Fallout: New Vegas veröffentlicht wurde, und soll eine einzigartige Erfahrung für alte und neue Spieler sein.
Mit neuen Gameplay-Mechaniken wie hochwertigen fahrbaren Fahrzeugen und unglaublichen Skripten und visuellen Effekten, die selbst die ältesten Fans der Serie beeindrucken werden. All dies wird durch eine hochwertige Sprachausgabe, Dutzende von Nebenquests und Hunderte von aufregenden neuen Charakteren abgerundet!
**Installation**

- Laden Sie sich die
Original Mod
, sowie alle erforderlichen Vorrausetzungen, wie 4GB Patch, NVSE etc. herunter und entpacken diese in den Fallout New Vegas\Data Ordner.
Vortex
 empfohlen!
- Laden Sie die Mod Übersetzung herunter und entpacken die bevorzugte Variante ebenfalls in den Fallout New Vegas\Data Ordner.
- Zum Löschen entfernen Sie alle Dateien der Mod aus ihrem Fallout New Vegas\Data Ordner.
**Quest Start**

Sie benötigen Stufe 20 oder höher, um die Mod zu starten. Außerhalb einer Siedlung wird Sie jemand ansprechen, um Sie für die RNK Exilanten im Grenzland anzuwerben.
**Hinweis**
Da die Sprachausgabe nur in Englisch vorliegt, sollten Sie die Allgemeinen Untertitel im Hauptmenü Einschalten.
**Credits**
- Vielen Dank an das Frontier Team für ihre jahrelange Arbeit.
- Berny23 für die Übersetzten Videos
Sandgeist/Raubkopiesäbel