Loot All Cars Trucks Golf Carts Vehicles
Loot All Cars Trucks Golf Carts Vehicles
File information
Created by
Tommy aka hairylegs222
About this mod
Loot all cars, trucks, golf carts, patrol cars, etc with random stuff and includes opening/closing door sounds
Requirements

Permissions and credits

Changelogs

Donations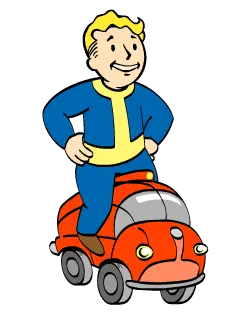 Loot all cars, trucks, golf carts, patrol cars, etc with random stuff and includes opening/closing door sounds for FNV and all DLCs. The door sounds I made sure only occur for the ones that have available doors. I realize there's this mod
LOC - Lootable Old Cars
, however I've gone beyond what it did. When searching you'll discover different vehicles contain different items suiting that type of vehicle. Explosions to the vehicles that occur or don't occur haven't been changed.
This mod is included into
NVEC
but I decided to release it as a separate mod in case users don't use
NVEC
.
Loot:
Army Trucks - 35% chance for military junk (clipboard, fission battery, ashtray, etc) or military value items (police baton, cigarettes, ammo, etc)
Cars - 50% chance for tools (Conductor, knife, tire iron, scrap metal, bobby pin, etc)
Fire Trucks - 25% chance for a fire axe, fire helmet, fire house junk (firehose nozzle, cup, conductor, etc) or fire house value items (knife, lead pipe, tire iron, etc)
Trucks - 50% chance for tool box items (wonderglue, paintgun, hammer, wrench, etc)
Park Ranger Trucks - 25% chance for a stimpack and 15% chance for Patrol Car loot
Patrol Car - 15% chance for military junk (clipboard, fission battery, ashtray, etc) and value items (police pistol, police baton, ammo, cigarettes, etc)
Golf Carts - 40% chance for a 9iron or tool box items
DLC VERSION REQUIRES ALL DLCS:
FalloutNV.esm
DeadMoney.esm
HonestHearts.esm
OldWorldBlues.esm
LonesomeRoad.esm
NO DLC VERSION REQUIRES:INSTALL:
Put esp and Sound folder into your FNV Data folder
Check it in your Mod Manager
UNINSTALL:
Remove esp and sound wav files
PERMISSION: