After last month's 1.2 milestone release, our Vortex developers have been busy implementing even more suggested and requested features as well as adding general improvements. From a substantial upgrade to the Witcher 3 game extension, and general performance boosts and enhancements, to a new mod reporting system that is designed to help mod authors and users alike troubleshoot any issues, these are the main updates this month.


Quick facts about Vortex:


Vortex is the official mod manager developed by Nexus Mods
You can download it here
Vortex supports over 100 different games
Vortex now accounts for over 73% of unique users of mod managers on Nexus Mods (based on API stats for May 2020)


What's new in the latest Vortex version (1.2.14)?

The Witcher 3: More enhancements!


The Witcher 3 Script Merger is now automatically installed and set up
All the fixes and improvements from Script Merger Unofficial Patch are included
Mods adding mod menus are fully supported
Symlink deployment is now supported

In the last few months our developer team has been working on substantially upgrading the Witcher 3 extension to make your modding life easier. As of 1.2.14 Vortex now supports any Witcher 3 mod (that is packaged correctly) regardless of whether it adds a mod menu or not. But that's not all: the essential Witcher 3 modding tool Script Merger is now fully integrated with Vortex and moreover includes all the fixes and improvements from Script Merger Unofficial Patch. Many thanks to the authors AnotherSymbiote, woodbyte, and Partoutatix who have given us permission to incorporate their tools and fixes.

When you start modding Witcher 3 the Script Merger is now automatically downloaded, installed, and set up as a tool within Vortex. All you need to do is run it after installing several mods adding scripts (Vortex will give you a notification) to create a script merge. Once that is done, Vortex will ensure the script merge is loaded correctly by the game.

Some Witcher 3 mods, such as Friendly HUD, add mod configuration menus allowing you to tweak the mod to your liking. For mods that add such a menu, in the Witcher 3 Main Menu, go to: Options > Mods > Mod Name to access the ingame mod menu. Vortex now installs all of these menu mods correctly. This means that every mod that is properly packaged in relation to the Witcher 3 root folder can now be installed with Vortex.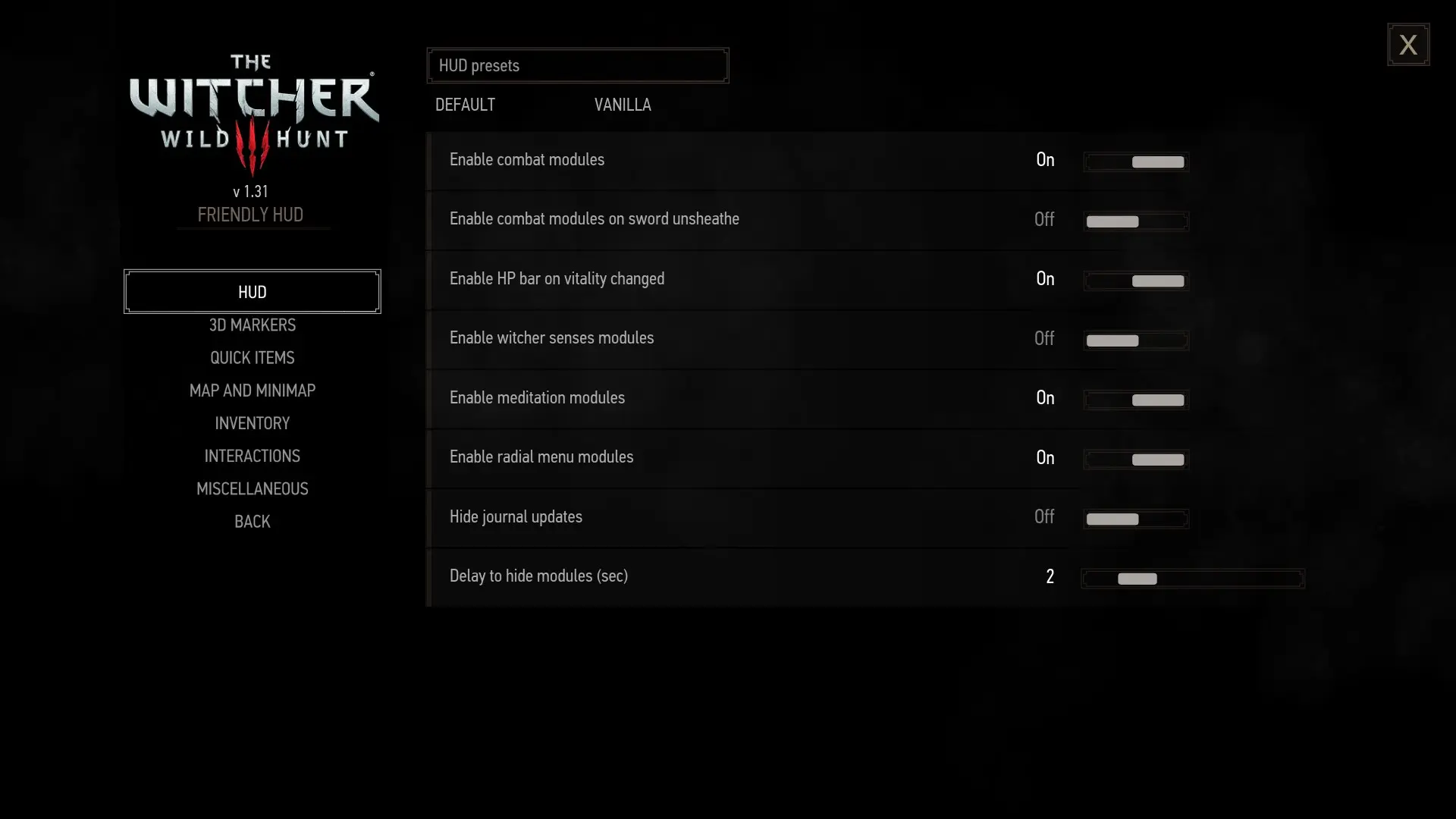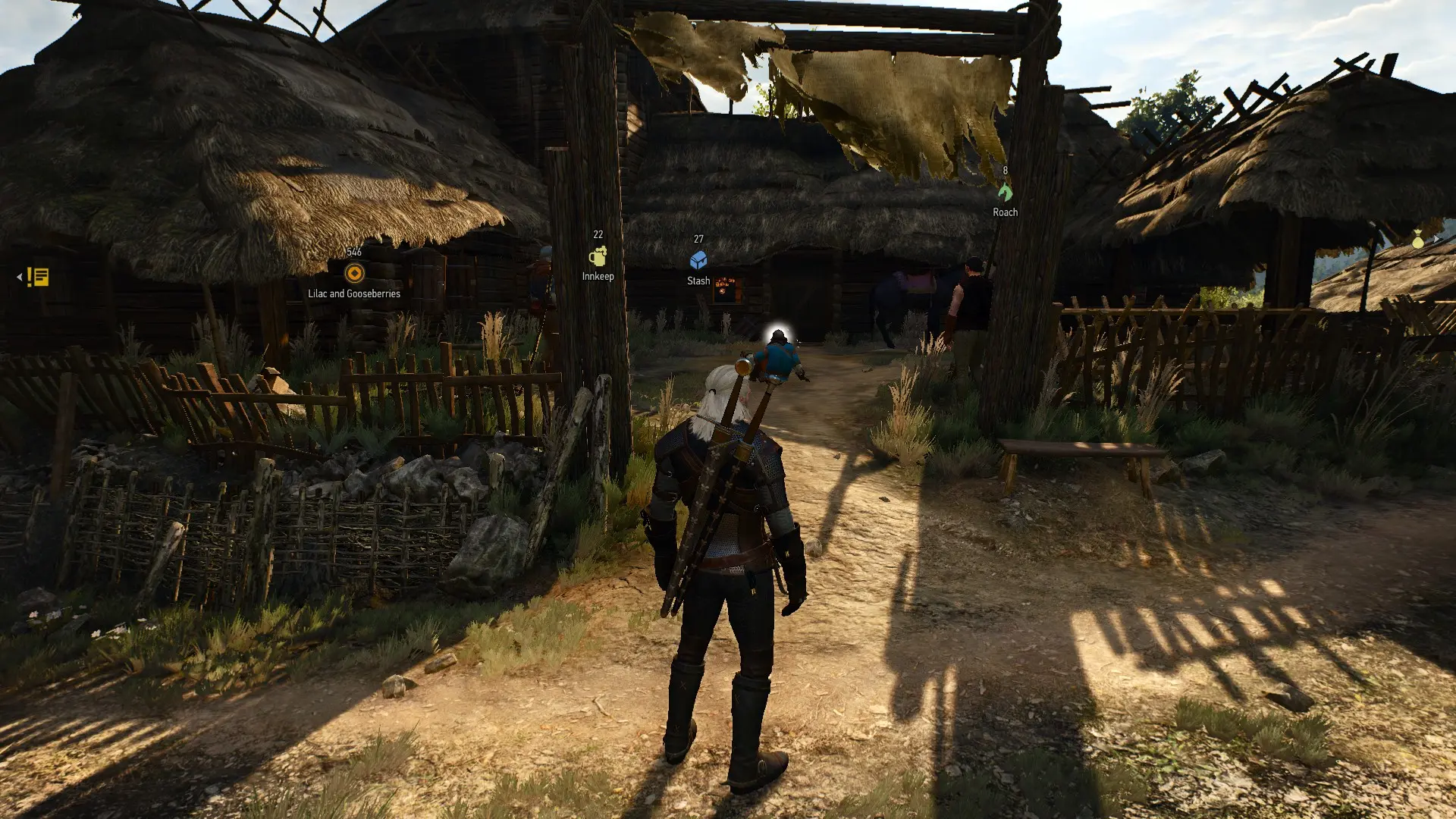 Bethesda Games: Script Extenders can now be installed via Vortex
Added a user friendly process for Script Extender installation
Support for Skyrim LE, Skyrim SE, Skyrim VR, Fallout 4, Fallout 4 VR, Fallout New Vegas, Fallout 3, and Oblivion 
 




You can now install the popular Script Extenders directly through Vortex and they will be deployed to the right folders. Simply follow the guiding dialogue that will come up if the Script Extender for the game you are managing is not installed yet. Once downloaded, Vortex will then ensure that the correct version of the Script Extender is installed and deployed to the right folder. Easy as that!


Mount & Blade II: Bannerlord: Load Order enhancements and fixes

First things first: Our Bannerlord community is simply amazing! Not only have we seen hundreds of mods being uploaded since the game's Early Access release, but Bannerlord has now climbed the ranks of our most popular games on the site and is therefore featured on our front page. Congratulations to our Bannerlord modding community!

That being said, we have now further improved our highly-customised Bannerlord Vortex extension. The auto-sorting algorithm has been enhanced, its performance improved, and we have further added the ability to lock mods in a fixed position in the load order. Note that this is an optional feature though and that for the vast majority of cases you can rely on the auto-sorting algorithm.




Mod Troubleshooting Help: Create a mod report

As a useful feature for users and mod authors alike, our developers have added a way to create a "mod report" for any mod that you are currently managing through Vortex. The report can either be saved as a text file, or automatically uploaded allowing users to share the link to a more formatted version of the report. It contains information that can be useful for troubleshooting such as mod details, the deployment method, deployed files, overwritten files, and more!


Right click on a mod
Click "Create Report"
You can now save the report to a file or upload it to "https://privatebin.nexusmods.com/" by clicking "Share"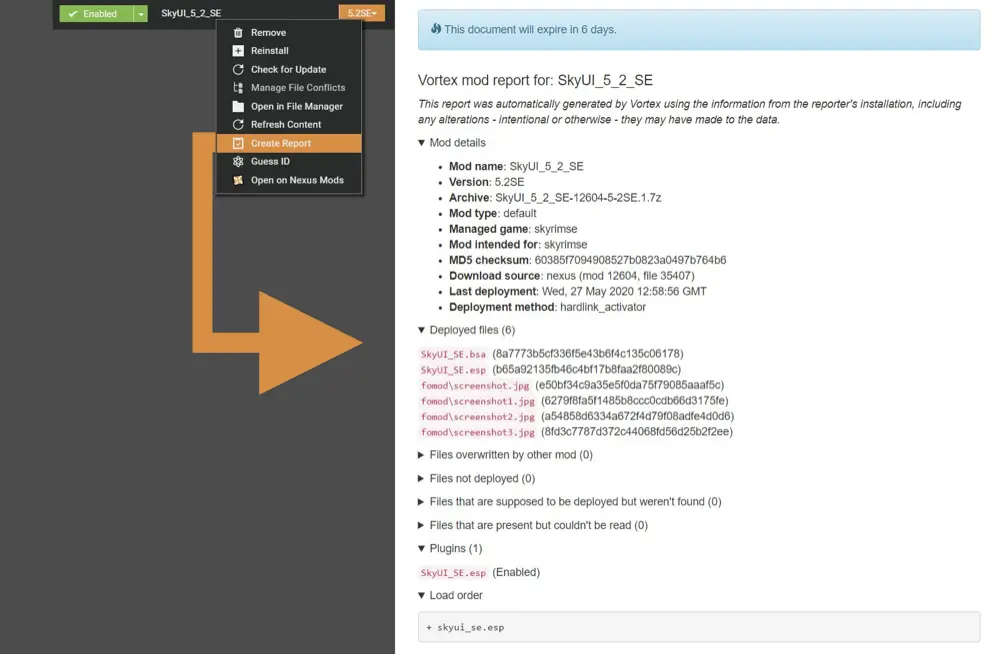 More user-made extensions!

Again we have seen a surge of new game and utility extensions being created by our amazing community. Here are some of this month's community-developers and their extensions:


A big shoutout goes to agc93 - not only for the Ace Combat extension - but for continued support of their impressive extension for Beat Saber, which, to date, is one of the most sophisticated and complex user-made extensions we have seen. Hats off to you, agc93!


Other changes:



X4 Foundations fixes: resolves any issues with mods adding new maps
Resident Evil 2 (2019)/Devil May Cry 5: performance improvements and Fluffy Manager5000 detection (so you don't end up using it alongside Vortex)
Subnautica: added automatic detection for the Epic store version of the game
Extensions browser: added sorting options - name, endorsements, downloads, last update
API: added various utility functions as well as more descriptive error messages for invalid game extensions

This, of course, is just a roundup of the main improvements and fixes since our last update post. If you want to know more, check out our full changelog on GitHub.


What's to come? - Things we're working on

Blade & Sorcery: Load Order Management

We recently implemented a Load Order tab for Blade & Sorcery in a test build that has been given to helpful members in the modding community for further testing. If all goes well, we'll soon be able to put this update to the Blade & Sorcery extension live so Vortex users can manage their Load Order more easily!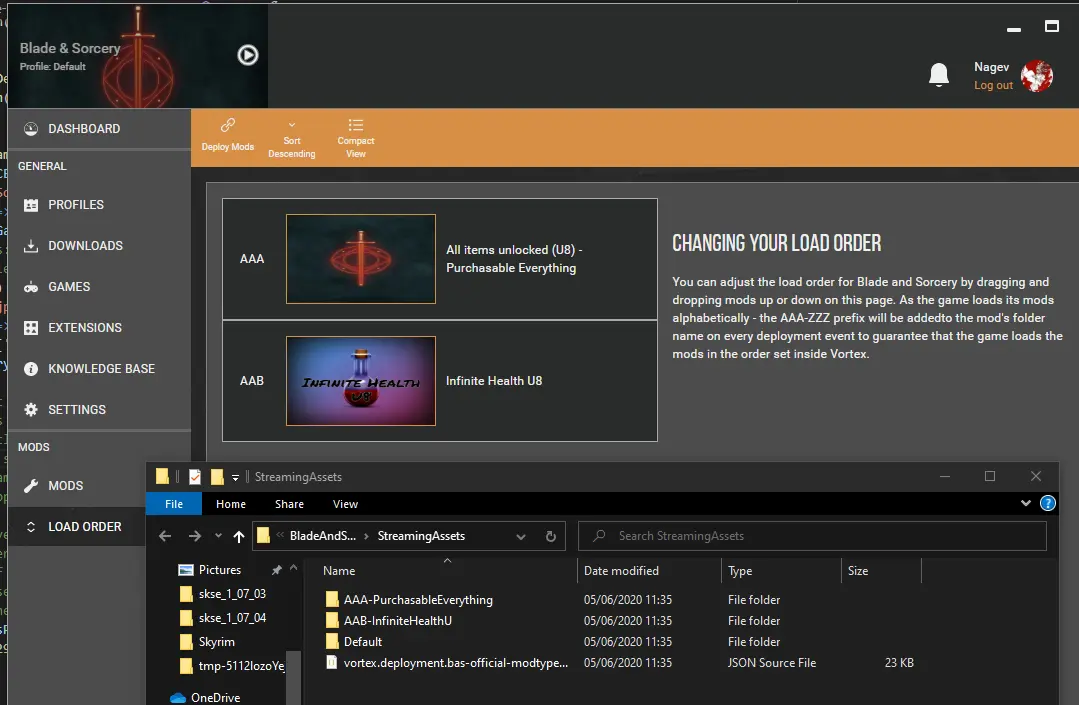 Big updates for developers!

Our Vortex team is currently working on some updates that might prove particularly interesting for community-developers.


Injector enhancements and decoupling from VML (Vortex Mod Loader) will allow game extension developers to define their patches/functions within their own C# assembly and inject them into any other C# assembly and they will not be required to use VML alongside it. Developers will be able to use Vortex to inject hooks for their own mod loaders if they choose.
Updating to Harmony 2.0 will give developers access to a bunch of new tools that Harmony has to offer to make patching easier (more info here https://harmony.pardeike.net/#harmony-20).