File information
Created by
Deserter X
About this mod
Features:
- Armor
- Goggles
- Pip-Boy
- Craftable fusion cores
- Toggle-able modules
- New gameplay mechanics
Requirements

Permissions and credits

Translations

Spanish
Russian
Mandarin
German

Changelogs

Donations

This mod apart from giving you a new look adds a new way to play if you don't like power armors.
You can now craft special fusion cores that can be used as consumables. They last half an hour
and give a significant boost to your stats. You can also craft modules to enhance your gear
that can be toggled at will.
I hope you will find the gameplay change easy to use, fun and balanced.
You can craft the Power Suit, Goggles, Modules and Fusion Cores at the chemistry station.
(for all the details check the images section)
The Pip-Boy is a retexture and like every other Pip-Boy you need to uninstall your
current retexture before installing this one.
Male version is available here:
Courser X-92 Power Suit Male Addon by Nivea
Bodyslide version is available here:
Courser X-92 Power Suit - CBBE BodySlide by Ousnius
The outfit is based on the amazing
Slooty Vault Jumpsuit by DixiePig
.
The mesh, rigging and UV maps are just perfect!

Thanks guys and to everybody else uploading in the videos section!
To enable modding you need to add the following lines to FO4 ini files:
Fallout4Prefs.ini
[Launcher]
bEnableFileSelection=1
Fallout4Custom.ini 
[Archive]
bInvalidateOlderFiles=1
sResourceDataDirsFinal=

Feel free to use any parts of this mod you like here in Nexus as long as you credit my work and DixiePig's.
You can freely upload translations of this mod that contain the esp only and link to this page to foreign
sites without asking for permission. You are not allowed to upload any other parts of this mod to other
sites apart from Nexus.

DixiePig
Suit mesh.
Ousnius
Bodyslide support.
B.A.E. - Bethesda Archive Extractor by jonwd7
FO4Edit PreRelease Alpha by ElminsterAU
Material Editor by ousnius
Intel® Texture Works Plugin for Photoshop
Many thanks to
Bethesda that made all this possible.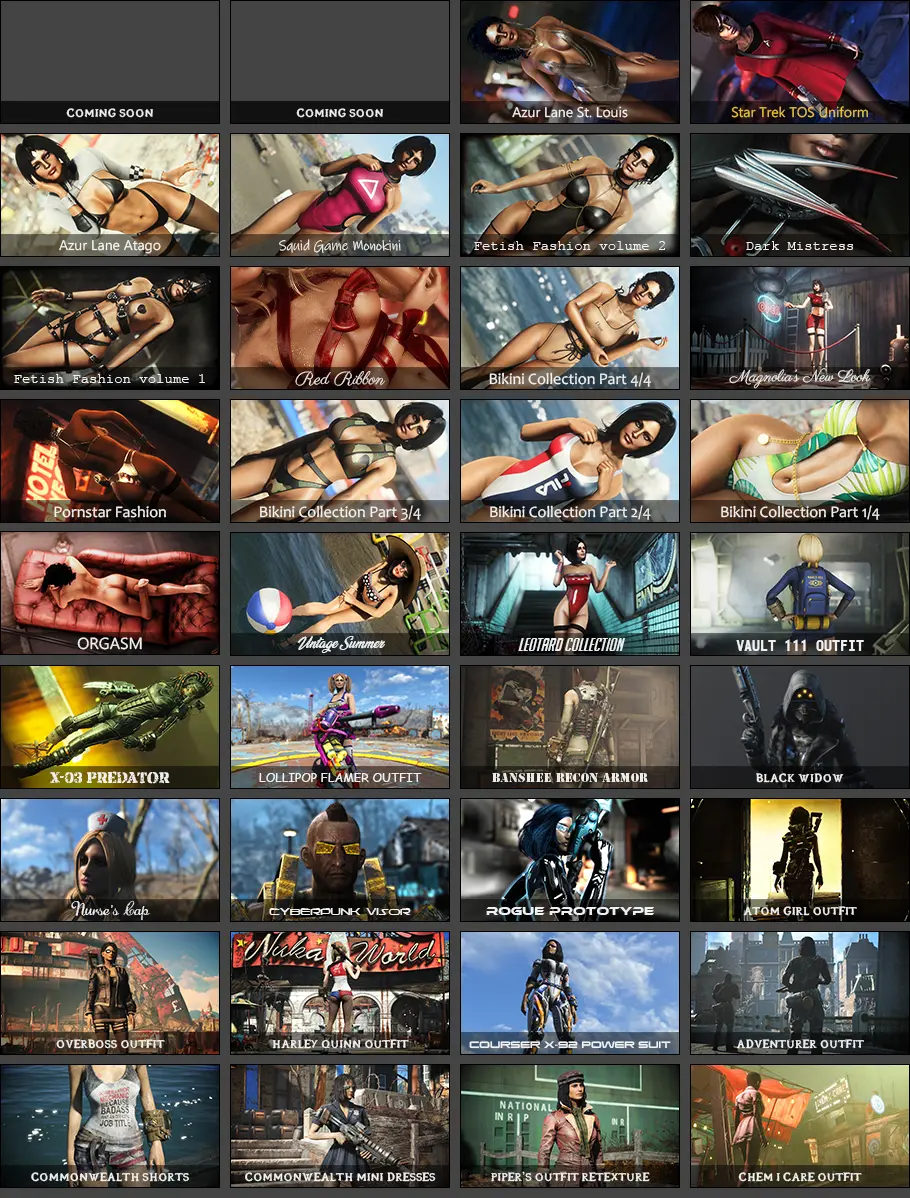 You can find our Skyrim SE mods 
here
.