File information
Created by
Rexiii
About this mod
Enhanced contrast, shadows/lights (with rtgi), smoothing picture.
Reshade using high cost fps effects, so watch this picture to configurate it for yourself. Basically u can use only filmictonemap.fx and other effects is optionals. If u want BALANCED version with closest look like on screenshots and low fps cost just off RTGI.fx, prod80_02_Bloom.fx and prod80_03_Levels
All screenshots maded with all effects ON. 

The reshade is made for my big fallout build, later i will post a video with a full list of mods and gameplay
Based on this mods:
NAC X
PRC X ENB (Ultimate Immersion PRC ENB Preset)
Решейд сделан под мою большую сборку, на которую я позже выложу видео с полным списком модов и геймплеем
Основа визуальных модов:
NAC X
PRC X ENB (Ultimate Immersion PRC ENB Preset)
Comparison with sliders:

slider-comp

slider-comp2


↓ v2.0 demo ↓
↓ v1.0 ↓
Installation
1.(Optional) Install
NAC X - Legacy Edition.
 In game set prc x settings: gamma on -2. Contrast +2 HDR contrast +1. I didnt use any prc x presets or effects. Only base
2.(Optional) Install
PRC X
ENB. Ultimate Immersion PRC Preset is deleted old version of preset from original page, so i loaded it from google. 
Description in video

3.Install
reshade
 with this shaders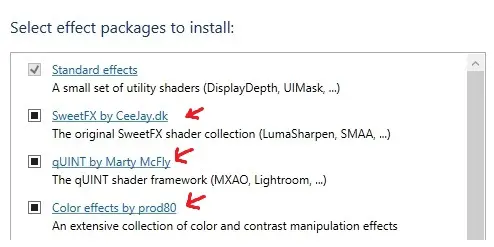 4.Download RTGI if u want to this effect work. But its optional too and working weird. Main effect in reshade is FilmicTonemap.fx.
Official source
5.Drop mod files in Fallout4.exe directory
-Use [home] button in game to configure reshade
-In Settings pick toggle for [on/off] i use f12