File information
Created by
Ryn
About this mod
A WIP overhaul of Fallout 4's map, changing locations to be more immersive and interesting, allowing more replayability.
Requirements

Permissions and credits

Changelogs

Donations
My Goal
I love The Fallout series, and I want to make it feel better for everyone. 
There are many other modders who do amazing things, and I feel like as a group we can make Fallout 4 feel new in EVERY way. 
My goal is to update many of the game's exteriors and/or interiors of commonly visited dungeons and locations, as one large installation.
Please feel free to leave suggestions along the way, and consider joining my
Discord
(Link at the bottom).
I highly suggest reading the description and the patch notes of this mod. There's a fair amount to know about this project.


Ryn's Fallout 4
An attempt to improve and overhaul many of Fallout 4's exteriors. This is an ongoing project that will release in large updates overtime. 
This mod will inherently make the game
more difficult
in a few ways. Specifically in patch 1.0, ghouls are more common in places that they would likely be. This does
NOT
make the game feel like a zombie apocalypse. These are sensible additions that feel natural. With that said, Cambridge specifically is one of the most heavily ghoul infested areas now. ALL of Cambridge. Be careful, new characters. There are added NPCs to many areas and there are/will be bosses in some locations. These bosses will range heavily in difficulty. World bosses out in the open will generally be on the weaker side, as to not impede low level players too much. The more difficult bosses will be in "arenas".
This could include additions to existing dungeons, new dungeons, out-of-the-way open world locations, or even new Worldspaces. (more on that in Future Plans)
In the end, I hope to include many other mods in this project, as to create one large installation that drastically changes your Fallout 4 experience.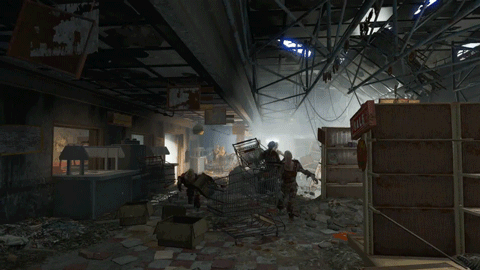 A List of Currently Affected Locations:
Base Game locations
Notable Ghoul Overhaul LocationsNew LocationsBoss List and Locations

Locations of bosses will vary, as some will be in the open world, unmarked, or marked. Some will be in their own new cell, and some will be in their own worldspace. And so some locations will not have locations to list, or will only have general locational estimations listed.
Future Plans
I hope to create semi-intricate bosses, arenas to fight them in, and rewards. 
This includes reaching out to other mod authors to use their assets such as power armor, weapons, or anything they might like to share.
And please, other mod authors, if you would like your work to be used in this mod, reach out to me! Due credit will always be given upfront.
Boston
will
be touched more. It's a very sensitive area that undoubtedly is the location of many crashes for many people. I will be making additions/changes but at a much lesser rate than other areas.
Boss arenas are many things. It could be as simple as the 
Blistering Giant Bloatfly
Location
.
Or it could be an entire
Worldspace. 

I have a Worldspace already in the making; an imaginative recreation of Boston's Longisland. This is a LARGE project and will take time to complete. I'm interested in finding a partner or two to work with on this project specifically. Feel free to contact me.
Technical Things and Boring Balance Stuff
This contains gameplay spoilers.
Compatibility
Immersive Gunners Plaza
 (NO/YES) Is Semi-Compatible as of
Ryn's Fallout 4 1.2.
The Interior ESP of Immersive Gunners Plaza can stay enabled. The Exterior ESP must be disabled.
ANY tree-adding mod (NO/YES) that creates a forest or anything similar will inherently be soft-incompatible. This will rarely ever be game ruining or cause issues. You may just see some trees in weird places.
Hunkered Down
 (NO) Is not compatible with Ryn's Fallout 4, as the two mods edit multiple of the same locations.
Immersive South Boston Military Checkpoint
 (NO) Is not compatible.
Mods that add new enemy spawns (YES) may have small issues but should be totally compatible. Whether it be via script or actual placed spawn points.
Mutilated Dead Bodies
 (YES) Is compatible and I plan for it to stay that way.

FAQ
Will you make a patch for ___________?:
Maybe. If you are going to ask, please ask nicely. I'm a human before I am a modder. :)
I don't like this./This enemy is too hard. Can you change it for me?:
Damn that's crazy.
How do I contact you about ________?:
You can message me here on the nexus, or message me on Discord. (At the bottom of this page)
I'm having
insert bug
issue. Can you help?:
Please put any issues in the bug section. They are far more likely to be taken care of that way.
Is this compatible with _________?
A list of major mods that it is/isn't compatible with will be available in time. Please be patient as I am one person and cannot test everything myself.
I am currently looking for anyone who is interested in helping me with this project, whether it be other mod authors providing their assets, such as weapons and armor, level designers, implementers, or anything you might enjoy contributing. Please reach out via Discord.

Thank you
Thank you to the following fellow-creators who have helped in some way / allowed me to use their assets in this project. I appreciate you.


A Special Thank You

Those who have helped encourage me, helped with feedback, and supported my work, thank you.
Without you, I do not think this project would continue.
I love you, and I care about you.
As always, happy modding.
Feel free to join my community discord for updates on my projects. 
https://discord.gg/VJbCEsDasb